The Shoshone Power Plant was built nearly a century ago, deep in a river canyon near Cody, Wyoming.
The town, located 50 miles east of Yellowstone Park, was founded by the famous wild west showman William "Buffalo Bill" Cody in the late 1890s. His vision included a series of irrigation canals that would transform the surrounding sagebrush desert into productive agricultural land. 
His wish was granted when, in 1905, the U.S. government began work on a massive dam on the Shoshone River just outside of town. Built from concrete, the 325-foot-high Shoshone Dam was the tallest in the world at the time of its completion in 1910. The structure was renamed in honor of Buffalo Bill in 1946.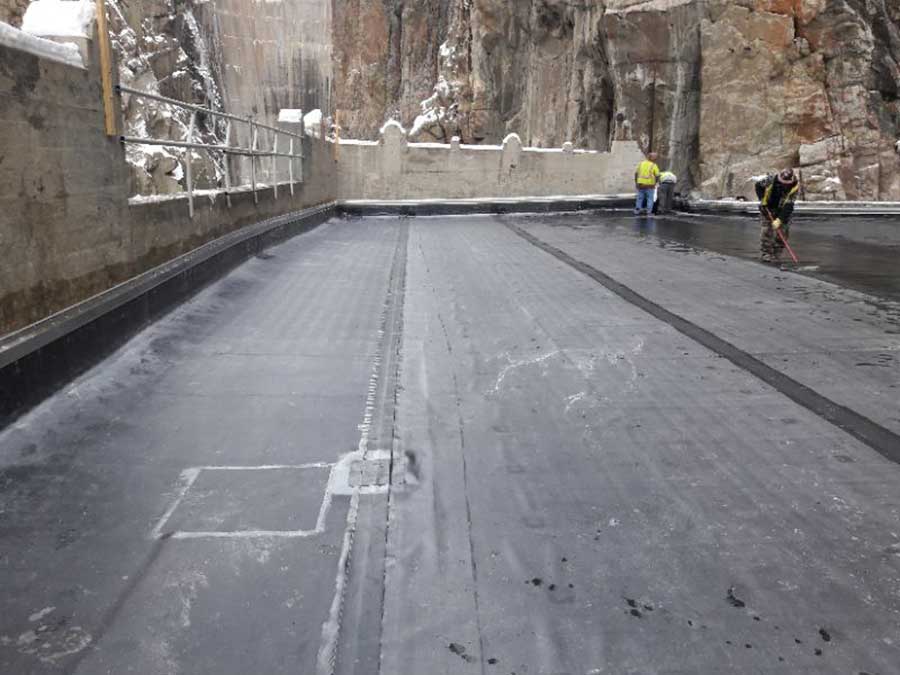 The dam was originally intended solely to provide water for agriculture. However, in 1922, a power house and supply tunnel were built to take advantage of its enormous hydroelectric potential. 
The Shoshone Power Plant provided clean reliable power to neighboring communities for more than fifty years before finally being retired in the 1980s. Units One and Two were decommissioned and left in place for their historical significance. Unit Three was replaced with a modern turbine in the early 1990s, and continues to generate power today. 
As the power plant approached the century mark, it became clear a new roof was needed for the aging building.Jason Smallwood, president of Big Horn Roofing Inc., reports that when he first surveyed the roof, it was buried in three or four feet of loose rock which had fallen from the surrounding cliffs and accumulated on the roof deck.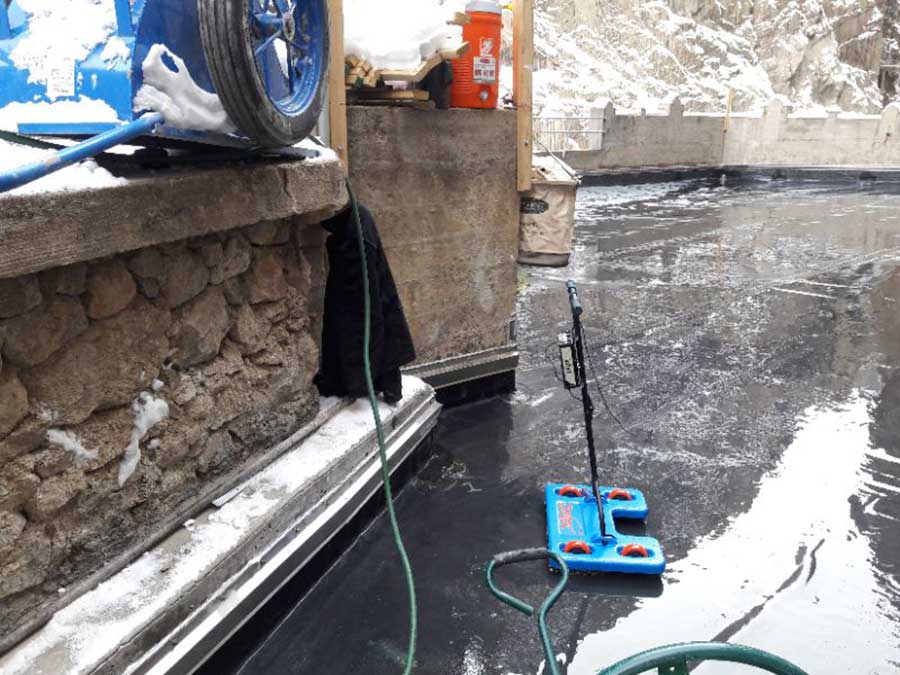 The re-roof began with Big Horn Roofing hoisting a skid-steer loader onto the 5,000-sq.-ft. roof to remove the overburden. Then the crew removed the original roof, which was an asbestos-containing built-up roof (BUR) over a concrete deck, with a slope of a half-inch per foot.
The new design called for a vapor barrier over the original concrete, followed by two inches of rigid insulation, and a cover board, all topped with a black EPDM membrane from Carlisle. Four feet of geofoam would be installed on top to protect the new membrane from punctures and falling rock.
To allow the assembly to be tested, The crew from Big Horn Roofing primed the coverboard with TruGround. Detec brought in a crew to test the fully-adhered EPDM membrane and located three small breaches. These were repaired and re-tested the same day.  
With the membrane's integrity ensured, they placed the massive blocks of geofoam, a non-woven geotextile cover, and 12 inches of new ballast. The project, completed in 2017, ensures the historic building's roof is renewed for another century.
Summer 2018 Back Issue
$4.95
Air Barriers
Integral Waterproofing on Commercial Jobs
Green Roofing
Livable Basements
---
AVAILABLE AS PDF DOWNLOAD ONLY
Description
Description
Air Barriers
By Vanessa Salvia
Air barriers, whether fluid-applied, self-adhered, or mechanically-fastened, have become a key component of building design and moisture management.
Integral Waterproofing on Commercial Jobs
Instead of relying on membranes, these projects used admixtures to make the concrete itself impenetrable to moisture.
Green Roofing
Planted roofs offer a host of benefits, and are installed on a wide range of commercial projects, including convention centers, apartments, and offices.
Livable Basements
By Vanessa Salvia
The right combination of waterproofing, drainage and dehumidification can make below-grade living space just as comfortable and inviting as the above-grade portions.
Additional Info
Additional information
| | |
| --- | --- |
| Magazine Format | PDF Downloadable Magazine, Print Mailed Magazine |