Crews marked the locations with spray paint where the CFRP straps would be applied to restore a silo. 
It's possible that if all of your agricultural buildings are pole barns, you might not need to worry about waterproofing them. But even then, protecting your metal roofing and preventing condensation from running down the sides and in between your wall panels will still be an important part of waterproofing agricultural buildings that you'll need to consider. Agricultural buildings such as water tanks, silos, or salt barns need the same type of waterproofing care that homes and businesses do. 
"When we talk about protecting and repairing agricultural buildings made of concrete, we talk about prep, inject, and reinforce," says Paul Trzcinko, assistant marketing manager for Rhino Carbon Fiber. "If a building is deteriorating, we want to ensure that we stop any water entry first by injecting cracked areas. We then strengthen cracks with our carbon fiber so the building stands the test of time."
Rhino Carbon Fiber CFRP is frequently used to make repairs to concrete structures such as water tanks. For instance, one repair on a water tank in Clay County, Kansas, involved strengthening a deteriorating historical water tower that had been worked on twice before without success. The first attempt involved patching the concrete cracks with an additional concrete layer; this was unsuccessful because the concrete continued to shift and deteriorate due to thermal cycling. Steel reinforcement was brought in for the second attempt, but the steel corroded, which accelerated the deterioration of the rebar. Finally, the engineer hired by the Kansas City Public Works Department decided to use CFRP. Carbon fiber is lightweight, easy-to-install, 10 times stronger than steel and non-corrosive. Carbon fiber can also be easily painted over or covered with a finishing product for aesthetic appeal.
Rhino offers a variety of products for injection and strengthening. Polyurethane foam or epoxy resin are used for injecting cracks; wet or dry cracks can be filled with polyurethane foam that expands 15 times its volume to fill all voids, while dry cracks can be filled with epoxy resin that cures stronger than concrete. Cracks can be injected if they are between 1/16 and 1/8 inches wide, otherwise they are sealed with high strength anchoring epoxy paste then strengthened. Rhino Carbon Fiber CFRP and Rhino Carbon Fiber Concrete Crack Lock stitches are ideal for strengthening cracks.
Prepping For A Repair
As Trzcinko stated, preparing the substrate is a key first step. Surface prep ensures a strong bond between the concrete and the CFRP. On this water tower and on similar jobs, loose concrete and debris was removed, and any large gaps were filled. Then the concrete was abraded to a rough surface for the carbon fiber strips to adhere to. Once that was completed, the entire base of the tower was covered with Rhino Carbon Fiber bidirectional CFRP (bidirectional means it provides strength in each direction on the surface). Ultimately, the repair was successful. 
Since the concrete needs to be ground down for proper adhesion, any coating on the structure would be removed in the process. If there was a coating, the coating would be reapplied over the repair. In this water tower example, a coating was applied after the CFRP cured to restore the exterior appearance and to protect the CFRP from UV light. 
Rhino Carbon Fiber CFRP has also been applied on silos in Cupertino, California, that were used as storage facilities for a nearby mine. Some of the materials mined contained corrosive elements which caused the concrete around the silos to deteriorate and crack; this caused the silos to only be used at 50% to 60% of their capacity. The entire surface was prepped by hydro-blasting. They utilized a "hoop-strength reinforcement" method of application for the CFRP, which refers to wrapping CFRP around the silos like a belt. Again, a UV-resistant coating was used post-application here, and the silos were returned to 100% capacity.
Similar Strategies
Andy Smith, president of Valley Waterproofing in Harrisonburg, Virginia, says some of the strategies of waterproofing agricultural buildings are much the same as waterproofing other structures and some are different. Being located in a rural area, Smith has worked on many types of agricultural buildings including dairy barns and grain bins. Valley Waterproofing has been a certified applicator for Rubber Polymer Corp.(RPC), which makes Rub-R-Wall, for more than 25 years. 
Farming is a low-profit, high-cost endeavor, so in many cases the farmers are thinking about where they can save money in the short term. But eventually, when agricultural buildings are left to the elements with no protection, they fail. It is at that point that the farmers may realize that their waterproofing may not have been the best place to cut costs. Smith also performs crack injections and carbon fiber repair on CMU walls — and he says he's pleased that the call-backs are not for his own work. Many farmers, Smith says, just live with the seepage and weeping for a while. Partly because they may not know what to do about it, and also partly because they may not know it's happening.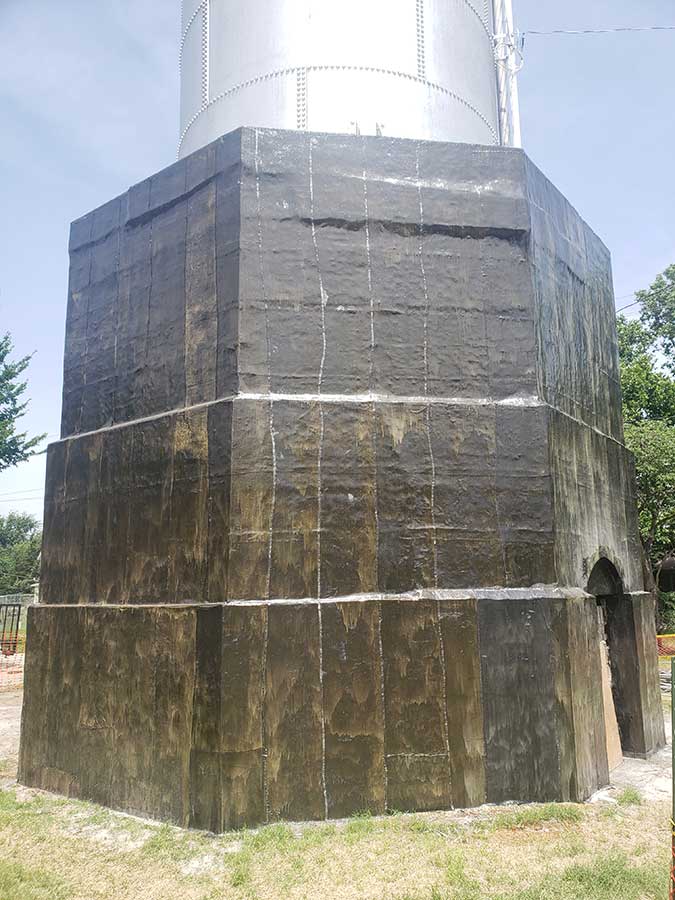 "If they do notice it they'll patch it or try to paint over the cracks or caulk them and it doesn't take care of it," he says. "So we do get those calls. They put up with it until they're fed up. Some of these little leaks can go on for years until they realize they have to do something."
He says waterproofing on agricultural buildings is becoming more common but a lot of farmers just don't think about it.  "It was just an added cost that they didn't feel was necessary. But I think that's changing some and they are starting to see the merit in it." 
New silos may not necessarily need much waterproofing, but older ones could be lacking structurally. Smith gives an example of an older silo setup where chicken grain was kept. The grain was used and frequently rotated, not stored for months, but the silo was in constant use. 
"The corn was backfilled sometimes 12 feet tall," says Smith. "The feed was getting wet and damp at the lower level, and then mold would start. Some of that water was through hydrostatic pressure and other things were causing some damage too. So they realized that it doesn't really cost that much to waterproof and that's a no-brainer in relation to their crop expense."
Externally, Smith uses drain tiles to alleviate hydrostatic pressure on a lot of these buildings because they often aren't designed with gutters and downspouts. "The water comes off the roofs and taxes the side of the foundation," he says. "An un-waterproofed ag building without a drain tile or a proper slope is a recipe for disaster."
On above-grade surfaces on silos, Smith has used RPC's HDR 4000 because it is UV stable. "One silo owner wanted that sprayed on the exterior, and then he backfilled with some dirt to keep their contents dry," Smith says. 
Valley Waterproofing services about a 100-mile area from Williamsburg up to the Shenandoah Valley. He's even been asked to travel to North Carolina for work. Smith has also worked on historic structures, old university buildings, and older homes that had stone foundations that needed wall stabilization or were never waterproofed. In those cases, he digs out the foundations and waterproofs them with coatings and drainboards to meet current standards.
Spring 2022 Back Issue
$4.95 – $5.95
Waterproofing Agricultural Buildings
Protecting the Niagara Falls Pedestrian Deck
Hycrete Waterproofs Luxury Residential Tower
Integral Waterproofing With Crystalline Admixtures
Protecting Parking Deck Systems
Description
Description
Waterproofing Agricultural Buildings
By Vanessa Salvia
Farming is a low-profit, high-cost endeavor, so in many cases the farmers are thinking about where they can save money in the short term. But eventually, when agricultural buildings are left to the elements with no protection, they fail.
Protecting the Niagara Falls Pedestrian Deck
The Niagara Falls pedestrian deck and bridge is surely one of the wettest spots to be. The decking is removed each year and resealed with Thompson's WaterSeal products to make them last. 
Hycrete Waterproofs Luxury Residential Tower
The Atlas is the tallest residential tower in downtown Oakland, California. The tower is located next to a busy street, and because of this, membranes could not be used. Hycrete's System W solved the problem.
Integral Waterproofing With Crystalline Admixtures
By Vanessa Salvia
Integral waterproofing protects concrete from within, and extends the lifespan of the concrete.  Crystalline admixtures are absorbed into the concrete in the mix and then diffuse into it to form a chemical barrier that prevents water intrusion into the concrete and heals cracks that do form.
Protecting Parking Deck Systems
By Amir Hassan, MSc, PE, PEng
Parking systems are open-to-the-elements structures that need precautions because they are costly to build, repair, and replace. To have a durable deck, water management is vital. 
Additional Info
Additional information
| | |
| --- | --- |
| Weight | N/A |
| Magazine Format | PDF Downloadable Magazine, Print Mailed Magazine |