We all tend to think of crawlspaces as dark and damp places in our homes, full of mold, must, and mildew that are to be feared and avoided.
But with the proper care and maintenance, almost any crawlspace can become a useful part of the home and even, dare I say, a somewhat pleasant place to experience. 
All of this starts with waterproofing. There are a number of ways that we can address water coming into crawlspaces and we are going to cover some of the more run-of-the-mill repairs that, in conjunction with proper monitoring and air quality control, will help make your crawlspaces a healthy, usable, and more pleasant area of the home.
Drain Tile Systems
Drain tile systems are one of the most prominent methods of waterproofing and are designed to prevent water from coming up through the floor. Drain tile systems are necessary when experiencing a high volume of water, and will go a long way in moving large amounts of water to the sump pit where the water can be pumped out and removed. It is extremely important to have a reliable primary pump and back up system, as the entire drain tile system will be dependent on these pumps. Proper monitoring systems on these pumps can go a long way in making sure you are ready for the next round of heavy weather.
Sump Pumps and Battery Back-up Systems
Quality sump pumps and battery back-ups with monitoring systems are crucial because everything that moves through the system needs to be moved by the pumps in order for the system to continue functioning properly. Once the water stops moving and starts to pile up, that is when leaking occurs. If one is unaware of a pump failure, the end results can be catastrophic to personal possessions, finished areas, and the air quality in the home, as all of that water is no longer being pumped out and can find its way into your crawlspace to wreak havoc on anything in its path.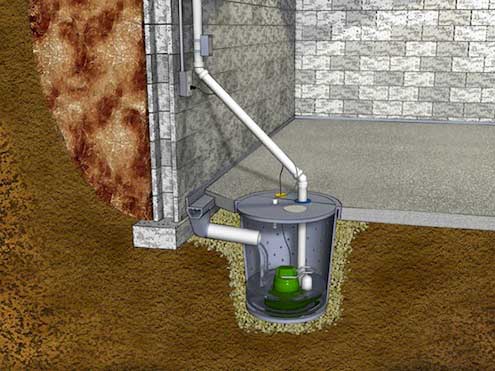 Crack Repair
Crack repair is another common fix we see for water issues, and can typically be done from the interior or exterior. Crack repairs will take care of water coming through the walls in the specific area of the crack, but will not do anything for water that is coming up from the ground. This is typically suitable for small leaks and can also help to control the air quality in the home by preventing moisture. Many crawlspaces tend to have cracks, and a quick epoxy injection is the typical repair.
Crawlspace Encapsulation
Encapsulating your crawlspace is one of the best ways to control humidity and odors coming from the crawlspace. Encapsulating a crawlspace typically involves covering the floor and walls with a plastic membrane. It is important to realize that while encapsulating will help with smells and moisture, it is not specifically a waterproofing solution, but more of an air quality control solution. 
Once we have made any necessary waterproofing repairs, coupling an encapsulation with the proper air quality monitoring systems will help to control moisture levels to create a safe, healthy, and even pleasant environment for your crawlspace.
Ben Rogers is a Basement Health Association-certified Waterproofing Specialist and Sales Manager for The Real Seal LLC in Chicago, Illinois. With more than six years of experience in waterproofing and structural repair and more than 20 years of experience in the construction industry, his expertise is constantly being grown and applied.
Summer 2020 Back Issue
$4.95 – $5.95
Grouts for Waterproofing and Structural Repair
The Crawlspace: Link to a Healthy Home
Waterproofing Your Crawlspace
High Performance Crawlspace Liners
Working In an Era of Covid
Elastomeric Coatings: Misconceptions, Myths, and Key Considerations
Description
Description
Grouts for Waterproofing and Structural Repair
Grouts can repair leaking manholes and sinking foundations, being injected into or behind the failure to eliminate moisture or restore structural strength.
The Crawlspace: Link to a Healthy Home
By André Lacroix
Encapsulating the crawlspace, conditioning it, and providing exhaust ventilation can create a healthy crawlspace.
Waterproofing Your Crawlspace
By Ben Rogers
Waterproofing, proper monitoring, and air quality control, can make crawlspaces a healthy, usable, and more pleasant area of the home.
High Performance Crawlspace Liners
By Ryan McCoy
High performance membranes can be used to encapsulate crawlspaces to improve air quality, energy bills, and the risk of mold and mildew.
Working In an Era of Covid
By Diana Parks
As the coronavirus spreads and threatens to derail construction projects, a legal expert explains how the industry can prepare for its effects.
Elastomeric Coatings: Misconceptions, Myths, and Key Considerations
By Chadwick Collins
Fluid-applied roof membranes made of high-tech resins cure to form a rubber-like elastomeric waterproof membrane that greatly prolongs the life of the roof.
Additional Info
Additional information
| | |
| --- | --- |
| Weight | N/A |
| Magazine Format | PDF Downloadable Magazine, Print Mailed Magazine |