Cold, fluid-applied roofing solutions offer a host of benefits, including improved safety, reduced fumes, less equipment, and faster cure times.  
Originally, the phrase "cold-applied roofing" described  solvent-based built-up roofing (BUR) that did not require heat to install. Today, the term today has a significantly broader meaning, and includes cold process built up roof systems, cold adhesive bitumen membranes, and liquid-applied membranes.  This last category, sometimes called "elastomeric roof coatings," were first developed in the mid-1970s and are based on rubbers, acrylics, acrylic emulsions, and/or polyurethanes.
Monolithic liquid-applied roofing blurs the line between roof coating and roof membrane system. Typically made of high-tech polymeric resins, liquid cold-applied roofing (also called "fluid-applied roofing,") involves applying a liquid-based coating to a roof, which cures to form a rubber-like elastomeric waterproof membrane.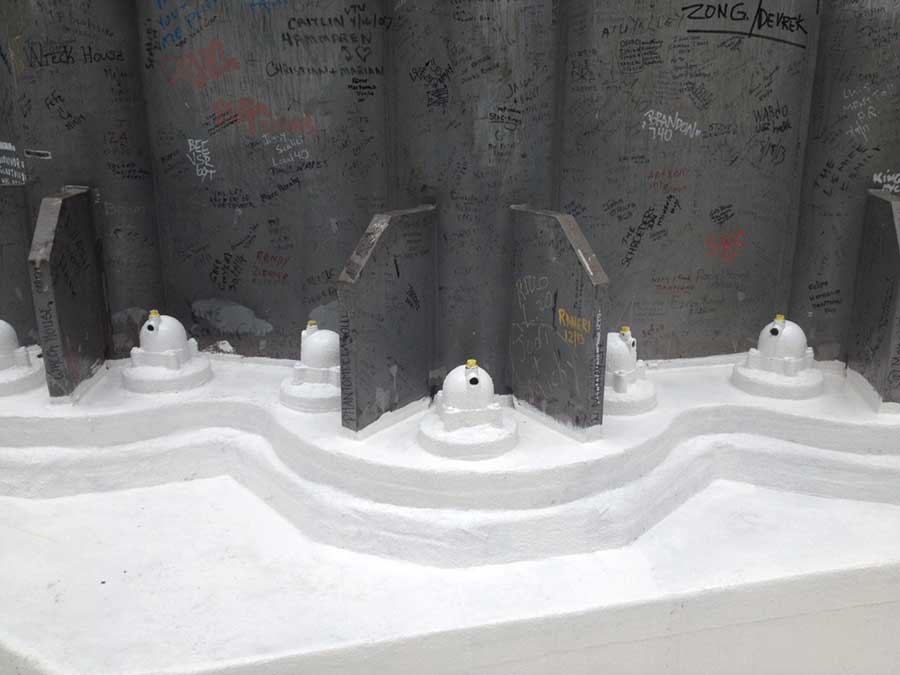 This coating can be reinforced with secondary materials to provide additional tensile strength, but often, no reinforcing material is needed as the liquid itself cures to a tough, rubber-like membrane. If reinforcing is needed, it's usually applied as a single layer, unlike cold-process BUR.
"Cold liquid-applied systems offer significant advantages over sheet products," said Andreas H. Wiggenhagen, president of Kemper System America, Inc. "They eliminate seams–and the expense of installing flashing and termination bars. They also are ideal for sealing difficult areas such as skylights and foundations, and around multiple penetrations such as stanchions and pipes."
Because these membranes are applied as a liquid, they're monolithic (no seams) and are typically considered self-flashing, so it's an excellent choice for roofs with difficult flashing details. 
The lifespan varies, depending on conditions and materials, but is typically about 25 years.
Liquid roofing is especially cost-effective as a repair technique, and can be used over a wide variety of substrates, including concrete, metal, and many existing roofing materials.  Overtopping an aging roof with a liquid-applied membrane averages 70% less expensive than a traditional remove-and-replace roofing upgrade.  
They are used right out of the drum or pail and applied using a notched squeegee. Many formulations can also be applied via brush, spray, or roller, depending on the viscosity of the product. 
Contractors can install these systems without investing in expensive kettles; often opening a bucket, pouring, and spreading is all that is required.
 Doing away with the big, messy hot kettles and fumes allows for safer handling of materials, a lower level of odor at the job site, and fewer complaints from building occupants.  Cleanup requires only wiping down the squeegee and disposing of the drums and pails.
Fall 2019 Back Issue
$4.95 – $5.95
Admixtures as Waterproofing
Floating Dry Dock
Liquid Cold-Applied Roofing
Reflective Coating Saves Condo Roof
Waterproofing a Historic Stadium
Description
Description
Admixtures as Waterproofing
Integral waterproofing admixtures—including crystalline and various densifiers—have proven to be a great solution for new concrete construction.
Floating Dry Dock
Liquid Cold-Applied Roofing
Cold, fluid-applied roofing solutions offer a host of benefits, including improved safety, reduced fumes, less equipment, and faster cure times.
Reflective Coating Saves Condo Roof
By Karen Edwards
A reflective roof coating restored and extended the life of a Florida condo roof.
Waterproofing a Historic Stadium
When Kansas State University recently upgraded and modernized their historic football stadium, it called for a range of waterproofing solutions to seal everything from elevator pits to the roof
Additional Info
Additional information
| | |
| --- | --- |
| Weight | N/A |
| Magazine Format | PDF Downloadable Magazine, Print Mailed Magazine |