Contractors can build a thriving business by providing basement waterproofing systems  and partially finished basements
Expanding business in a slow economy may seem impossible. Yet, many experienced contractors have found that even in uncertain times there is one sure way to attract new customers: fulfill a need. 
With the housing market in a slump, more and more homeowners are investing in their existing homes, and one of the best investments for a house is a waterproofed basement. Expanding usable living space at a price many homeowners can afford creates a new revenue stream for basement waterproofing, repair and remodeling pros. And a contractor who treats a customer right the first time can likely expect a call later when money is available to fully refurbish the basement.  
Why?  The contractor helped the homeowner to avert disaster, says Roy Spencer, owner of Perma-seal Basement Systems in Downers Grove, Ill. 
Spencer says it's a win-win situation:  Contractors can provide services that are nearly recession-proof.  Homeowners can convert a bare-bones basement into living space for usually less than $5,000.  That's a far cry from the $60,000 or more that may be needed to fully remodel a basement.
The Bare Essentials
A safe, healthy and dry basement begins with a backup sump-pump system.  The number one reason for flooding is sump pump failure.  And although all new homes have sump pumps, storms and power outages can either overwhelm it or cause it to fail.
Pumps often fail because builders install lesser quality equipment to keep costs down.  Spencer says it's best to use a heavy-duty AC primary pump wired into the homes electrical system, and then to be safe, add the battery-operated backup system.
After the pump, the next step is to seal any cracks in the walls and floors.  Spencer recommends sealing cracks and pipe penetration with an epoxy paste.  A special liquid epoxy or urethane is then injected into the cracks and voids to create a permanent repair.  Epoxy crack injection kits are widely available.  Choose a company that is willing to teach beginners proper installation techniques, and backs their product with a solid warranty.
"If you don't pay attention to the waterproofing, the cosmetic work is ruined and everybody is unhappy," says Spencer, who recommends basement prepping products by Emecole.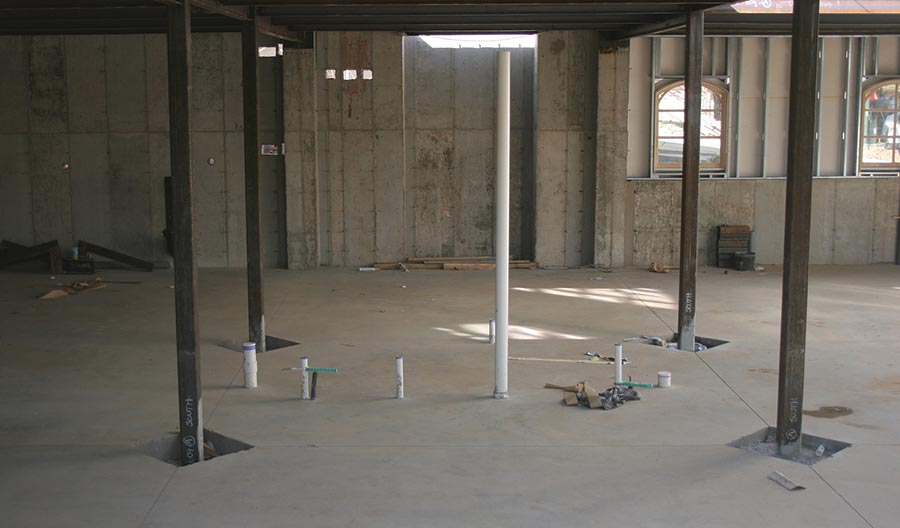 A Healthy Home
About 50% of the air that circulates in the home enters through the basement.  Preventing deadly gases like radon from rising through concrete is a must, as the quality of the air in the basement (and therefore the living area) is subject to contamination from the earth below. If a vapor barrier was not installed under the home, use a deep penetrating concrete sealer to prevent water vapor and soil gasses from passing through the porous concrete and into the home. 
Another health hazard found in basements is mold.  Data provided by the U.S. Environmental Protection Agency (EPA) proves that mold will grow only where humidity and moisture are present.  Placing a carpet on a concrete floor that has not been sealed is an invitation to mold growth.  "Plain concrete is not a good substrate to put carpet down on," says Spencer. "Mold needs food and it loves carpet.  I call it mold candy." He recommends using a waterproof insulating pad under the carpet.  An environmentally friendly, non-toxic, all-organic mold remediation spray is an additional option.
Avoiding mold in walls is equally important and can be achieved by using the proper insulation.  Spencer favors a waterproof insulating blanket from Emecole.  Thanks to an aluminum backing, it reflects radiant heat, prevents condensation, and stops pests.  Installation is easy because it will adhere directly on the concrete walls with no need for studs. Also, its exterior surface looks like white vinyl, which brightens a basement and provides a finished look.  
For more information, call  800-844-2713 or visit www.emecole.com. 
Winter 2009 Back Issue
$4.95
Above-Grade Waterproofing for Commercial Construction
Vapor Barriers and the Underslab Solution
Roofing the Sky
---
AVAILABLE AS A PDF DOWNLOAD ONLY
Description
Description
Above-Grade Waterproofing for Commercial Construction
Every building needs above-grade waterproofing. The article discusses the qualities such sealants need, and the different types on the market.
Vapor Barriers and the Underslab Solution
It's perhaps the most overlooked area of the building envelope.  But a significant amount of moisture—and moisture damage—originates from vapors coming through the slab.
Roofing the Sky 
By Dan Calabrese
The huge retractable roof that covers the new stadium in Phoenix Arz., is an outstanding example of the innovative materials and craftsmanship that go into creating a state-of-the-art roof.
Additional Info
Additional information
| | |
| --- | --- |
| Magazine Format | PDF Downloadable Magazine, Print Mailed Magazine |