"We wanted a material that would require simple periodic maintenance without time-intensive cleaning or repair."
Take everything you know about waterproofing a roof, and elevate it nearly 200 feet in the air. Then make the roof curved. But don't stop there. Your roof is also moveable, able to retract to transform the structure into an open-air facility.
Did I mention that the roof covers more than 180,000 square feet? 
Needless to say, this is not exactly your typical waterproofing job.
Such was the challenge of the contracting group charged with constructing the retractable roof of University of Phoenix Stadium, the home of the National Football League's Arizona Cardinals.
Recognized by Business Week magazine as one of the "Top 10 Most Impressive Sports Structures in the World", University of Phoenix Stadium includes a retractable natural-grass field that actually lives outside the stadium, but is wheeled into the facility on a track for game days. And while a retractable roof is hardly a new concept –with similar systems already in use in cities such as Seattle, Milwaukee, Houston, Indianapolis and Toronto– it poses waterproofing challenges unlike any other kind of venue.
The Cardinals wanted a roof that would provide comfort from the weather extremes that can be common in Arizona.  It needed to provide shade from the hot desert climate, while letting in enough light to reduce electrical costs on game days.
"We wanted a material that would require simple periodic maintenance without time-intensive cleaning or repair," said John Drum, senior director of stadium operations for the Arizona Cardinals."
Eisenman Architects and HOK Sport chose a tensile membrane roof, made from a synthetic fabric that is durable, long-lasting, and translucent. It's a fabric consisting of woven fiberglass yarns coated with Teflon PTFE (polytetrafluoroethylene).
Design/build specialty contractor Birdair, based in Amherst, New York, designed, fabricated, and installed the roof.
"Among the various fabric membranes available, PTFE fiberglass is the longest-lasting and most suitable for these types of applications," explains William Barden, Birdair's Director of Architectural Development and Long Span Structures. "Teflon protects the glass yarns against wind, snow, rain, hail – anything Mother Nature is throwing at the roof. 
Birdair is well acquainted with the unique challenges of waterproofing stadium roofs, especially retractable ones.
"Unlike most roofs that are flat and horizontal, ours are curved and very steep, Barden says.  "And when you're working with a mechanized system, you're working with a lot of different trades. We were working with a steel contractor and a mechanization contractor. You're typically one of the later trades to get on the job site, so if the previous trades for whatever reason didn't complete their work on schedule, you have to make up the schedule. Every roofing contractor has to deal with that."
The retractable fabric membrane roof for University of Phoenix Stadium consists of two curved panels riding rails at 15-degree angles to a tangent point 206 feet above grade. "One panel moves in one direction, one panel moves in the other direction when we open and close the roof," says Barden. 
When the roof is open, the fabric panels sit above the fixed portion of the roof.  The curved fixed portion is covered with a conventional single-ply membrane roof.
Obviously, this presents challenges with respect to fastening, drainage and even access.
"In the case of University of Phoenix Stadium, we clamped the fabric to two giant steel frames, each about 258 feet by 275 feet," Barden said. "We couldn't use the standard mechanical fastening systems that you find in flat roofs. Ours are clamped around the perimeter… to either cables or steel, depending on the architectural detailing… Once we got the fabric tensioned to where we want it using come-alongs and electric winches, we clamped it down. It's a lot different than if you were attaching a flat, conventional single-ply membrane roof."
The PTFE fiberglass membrane was custom made by Saint-Gobain Performance Plastics Corp. for the Phoenix project in New Hampshire and shipped to Birdair's fabrication facility in Tijuana, Mexico.  
Birdair used more than 225,000 sq. ft. of Sheerfill Architectural Membrane to create the panels. "Unlike a single-ply membrane roof, where you cut it around chamfer boards and roof penetrations, our membrane panels are pre-cut in our manufacturing facility ahead of time, and are actually cut to be a little bit smaller than what they want to be when they're installed. The panels have to be tensioned into place in two directions perpendicular to each other."
Understandably, installing the pre-cut pieces over the huge roof surface was one of the biggest challenges of the project.
"It does require some expertise from our field supervisors," Barden said. 
Tensile membrane roofs such as on University of Phoenix Stadium also have to drain in a very different manner from traditional roofs.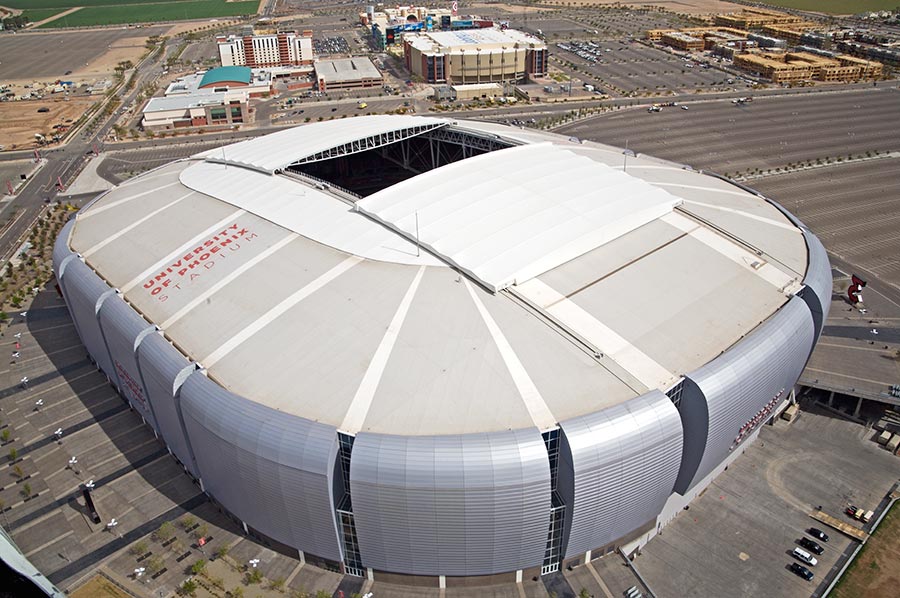 "Our engineers make sure there are no areas where ponding occurs so we get positive drainage off the perimeters and on to flat areas that have storm drains that carry away the water," Barden said. "Our retractable fabric membrane roof is the highest roof on the stadium, so it drains onto the fixed conventional single-ply membrane roof and down to the roof drains."
Another major issue was safety. "You're working nearly 200 feet in the air, so it's different for anybody working at that height," Barden said. "We don't want to have our installers blown off the roof. When you're lifting fabric roof panels as large as 20,000-square-feet, they become sails, and so you have to be very cognizant of wind speeds."
The overall roofing and water-proofing job took about eight months.
"On non-game days, the sports lighting is rarely used or needed," Drum, the stadium manager says. "With over 300 days of sunshine on average in Arizona, there is enough natural daylight that we can conserve electricity without sacrificing functionality."
University of Phoenix Stadium opened in 2006, drawing consistent sellout crowds to see a team that once struggled to fill half the seats in its former home, Tempe's Sun Devil Stadium. The team rewarded their fans by winning their first division title in 33 years. 
Birdair and its partner contractors rewarded the roofing industry with one of the most successful examples yet of waterproofing that not only seals out water and provides effective drainage, but also adds to the performance of a roof in multiple ways.
Winter 2009 Back Issue
$4.95
Above-Grade Waterproofing for Commercial Construction
Vapor Barriers and the Underslab Solution
Roofing the Sky
---
AVAILABLE AS A PDF DOWNLOAD ONLY
Description
Description
Above-Grade Waterproofing for Commercial Construction
Every building needs above-grade waterproofing. The article discusses the qualities such sealants need, and the different types on the market.
Vapor Barriers and the Underslab Solution
It's perhaps the most overlooked area of the building envelope.  But a significant amount of moisture—and moisture damage—originates from vapors coming through the slab.
Roofing the Sky 
By Dan Calabrese
The huge retractable roof that covers the new stadium in Phoenix Arz., is an outstanding example of the innovative materials and craftsmanship that go into creating a state-of-the-art roof.
Additional Info
Additional information
| | |
| --- | --- |
| Magazine Format | PDF Downloadable Magazine, Print Mailed Magazine |