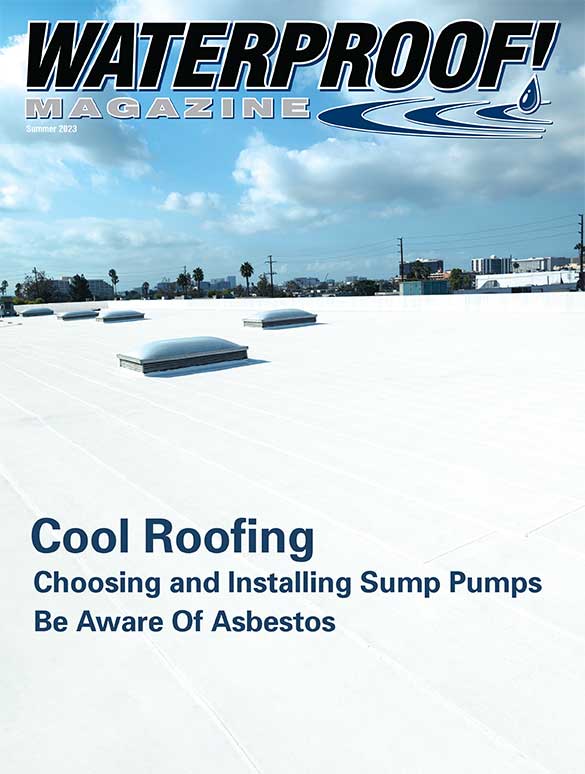 The stories and features in the magazine are geared toward hardworking contractors and small business owners who need relevant information, written in plain English, applicable to his business and jobsite.
WATERPROOF! Magazine reaches virtually every segment of the waterproofing industry. Coverage includes:
Residential Below Grade – Spray-applied foundation sealants, self-adhered sheet goods, footing drain tiles, dimple membranes and sump pump systems, crack repair, carbon fiber straps, piering, basement finishing, crawl-space, mold remediation, and moisture management.
Commercial Above and Below Grade – Subway tunnels, wastewater treatment plants, all facets of commercial and industrial waterproofing, underslab barriers, crystalline admixtures, polyurea coatings, curtain grouting, waterstops, blindside, above-grade air barriers, joint sealants and more.
Commercial Roofing – Single-ply, built-up, and ballasted roofing, reflective cool roofing, electronic leak detection, vegetated "green roof" systems, and spray-on coatings.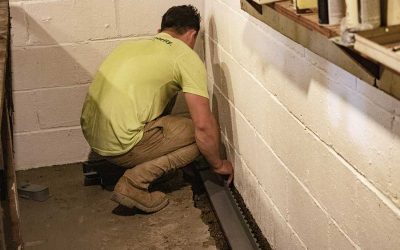 An Ohio Basement Authority crew member places BasementGutter in the trench.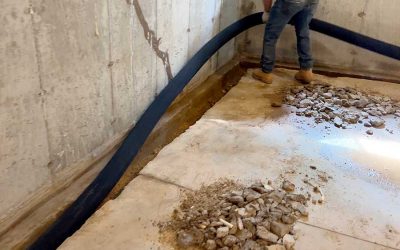 By Vanessa Salvia Foundation drains, also called footing drains, are typically installed adjacent to the footing on the outside and/or inside of the building structure to help prevent water damage.Water seepage into a building's foundation is one of the biggest...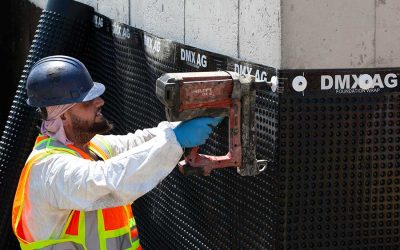 By Vanessa Salvia DMX dimple board moves water away from a foundation.  There have always been homeowners who turned an eye toward reinventing their basements into usable space, either as another bedroom, playroom, office, or just about anything. But...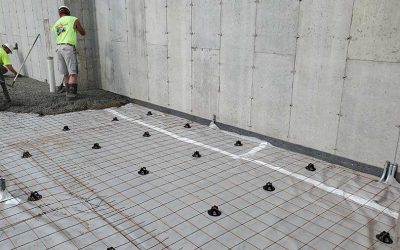 By Vanessa Salvia Viper II 10-mil Class A vapor barrier being installed for a new city hall building in Wisconsin. The barrier was sealed to the foundation wall at the height of the concrete slab prior to concrete placement. Vapor barriers are a moisture control...
By Joe Dakin An aerial view of many leaks in a roof.Nearly all dictionary definitions state that a leak is the result of an accident — losing or admitting contents through a hole or crack in the barrier which was supposed to prevent those losses or gains. A leak is...
By Vanessa Salvia   Periods of drought not only wreak havoc on a home's landscaping, extreme dryness wreaks havoc on a home's foundation too. In an age of climate change, some areas are becoming both more wet and more dry, which is a cycle that can cause...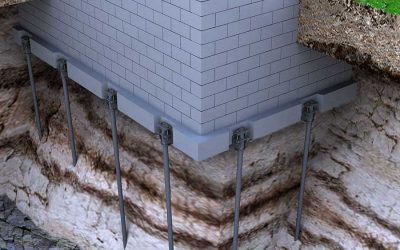 By Vanessa Salvia A closeup of Safe Basements's SaberTooth Pier system. In the old days, a contractor would have to dig down outside a house to fix a crack in a foundation. Any plants or structures like a deck would become casualties. Next would come the...