Periods of drought not only wreak havoc on a home's landscaping, extreme dryness wreaks havoc on a home's foundation too. In an age of climate change, some areas are becoming both more wet and more dry, which is a cycle that can cause foundations to shift, crack, and sink.
In the United States, the most devastating drought on record occurred in the 1930s during what is called the "Dust Bowl," which peaked in July 1934. According to the National Climatic Data Center, the drought, which researchers believe was caused by a large weather system that deflected the usual rains, affected almost the entire Plains region and covered more than 60% of the country. A similar weather pattern affected the country in 1976 and California in 2013. According to the National Oceanic and Atmospheric Administration (NOAA) 4.4% of the contiguous United States was in moderate to extreme drought at the end of January 2020. The percentage increased throughout the year and ended the year at 36.7%.
Cycles of Wetness and Drought
"A drought evaporates all moisture from the soil," says Brandon Thorne, architectural technologist for DMX Membranes in Ontario, Canada. "And when that happens, the soil separates away from the house and forms clumps which create cavities where water can collect. And if your foundation wall isn't damp proofed or waterproofed properly, you may have a big issue when the next rain fall comes."
When the rains return, the water will have ready-made channels to run through, and as the soil expands it can lift up the foundation in uneven ways. "It's going to flow all the way down to the bottom of the foundation wall," says Thorne. "That's where you're going to end up having an issue because it will create added pressure on that foundation wall, in some cases, more than the wall is designed to hold."
If foundation cracks occur from drought, when rains return these cracks can allow water to seep into a home during heavy downpours. Drought problems are often more severe in areas with clay soil because this soil type is more likely to shift when dry. During dry spells, trees and shrubbery that are planted near the home's foundation can compete for moisture in the soil, and can lead to soil shrinkage and settlement as the roots absorb moisture. 
If Foundation Cracks Occur
Rhino Carbon Fiber specializes in concrete crack repair and structural strengthening of foundations with carbon fiber. If a crack does occur, they have several options for repairing it depending on the type of issue. "We would first inject a crack with one of our injection kits, either the RCF Structural Epoxy Injection Resin Kit or the RCF Polyurethane Injection Expanding Foam Kit," says Paul Trzcinko, Rhino Carbon Fiber's assistant marketing manager in Toronto. These repair kits are sold in lengths of 10 and 30 feet. The resin is used for dry cracks and the foam is used for cracks where water is seeping in. The resin cures into a solid that is stronger than concrete whereas the poly foam expands to fill all the cracks and voids.
In some cases, the foundation also needs strengthening in addition to crack injection. Adding a strengthening product improves the chances that the crack will not reopen if the wall continues to move through sinking or shifting. "You have to use carbon fiber straps or our Concrete Crack Lock Stitches for strengthening," explains Trzcinko. 
The Rhino Carbon Fiber Crack Repair Kits contain carbon fiber straps and come in three weave options: bidirectional, unidirectional-vertical and unidirectional-horizontal. As it sounds, the vertical and horizontal weaves strengthen in one direction, and the bidirectional weave strengthens in all directions. "Combining our crack injection kit with our crack repair kit allows for a complete repair," says Trzcinko. 
 These crack repair options can be installed indoors or outdoors. In outdoor repairs, however, the foundation also needs a cover or protective coating to protect it from UV light. If used on an interior surface, it can be finished with drywall or paint as desired. The carbon fiber strengthening material is very strong but is also very thin, so it doesn't take up additional square footage.
 Rhino Carbon Fiber products are used on both residential and commercial structures. "On the commercial level we can do crack repair on multiple applications such as on silos and beams/columns," says Trzcinko. "For residential, our products are used to prevent water entry as well as to strengthen foundation walls to prevent further movement and re-cracking."
Protecting A Foundation From Drought 
It's best to protect a foundation from drought at the start of the project. That means taking the initiative to use a high quality product to protect the foundation wall. "At the end of the day, the foundation is only exposed at the beginning of the building process," points out Thorne. "So it's going to be very expensive for any homeowner to go and fix a problem under grade, so you want to try to avoid those situations as much as possible."
Pick a high quality waterproofing or damp proofing system from the start. DMX Membranes can be wrapped around the foundation. DMX AG is made of a very durable polyethylene that not only provides high resistance to alkalines and acids in soil, it is resistant to tearing or puncturing while the foundation is being backfilled. Other products may not stay attached to the foundation wall as well, which would cause problems down the road.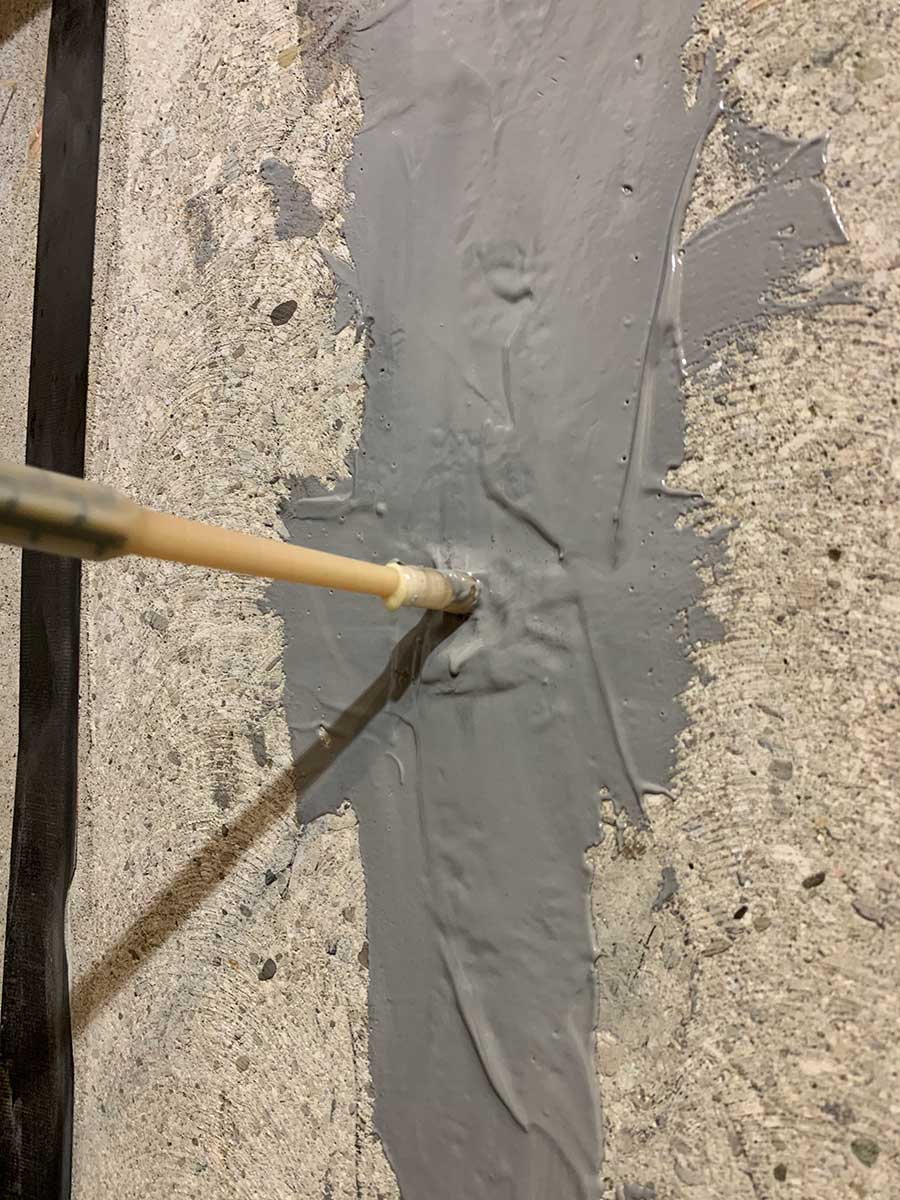 Utilize a high-quality drain board along your foundation wall, because if any water does get behind the board, the dimples will move it away from the foundation wall. The drainboard separates the foundation wall from your soil, which also results in an air gap in between the foundation wall and the soil. Any moisture or water that does get behind the board can flow down the wall and evaporate over time. "There's not going to be a buildup of pressure on the foundation wall that could help develop cracks or weak points," says Thorne. "And you're not going to have water seeping through any cracks if you're using a high-quality drain board. A lot of problems tend to occur in homes when that's skipped during the construction phase."
According to Texas A&M AgriLife, maintaining the moisture in the soil around the foundation is the most effective way to protect it from damage during a drought. However, if the drought also results in a water shortage, it may not be permissible to use water this way. 
Anticipating Drought
Droughts can occur almost any-where. The National Climatic Data Center classifies drought as the second most destructive weather-related phenomena that causes severe economic impacts in the United States, with hurricanes first. Drought can be considered a prolonged period of unusually dry weather, lack of precipitation, and or high temperatures. Drought can also be caused by water shortages due to overpopulation or overuse of water. Many regions in the country have historically relied on winter snows for their water, but as winter snows continue to lessen, water is becoming more scarce. 
In new construction, the architect or the technologist of the project should do a site evaluation before design of the home or building takes place. Within that evaluation, things like the soil type and water table will be evaluated. "They should also look at resources that show data for wind speeds, rainfall, and other environmental conditions that give you a picture of the climate of a place," says Thorne. 
Fall 2021 Back Issue
$4.95 – $5.95
Protecting a Foundation from Drought
Cool Roofing
Waterproofing Alternative Construction
Case Study: Pool Deck Crack Repair
Case Study: The Standard at State College
Description
Description
Protecting a Foundation from Drought
By Vanessa Salvia
Periods of drought evaporates all moisture from the soil, which creates cavities where water can collect. When rains return, the water will have ready-made channels to run through, and as the soil expands it can lift up the foundation in uneven ways.
Cool Roofing
By Vanessa Salvia
Just as wearing light-colored clothing on a hot, sunny day results in a cooler feeling on your skin, cool roofs can make any building feel more cool on a hot, sunny day. According to Energy Savers, standard or dark roofs can reach temperatures of 150°F or more in the summer sun while a cool roof under the same conditions could stay more than 50°F cooler and save energy and money by using less air conditioning.
Waterproofing Alternative Construction
By Vanessa Salvia
"Natural" wall assemblies like straw bale or cob are similar to traditional wood-framed walls in that they shouldn't be placed below grade. They require a waterproof foundation and a waterproof roof that diverts moisture and unlike traditional walls are not designed to be waterproof.
Case Study: Pool Deck Crack Repair
The American Restoration company was hired to repair a cracking concrete slab around a swimming pool using Rhino Carbon Fiber Concrete Crack Lock stitches in conjunction with RCF High Strength Anchoring Epoxy Paste.
Case Study: The Standard at State College
The general contractor for the The Standard at State College high-rise building project needed a waterproofing solution that could be installed quickly and meshed with field requirements. CETCO was the only company with the product portfolio that met the various field conditions present including exposure, large voids, lengthy time frame, and weather.
Additional Info
Additional information
| | |
| --- | --- |
| Weight | N/A |
| Magazine Format | PDF Downloadable Magazine, Print Mailed Magazine |