Carbon fiber is being used around the world to repair and strengthen concrete. Here, a roof deck on the island of Mauritius is being repaired after a catastrophic fire. 
Carbon fiber is the strongest man-made material in the world. That fact alone is remarkable. But the fact that it can be manipulated in so many ways—including for use on space shuttles, airplanes, high-end automobiles and various sports equipment such as golf clubs—as well as to repair and reinforce concrete and masonry, is equally remarkable. 
Along with carbon fiber's great strength comes an amazing lightness. The individual tows that are typically woven together to form fabric are made up of carbon fiber filaments. The tows commonly contain 12,000 or sometimes even 24,000 individual filaments of carbon fiber. The filaments are fibers about 5–10 micrometers (a unit also known as a micron—one millionth of a meter or one thousandth of a millimeter) in diameter and composed mostly of carbon atoms, one of the lightest elements known. Carbon fibers date back to 1860, when they were first produced for light bulbs by baking cotton threads in a process known as carbonization, a process in which heat is applied in an oxygen-starved environment so the material does not combust. 
Carbon fiber is often made from a polymer precursor known as polyacrylonitrile, rayon or petroleum pitch. For construction applications, that precursor is turned into rebar, fabric and plates or sheets. Plates are generally  four inches wide and 0.04 inches thick (less than the thickness of a dime) and can have a strength approaching 10 times the tensile strength of 60,000 psi steel.
Needless to say, as production costs have decreased, a product with this amount of strength and such a low profile is now being used to resolve a number of issues in the residential construction arena. Bowed walls, cracked walls and slabs and broken corners can all be repaired with carbon fiber. 
New Research And Guidelines
The use of fiber-reinforced polymer (FRP) composites to reinforce and repair concrete structures has been growing rapidly over the past decade or so. For the past 20 or 25 years, most carbon fiber has been surface mounted. When the material is surface mounted, the straps or sheets are applied as necessary to the surface in a manner similar to wallpaper, and are then bonded to the substrate. 
The American Concrete Institute's Committee 440 on Fiber Reinforced Polymers is studying the issue of anchoring carbon fiber. Todd Jackson, cofounder of Fortress Stabilization Systems in Holland, Michigan, is on Committee 440 and is observing a change in the industry regarding guidelines for surface mounted carbon fiber. "I believe that within the next five years all carbon fiber will be anchored," Jackson says. 
When carbon fiber is surface mounted, ACI knocks down most of the strength of the carbon fiber by 70 percent due to long-term creep or unzipping. If the carbon fiber is used on an exterior application, such as something like a bridge, the carbon is further degraded over time by humidity, UV damage, etc. However, studies are showing that if the carbon fiber is mechanically anchored (there are a variety of ways being studied to accomplish this), you can utilize 100% of its strength. A website that Jackson developed, www.carbonanchor.com, outlines the testing that's been done at the University of Miami on how anchoring increases the carbon fiber's strength. 
The entire industry is also moving toward getting ICC-ES approval for all of their products. In the commercial world, most building officials want ICC approval for any product that's used, but that has been lagging behind in the residential world. 
"They're trying to regulate that a bit more so people know the material is doing what it was designed to do," Jackson says. "As the popularity of FRP reinforcement continues, many distributors of these systems can be found on the [internet] and the reported values could be unknown. There has been a push in the residential world for suppliers to have ICC approval on products. This gives code officials and homeowners a confidence that these products are approved and tested systems."
More Than Just Injections
Jarred Jones, director of engineering and product development at Rhino Carbon Fiber, says repair contractors are starting to use more carbon fiber fabrics in addition to crack sealing injection work. Compared to steel beams, wall anchors and other traditional wall stabilization methods, carbon fiber is much quicker and much easier to install.
"In terms of crack repairs, A lot of guys now are not doing an injection without installing a carbon fiber crack repair on top of it," says Jones. "It's an additional layer of protection and adds strength to the repair." It's also a good method to use if a contractor encounters a problem with an injection or they're repairing someone else's injection where they're still having an issue with a leak. Like most other repair methods though, any water coming through the wall must be stopped in order to ensure an adequate bond with the epoxy. This can typically be achieved by doing the work during a dry period, or by the use of hydraulic cement or some other waterproofing method. 
Staples and Stitches
For crack repair, Rhino has three options: epoxy injections, fabric that can be overlaid on the crack itself and their carbon fiber Concrete Crack Lock, which Jones describes as a "stitch" to give additional strength across the repair and to lock the crack in place and keep it from moving. 
To install the Crack Lock, installers saw cut a thin slit in the concrete perpendicular to the crack and drill two small holes at each end. Then they fill the cut with Rhino's epoxy and insert the Crack Lock into the cut. 
"We've been preaching for a while that for a repair you should do something more than just an injection," he says. "Typically if an injection fails, it's not the injection that's the problem, it's the concrete adjacent to it. So if you can bridge that and hold everything together your success rate will dramatically increase."
Jackson, at Fortress, has also been investigating carbon fiber staples. His company has developed a carbon fiber "staple" anchor as a means of anchoring externally bonded FRP sheets into concrete. Called Fortec, they're available in two different types: flat and round. Both have been rigorously tested at the University of Miami and Polytechnic University of Milan in a wide range of circumstance and conditions. (Full test reports can be accessed through the online version of this story.)
Both types of anchors are provided as prefabricated elements that are inserted into epoxy filled holes in the concrete. Both products share the same aim: enhancing the bond of externally bonded FRP laminates to the concrete substrate.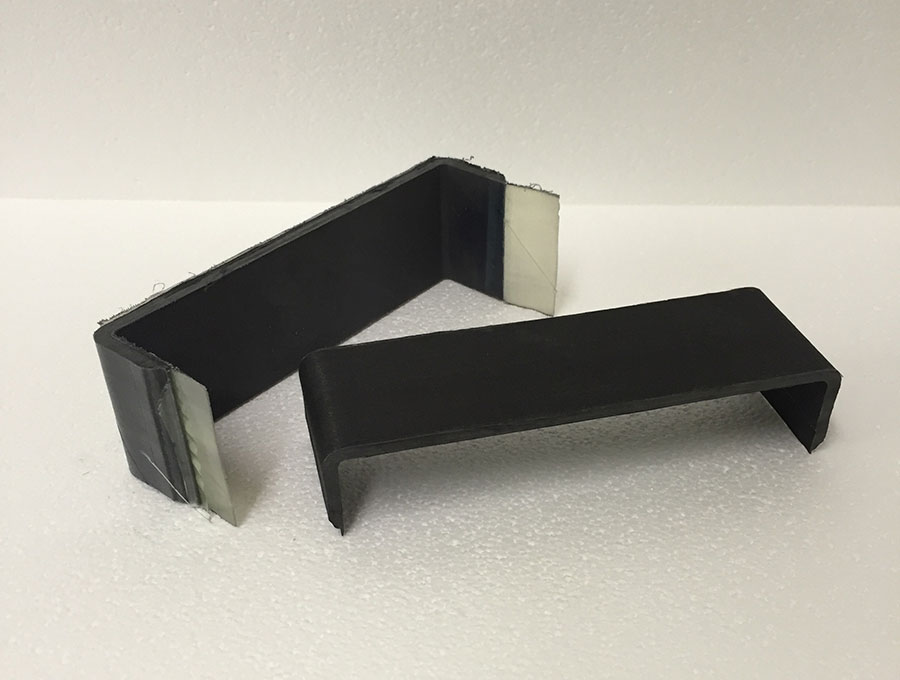 The flat staple is less obtrusive, and requires less grinding to sit flush with the concrete. Like all types of carbon fiber, once it has cured it can be finished with parge coats, brick overlays or painting to improve aesthetics. It installs in the same fashion as straight carbon plates or grids.
The typical anchor is six inches long by two inches wide with one-inch legs.  The anchors are comprised of high tensile strength carbon fiber encapsulated in a thermal set resin. A peel-ply fabric is adhered to the strap, and when removed, it leaves a prepared bonding surface for adhesion to a prepared substrate. Anchors can be used where columns meet walls, joints at ceilings and where added bond strength is required in overhead applications.
---
Case Study
Carbon fiber has been used worldwide to repair all types of buildings and structures, including residential basements, bridges and overpasses, high-rises, and parking garages. It was recently used to repair a retail facility on the island of Mauritius, in the Indian Ocean.
Jarred Jones states, "Rhino Carbon Fiber was contacted by PND Contracting regarding a beam reinforcement project on Mauritius Island, a small African country in the Indian Ocean. The Shop Rite facility at the Trianon Shopping Park had experienced a catastrophic fire which damaged the concrete structure."
When PND, the restoration contractor, began work to repair the structure, the owner's engineer discovered damage to the primary and secondary beams that supported the roof, which significantly reduced their strength.
The owner's engineer determined that Carbon-Fiber Reinforced Polymer (CFRP) could be applied to make up for this strength reduction. PND contacted Rhino for assistance.
Jones says, "Working with the contractor and the owner's engineer, the Rhino team was able to provide PND with a U.S.-stamped structural design that satisfied all of the project requirements."  The owner's engineer reviewed and accepted the design, and the work was able to begin.
The owners, understandably, wanted the project completed as soon as possible, and due to the logistics of getting the material to the isolated island nation, the materials needed to be shipped out to Mauritius prior to completing the final design. This shipment was based on the preliminary design work, and had to be broken down and packaged very precisely in order to meet air freight guidelines.
A Rhino representative also traveled to the island to make sure the installation went smoothly, answer questions, and ensure that the structural design and application process was followed exactly. 
The project—which included over 500 square meters of CFRP—was completed in 11 days using a three-man crew working off of scaffolding that was more than 20 feet high.
Upon completion of the carbon fiber installation, the owner's engineer performed load testing on the roof and observed only a fraction of the deflection that was expected.
Jones concludes, "Due to the immediate availability of the material, quick turn around on the structural design, and Rhino's willingness to be available to oversee the installation, this was a very successful project for not only Rhino, but for PND Contracting and the property owner." 
Vanessa Salvia is a freelance writer specializing in the construction industry. Based in Eugene, Oregon, her work has appeared in numerous national and regional publications.
Winter 2019 Back Issue
$4.95
Trade Show Preview
Drying Out a Waterfront Crawlspace
Waterproofing Industry Forecast
Securing the Roof Membrane Perimeter
Carbon Fiber for Structural Repair
Waterproofing an Airplane Factory
---
AVAILABLE AS PDF DOWNLOAD ONLY
Description
Description
Trade Show Preview
By Vanessa Salvia
Here's what to expect at the World of Concrete and International Roofing Expo, the waterproofing-related exhibitors, and how to maximize the opportunities these shows offer.
Drying Out a Waterfront Crawlspace
By Joseph Boccia
A waterproofing expert seeks to transform a wet and mold-ridden house into a beautiful waterfront home for a friend.
Waterproofing Industry Forecast
A booming housing market, code changes, and demand for sustainable construction  all have a significant effect on the waterproofing industry. This story examines what may be in store for the next 12 months.
Securing the Roof Membrane Perimeter
The roof perimeter or parapet edge is a most critical detail. New standards provide better performance and protect against wind uplift and fire danger.
Carbon Fiber for Structural Repair 
By Vanessa Salvia
Stronger than steel and far less bulky, this space-age material is making structural repair easier than ever before.
Waterproofing an Airplane Factory
By Ashley Gee
Contractors, distributors, and an innovative supplier team up to waterproof an ambitious project in America's rainiest city.
Additional Info
Additional information
| | |
| --- | --- |
| Magazine Format | PDF Downloadable Magazine, Print Mailed Magazine |