Polyurethane grouts can stabilize soils, fill voids, and seal leaking infrastructure.
There are many options for repairing leaks in concrete structures. One of the oldest, yet least understood repair methods utilizes polyurethane chemical grouts that react with water.  They either bond with the concrete to form watertight, permanent seals or become rigid to fill voids and stabilize the soil. 
According to the National Association of Sewer Service Companies (NASSCO), chemical grouting was first developed in 1955. Since that time, it has been used in sewers, manholes, tanks, tunnels, and many other applications all over the world. More than 40 years later, it's still a cost-effective, long-term defense against infiltration of groundwater into structurally sound sewer systems.
Reducing Infiltration
Municipalities are frequently seeking effective repair options to ease the load on their water treatment plants by reduce groundwater infiltration. 
Infiltration occurs when leaks in sewer lines, manholes, pump stations, and storm drains allow groundwater to enter the system. This infiltration adds to treatment costs and increases the risk of sanitary sewer overflows (SSOs). Groundwater leaks also carry sand, silt, and other debris into the system, increasing wear and tear on equipment. 
Leaks can also create voids and in extreme cases, undermine structures, leading to unstable foundations and settlement. 
Studies show that 40% of groundwater infiltration in sewer systems enters through manholes. Repair usually involves a waterproof liner, but groundwater infiltration must be eliminated prior to installing the lining. 
Many contractors use a quick-set hydraulic cement, which stops the leak temporarily, and provides enough time for the lining to be installed. But this type of patch is actually quite temporary, and can lead to a weak bond and failure of the lining system.
With polyurethane grout, leaks can be stopped in a matter of seconds, permanently and with immediate cost-savings.
Installation
Polyurethane chemical grouts are usually sold as liquid resins injected into or around the leak. Once the resin contacts water, a chemical reaction occurs and it expands into a closed cell foam. The foam created can be flexible and resilient (hydrophilic) or rigid (hydrophobic).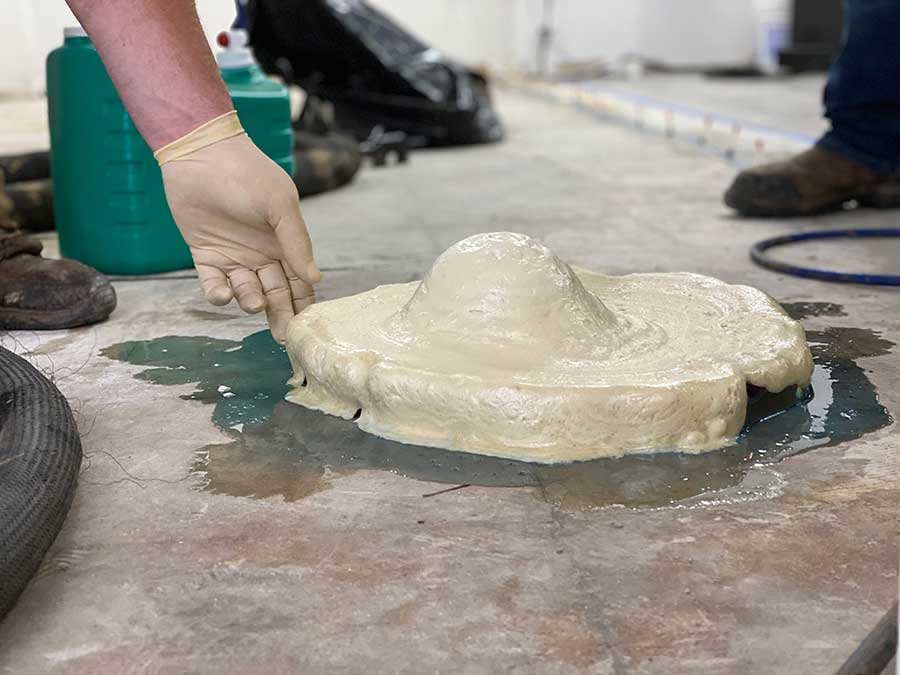 To inject the resin, a hole is drilled in the vicinity of the leak and the chemical grout is injected through the wall into the water source. The force of the water pushes the material back into the structure and seals the leak from the outside, so the seal penetrates the entire wall.  
Choosing the Product
Choosing the right material has a great impact on the longevity of the repair, and there is not a single product on the market today that is a "fix-all, do-all" for repairing  leaks in concrete.  While many products will temporarily fix a leak, only a few will be permanent, and those must be applied correctly by trained applicators.  
Knowing the differences in hydrophobic and hydrophilic chemical grouts is a crucial.
Hydrophilic Grouts: These products produce a closed cell foam when mixed with water. The reaction time is typically 30 to 45 seconds, and they expand five to eight times the initial volume. "Hydrophilic" means "water-loving" in Greek, and is able to bond exceptionally well to wet surfaces. The resin can even work its way into water-filled pores in the concrete. Hydrophilic chemical grouts are flexible and resilient after full cure and will allow movement to occur in the structure without damaging the seal or bond. 
Hydrophobic Grouts: These are two-part grouts.  They require a catalyst, blended into the resin prior to installation, in order to expand. The amount of catalyst controls the reaction time and the volume of foam. Using the maximum dosage of catalyst, (10% by volume), hydrophobic resins have an aggressive expansion—as much as 29 times in volume—and the reaction time is 10-12 seconds.

Hydrophobic chemical grouts repel water after activation, but when injected into a wet crack, hydrophobic resins can trap water in the pores of the wet concrete. This trapped water becomes a bond inhibitor. Hydrophobic resins cure to a rigid, hard foam, and do not recover if compressed, so if the structure moves there is good chance the cell structure will be damaged and leaks will reappear. 
Hydrophobic chemical grout is used for foundation stabilization and soil consolidation. It's low viscosity (fairly runny) so it permeates loose and non-consolidated soils easily. 
If the repair project involves a non-structural defect in concrete or masonry, a hydrophilic chemical grout should probably be used to seal the leak.
Hydrophilic foams are appropriate sealing water leaks above-grade and below. They are typically 85% air after expansion, and have excellent elongation, compression and rebound for use in expansion joints, cracks, or any other non-structural defect in concrete structures.
Hydrophobic grouts are best for filling voids that may be present outside the structure. If the job is below-grade and involves a gushing leak that is impractical to repair with hydrophilic resins. Hydrophobic resins can be used to fill the void.  Then, once the leak is reduced to a manageable level, hydrophilic resin should be injected into the defect to back up the hydrophobic material.
Conclusion
As America's infrastructure ages, grouting will continue to maintain its value as one of the easiest, most cost-effective and longest-lasting repair solutions available. 
If the right polyurethane grout is chosen, and the correct installation techniques are used, the repair will actually outlast the structure.
Summer 2020 Back Issue
$4.95 – $5.95
Grouts for Waterproofing and Structural Repair
The Crawlspace: Link to a Healthy Home
Waterproofing Your Crawlspace
High Performance Crawlspace Liners
Working In an Era of Covid
Elastomeric Coatings: Misconceptions, Myths, and Key Considerations
Description
Description
Grouts for Waterproofing and Structural Repair
Grouts can repair leaking manholes and sinking foundations, being injected into or behind the failure to eliminate moisture or restore structural strength.
The Crawlspace: Link to a Healthy Home
By André Lacroix
Encapsulating the crawlspace, conditioning it, and providing exhaust ventilation can create a healthy crawlspace.
Waterproofing Your Crawlspace
By Ben Rogers
Waterproofing, proper monitoring, and air quality control, can make crawlspaces a healthy, usable, and more pleasant area of the home.
High Performance Crawlspace Liners
By Ryan McCoy
High performance membranes can be used to encapsulate crawlspaces to improve air quality, energy bills, and the risk of mold and mildew.
Working In an Era of Covid
By Diana Parks
As the coronavirus spreads and threatens to derail construction projects, a legal expert explains how the industry can prepare for its effects.
Elastomeric Coatings: Misconceptions, Myths, and Key Considerations
By Chadwick Collins
Fluid-applied roof membranes made of high-tech resins cure to form a rubber-like elastomeric waterproof membrane that greatly prolongs the life of the roof.
Additional Info
Additional information
| | |
| --- | --- |
| Weight | N/A |
| Magazine Format | PDF Downloadable Magazine, Print Mailed Magazine |