Many homeowners select dehumidifiers based on the size listed on the box, which is often insufficient in a real-world basement environment.
There are so many different types of dehumidifiers in different sizes and with different features. Not to mention that there are a lot of homeowners and contractors who remember the recent scares of fires being caused by units from big box stores. How does someone go about choosing what they need for their space? Whether you are a homeowner trying to determine what type of dehumidifier you need, or a contractor helping a client choose one, here's what you need to know to pick the right one for the space. 
How Does a Dehumidifier Work?
A compressor-type (or heat pump) dehumidifier draws room air into a vent through a filter, which is then passed through a cold coil and condensed. The moisture that's condensed out falls down into the collection basin. The dried air then passes over a hot coil to warm it up and is then released back into the room.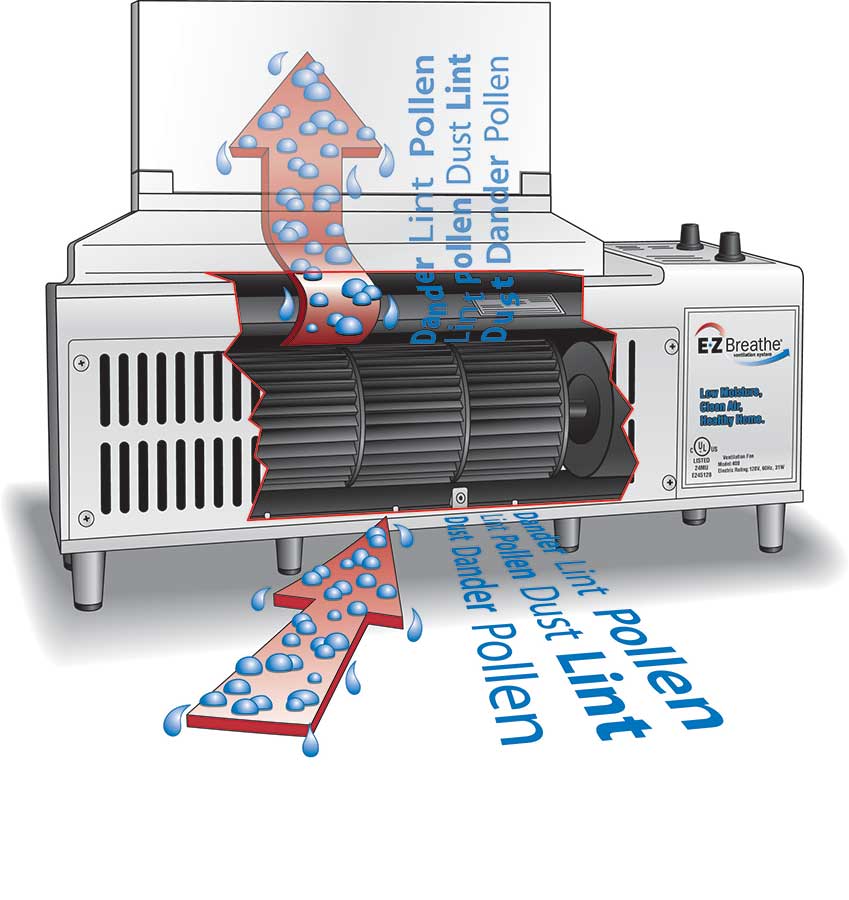 A desiccant dehumidifier passes air over a water-absorbing material like silica gel. A whole house ventilation system is considered the most effective way to remove damp air, mold, and condensation from a home. They are affordable to operate, quiet, and  monitor the home for proper humidity. The unit turns on and off as needed to bring the entire home to the chosen humidity level. In any unit, the condensed water is either stored in a collection tank or automatically drained out via a tube from the back of the unit to the outside. 
Andre Lacroix is co-owner of EZ Breathe, vice president of the Basement Health Association, a Certified Indoor Environmentalist, Healthy Home Specialist, and a National Radon Measurement Provider. He says most consumers go into Lowe's or Home Depot and pick one up off the shelf  based on price and  what it claims it can do on the box. "The average dehumidifier will cover around 750 to 900 square feet," he says. "The homeowner buys one, puts it in their basement, and then complains in two years when the thing burns out because the basement is way bigger than that. The best option is a whole house dehumidifier that more often than not will be sold and installed by one of their local foundation or waterproofing professionals who can make sure it can do what it is supposed to do."
Dehumidifier Failure
If a homeowner has placed a dehumidifier in a crawlspace they are using for storage, they may have no idea if the dehumidifier fails. "They think the dehumidifier is going to protect their stuff and then it doesn't," says Nikki Krueger, building scientist and business development manager for Therma-Stor's residential and commercial dehumidifiers division, which sells Santa Fe Dehumidifiers. "Choosing a commercial one with a reputation for good quality and a good warranty is really important."
In 2013, the U.S. Consumer Product Safety Commission reported that manufacturer Gree recalled about 2.5 million Frigidaire, SoleusAir, Kenmore, and other dehumidifiers due to a fire hazard. The company received information about more than 2,000 incidents of the products overheating, with about 450 fires resulting in more than $19 million in property damage. The recall was expanded in January 2014.
More recently, in 2020, the Oshkosh, Wisconsin, fire department says a fire on December 3 was sparked by a dehumidifier. That was the second dehumidifier-related call they received within the last six months. Although these units were recalled, sometimes they still turn up, for instance at yard sales or online. The consumer can't control a defect from the manufacturer, but they can control how they use their dehumidifier. 
With a plug-in type of big box dehumidifier, airflow must be maintained in order to help prevent overheating. The unit can't have anything covering it or blocking its intake or outtake vents. If it has a filter, those must be replaced on a regular basis. Tighten screws on the case of the dehumidifier or fan and clean fan blades, as needed. If the unit has coils, they should be kept free of dust and dirt. 
Sizing The Unit
Lacroix stresses that the off-the-shelf products are not necessarily bad, but more often than not they're asked to do more than they are meant to do. A true basement typically will need at least two, if not three, of those off-the-shelf dehumidifiers to do the job. On average, a dehumidifier will cost $30 a month to run. "I hear from people who tell me they're emptying their dehumidifier twice a day," says Lacroix. "They do have a moisture problem, but also a sizing problem."
Sizing involves the square footage of a basement, yes, but also the amount of water the dehumidifier can move in pints. But the size of the room is typically based off perimeter, and those numbers are based on a controlled environment where the testers introduce a certain amount of moisture and measure how much the unit can remove — a situation most homeowners won't find in their basement.
Wade Sanders, national key account manager of Santa Fe Dehumidifiers, tells a tale of a homeowner preparing to sell a house with the requirement that the home have a dehumidifier in order to be salable. "The dehumidifier that he installed had a drain pan that had to be emptied every four to six hours and with a filter that needed to be changed every two weeks, according to the owner's manual. "So there's a big difference between a residential light duty variety versus a commercially built residential dehumidifier," he says. 
If you have a basement with a furnace, the part of the basement where the furnace is will likely feel warmer and dryer, so the dehumidifier should go somewhere else. However, the furnace is typically placed near a drain. Removing water from a dehumidifier through a hose is advantageous because the collection reservoir doesn't have to be emptied. But it needs to be somewhere near a floor drain, or else you have to take into consideration the length of the hoses, which may mean water may not freely flow out, especially if needing to drain uphill. The dehumidifier may need to be placed on a table or shelf in order to gravity-feed the water through the hose. 
Filtration
Typically, 50% of the air below the home is going into the rest of the home, so a unit that provides filtration is important for indoor air quality. An off-the-shelf dehumidifier may have a small filter, but primarily all they do is remove moisture, not viruses, bacteria, mold, dander, and other particles. "EZ Breathe units provide a dehumidification benefit by simply introducing conditioned air in the space," says Erika Lacroix, president of EZ Breathe. "Unlike traditional dehumidifiers that use a condenser and a lot of energy to squeeze the liquid out of the air and then recirculate that same air throughout the whole space, EZ Breathe evacuates the air out of the space, including all those damp airborne moisture particles and replaces it with conditioned air so that not only are you getting all the particles removed and the benefits of ventilation, but you're getting the dehumidification benefits as well."
Santa Fe Dehumidifiers come standard with MERV13 filters, which can capture down to 0.3 microns. This equates to roughly 75% of a sneeze. Filtration is extremely important, especially if the environment is moldy. Mold spores can cause allergies and respiratory issues and can be pathogenic or parasitic in nature. Santa Fe does recommend the first filter change within 90 days of installation and then a minimum of twice annually.
The sticker price of a whole house dehumidifier unit purchased from a local professional will be considerably higher than an off-the-shelf unit, but when everything is taken into consideration, they become a lot more attractive. "I would recommend that consumers do their homework and look at a unit from A to Z and not just look at the cost of a unit off the shelf, but the cost to run it, the cost of you running downstairs to empty it, or having to run 30 feet of hose versus having one permanently installed," says Andre. "So all of a sudden, a $2,000 commercial unit is comparable to buying and running three off the shelf units. A professional can give you the cost of everything."
Other Considerations
Sanders says that one of Santa Fe's most-popular units, the Advance90 has a dual discharge, which allows the dryer air to be pushed into multiple locations within the crawl space. "That way, we're creating an envelope to pull that wet air back towards the dehumidifier," he says. Without that, with the single discharge often located in the center of the crawl space, the dehumidifier can short cycle due to creating its own microclimate. "If you're able to get the dry air away from the unit, then you'll get better control of the entire space," says Krueger. Sanders confirms: "Most big box store units just don't have the capacity to push the air. If you've got a 2,000-square-foot crawl space, you may get 500 to 800 square feet of air movement."
One question Sanders gets asked is what happens if the power goes out? Santa Fe units have an automatic restart and an onboard dehumidistat, which is a "set it and forget it" device that controls the humidity levels in the home by initiating dehumidification once it is above the set point, preferably set between 50-55% RH. This device is beneficial for residents who are away from their homes for an extended period of time throughout the year. 
Another key component is to look at how many amps the units are taking in order to run. A dehumidifier is not going to run 24 hours a day, seven days a week, so it should be a minimal amount of power consumption.
"When you actually get a dehumidifier designed for performance and effectiveness, it might cost more but it will usually come with a far better warranty," says Sanders. "One of the best testimonials that I ever heard was, it's usually not your first dehumidifier but your last one, because people often need to go through a big box one that typically has about a year warranty on it and then replace it until they finally get to the point where they know there's got to be a better solution." 
Summer 2021 Back Issue
$4.95 – $5.95
Selecting Dehumidifiers
Options for Structural Repair: Crack Repair, Carbon Fiber, Piering, Grouting
Waterproofing Metal Buildings
Mold Growth in New Construction
Waterproofing and Renovating the Empire State Building
Description
Description
Selecting Dehumidifiers
By Vanessa Salvia
Many homeowners think they can buy a dehumidifier off the shelf of a big box store and plug it in down in their basement. But there are many problems with this approach, including inadequate drainage, inadequate air movement, lack of air filtration, and sometimes catastrophic failure.
Options for Structural Repair: Crack Repair, Carbon Fiber, Piering, Grouting
By Vanessa Salvia
Here's a primer on the four major aspects of repair when there is a structural or non-structural issue with a basement. It takes some skill to discern which approach is best, especially with regard to cracking, and the experts we talked to broke it down for us.
Waterproofing Metal Buildings
By Vanessa Salvia
Metal structures have a lot of advantages, but when it comes to waterproofing they need special consideration. Many waterproofing membranes aren't designed to be under metal. Since a metal structure bakes all day in hot sun, the materials need to be formulated for high temperatures.
Mold Growth in New Construction
By Michael Rubino
A mold expert explains how owners of new homes are regularly encountering major mold issues. Just because a home has no water damage doesn't mean it is immune to mold.
Waterproofing and Renovating the Empire State Building
By Vanessa Salvia
One of the most iconic buildings received a much-needed facelift. A recent waterproofing and renovation project restored the Art Deco luster of the Empire State Building, the world-renowned 102-story skyscraper in New York City.
Additional Info
Additional information
| | |
| --- | --- |
| Weight | N/A |
| Magazine Format | PDF Downloadable Magazine, Print Mailed Magazine |