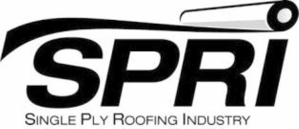 SPRI, the association representing sheet membrane and component suppliers to the commercial roofing industry, is reviewing two documents for re-approval as American National Standards.
ANSI/SPRI FX-1 Standard Field Test Procedure for Determining the Withdrawal Resistance of Roofing Fasteners and plans to canvass the document for re-affirmation as an American National Standard in the coming months. SPRI developed this standard for measuring the pullout resistance of roofing fasteners in field conditions. It was first published in 1996 and, in accordance with ANSI requirements, has been re-canvassed every five years. It was last updated and approved by ANSI in 2016. 
Likewise, ANSI/SPRI GT-1 Test Standard for Gutter Systems is being reviewed and prepared for canvass. ANSI/SPRI GT-1 provides designers, contractors, consultants and building code officials with structural design for gutters used with low-slope roofing. It is included in the International Building Code (IBC). This standard was first developed as GD-1 "Structural Design Standard for Gutter Systems Used with Low-Slope Roofs" in 2010. It was revised and approved as test procedure GT-1 in 2016. Those wishing to participate in the canvass process should contact SPRI at info@spri.org.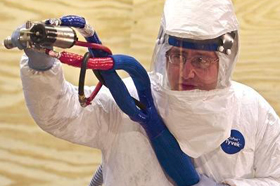 The Center for the Polyurethanes Industry (CPI) and Canada-based Caliber Quality Solutions are collaborating to help expand training resources for the Canadian spray polyurethane foam (SPF) industry. Through this new collaboration, CPI's free online SPF Chemical Health and Safety Training for the Canadian Market will be made a prerequisite of Caliber's SPF Apprentice Installer credential.
The SPF Chemical Health and Safety Training provides information about the use, handling and disposal of SPF, potential health hazards and control measures, including engineering controls and personal protective equipment (PPE). CPI recently updated the SPF Chemical Health and Safety Training to account for the Canadian market and Canadian regulations. The program is available in English and French (Canadian).
Caliber's SPF Apprentice Installer credential is a regulatory requirement for SPF installers in Canada. This certification verifies that installers are properly trained, knowledgeable, and skilled in High-Pressure SPF installation. Caliber is the largest certification body, contractor association and third-party quality assurance provider for spray foam in Canada. 
SprayWorks Equipment is launching its new free online spray foam training, titled Introduction to Insulation Spray Foam. The free training is a first step for new foamers or new business owners looking to understand the basics of spray foam. The new online training includes the following features:
One-step registration and saved steps to allow students to return when it's convenient
A new graphic-rich environment that works quickly and makes learning clear and concise
Automatic certificate of completion with a successful score of 80% or above
"Our online training offers a free first-step for those interested in starting a spray foam business," says Dave Penta, VP of Sales and Lead Trainer, SprayWorks Equipment Group. "Once complete, we offer hands-on Spray Foam School which is free with purchase of a machine or rig."