A little-known material is making inroads in the waterproofing market that offers a host of unique advantages.  Called Polymer Rubber Gel (PRGs).
This technology is radically different from the other fluid-applied composites used in waterproofing.   It has proven track record in various construction applications with a host of unique advantages.  It is particularly well suited to cut-and-cover tunnels and other projects with difficult transitions or multiple penetrations.  It's primary traits are exceptional adhesion, elongation, and self-healing properties.
The RE-Systems Group Americas, headquartered in Minneapolis, pioneered the technology and has established a track record highly successful PRG waterproofing applications/projects in the U.S.  "RSGA invented the  Polymer Rubber Gel product category as an extremely effective method for waterproofing all types of structures," says John Huh, President and CEO.
Polymer Rubber Gel is a modified rubberized asphalt emulsion, but unlike typical rubberized asphalt materials, PRG's polymers never completely cross-link.  This retains the gel in a non-cured state indefinitely. This innovation was developed specifically for the waterproofing industry over 15 years ago.  These materials perform as an exceptionally flexible, adhesive, continuously self-healing membrane with superior elongation and adhesion on many different substrates. It can be applied with excellent results on  green and damp concrete.
Because the gel never cures completely to a hardened state, it requires a durable membrane to be laid over the top as protection. RE-Systems uses a HDPE (High Density Polyethylene) with a fleece back.  A similar product from Kingfield recommends a low-density polyethylene (LLDPE) or polyvinyl chloride (PVC) sheet.  For positive-side waterproofing, a single sheet is used.  Blindside applications use two sheets, which function a protective sandwich.  This combination assures exceptional adhesion
The combination of PRG and a sheet laminate offers powerful advantages at an extremely attractive price point.  This technology has already been used in the U.S. for 9 years including several large-scale landmark projects from California to Massachusetts.
Advantages
The key characteristics for polymer rubber gel waterproofing systems are adhesion to the substrate, responsiveness to substrate movement, non-curing, self-healing and chemical resistance.
PRG exhibits exceptional adhesiveness, both to the substrate and to the sheet laminate.  These products do not require substrate conditioners or primers, which helps to minimize construction schedules and labor costs.  Adhesion is so remarkable that PRG can be applied directly to green concrete.  With site-cast walls, it can be applied as soon as the forms are stripped, eliminating the 28-day wait time.  Additionally, the PRG system can be applied in virtually any weather adding to the unique versatile installation properties.
Because PRG remains in a non-cured condition indefinitely, it is remarkably responsive to substrate movement.  This flexibility makes it ideal for construction especially where seismic events, structural vibration/movement or foundation settlement are a concern. The RE-Systems Group PRG systems have been tested (to ASTM standard D412-98) to stretch more than 350% before breaking.
PRG will self-heal under direct hydrostatic pressure and can mitigate common construction damage such as accidental formwork penetration, construction debris (nails, fasteners, etc.) and installation errors, even if these occur underwater. This combination system truly creates a dynamically responsive composite waterproofing assembly that excels in waterproofing effectiveness.
Installation and Applications
Polymer gel products are available in a variety of forms and viscosities to allow for multiple application methods, such as spray-gun, trowel, and preformed sheets.  (RE-Systems' GTS product line is available in five formulations; trowel-applied and spray-applied products for both positive- and blind-side applications, plus a fifth for injection.)
According to Huh, application is straightforward.  "The gel is applied at a minimum thickness of 80 to 100 mils, and combined with the HDPE sheet membrane" he says.  "The HDPE sheet brings durability, chemical resistance, and hydrostatic pressure resistance.  When combined with PRG, the result is both effective and economical."
For positive side applications, the PRG is applied directly to the substrate then the HDPE sheet is bonded to the gel. For blindside applications, the order is reversed.  First the HDPE sheet membrane is mechanically fastened to the lagging or excavation support, then the PRG is applied. Since the gel never cures, to protect the PRG from dirt and debris, and to provide a measure of added protection, an additional HDPE sheet is placed over the gel.  Finally, the forms are set and concrete is placed.
Because of its reliability, this system is especially well suited for blindside work, plaza deck waterproofing, underslab protection, green roofs and tunnel waterproofing.  The PRG system is also an excellent choice for cut-and-cover tunnel techniques because of the ease with which they handle transitions at the base slab and invert.
Finally, Polymer Rubber Gels are a great choice for green building.  The product emits no VOC's into the atmosphere. It's environmentally friendly, but perhaps more importantly, an applicator-safe product. In fact, the installers do not have to use any personal protective equipment when applying the product as the material emits no toxins.  Depending on the green rating system used, some products may qualify for additional credits, due to the PRG's use of recycled tire material.
Project Spotlights:
Caltrans Presidio Parkway & BART Warm Springs Extension
---
Caltrans Presidio Parkway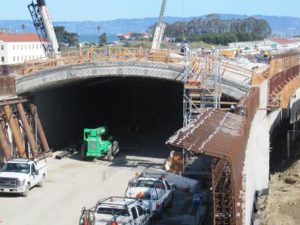 Polymer Rubber Gel was used to waterproof the entire length of the cut-and-cover tunnel connecting San Francisco to the Golden Gate Bridge.  It replaced the aging and outdated Doyle Drive—originally built in the 1930s—with a "spectacular regional gateway between the iconic Golden Gate Bridge and the city of San Francisco, tucked into the natural contours of the the Golden Gate National Recreation Area, one of the nation's largest urban parks."
Work began in December 2009 on the one-billion-dollar plus project, which is expected to be completed in 2015.
The most difficult part of the project is four cut-and-cover tunnels, in two separate locations, each with a pair of tunnels big enough to handle four lanes of truck traffic.
With the seismic concerns of the area and the difficult waterproofing transitions that cut-and-cover tunneling always involves, Polymer Rubber Gel was a great choice.  The owner—a joint venture led by the San Francisco County Transportation Authority and the California Department of Transportation (Caltrans)—selected the PRG system from RE-Systems for waterproofing all of the tunnels.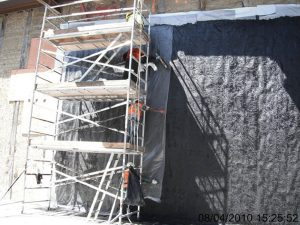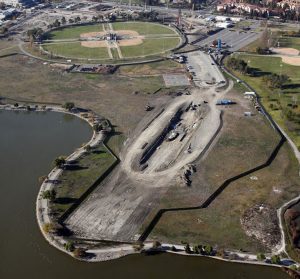 Phase 1, which included the two northbound tunnels, was completed in April 2012. Huh says "The GTS-500 high performance waterproofing system has allowed the fast-track project to progress on its accelerated schedule.  The blindside waterproofing system's superior flexibility and self-healing characteristics will ensure that this important infrastructure asset will be protected for generations to come."
---
BART Warm Springs Extension
Another California project that took advantage of Polymer Rubber Gel waterproofing is the 5 ½-mile extension of the Bay Area Rapid Transit (BART) light rail system.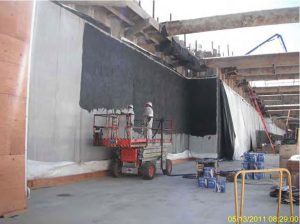 The scope of work included a mile-long subway beneath  Fremont's Central  Park, and associated ventilation structures.  A portion of those below-ground structures would be subjected to constant hydrostatic pressure, as they sit lower than the surrounding water table.
Built in the same high-seismic area as the Caltrans project above, most of the project is built less than a mile from a major fault line.  PRG's ability to respond to substrate movement was especially important on this project, not only because of seismic concerns, but also because of vibrations from normal subway operations.
GT-350, a positive-side gel-based system; and GT-500, the blindside product used on the Caltrans project above, were used to mitigate these risks.
Construction on the $130 million project began in 2009, and the waterproofing work was completed in 2012.  The line is expected to continue further south in coming years, reaching San José by the end of the decade.
Spring 2014 Back Issue
$4.95
The Importance of Certified Installers
Protected Membrane Roofing
Crystalline Admixtures and LEED
Polymer Rubber Gel Systems
---
AVAILABLE AS PDF DOWNLOAD ONLY
Description
Description
The Importance of Certified Installers
By Melissa Morton
On many projects, the quality of waterproofing depends on the quality of the installer. Certification can bring peace of mind to the owner, and additional profits to the contractor.
Protected Membrane Roofing
By Dennis Yanez
Protected Membrane Roofing (PMR) has a number of benefits, both from a technical and sustainability standpoint.
Crystalline Admixtures and LEED
Crystalline waterproofing technology has proven particularly suitable for green building. It has been used in many green-build projects, including several that have been certified LEED-Platinum.
Polymer Rubber Gel Systems
This new technology, which incorporates a non-curing, self-sealing polymer gel, makes it easier than ever to confidently waterproof difficult areas. It's already been used on several landmark products.
Additional Info
Additional information
| | |
| --- | --- |
| Magazine Format | PDF Downloadable Magazine, Print Mailed Magazine |
<!-- [et_pb_line_break_holder] -->