Bayonne is a city in Hudson County, New Jersey. Located just north of Staten Island,  Bayonne is situated on a peninsula with Newark Bay to the west and New York Bay to the east. It's basically surrounded by water.  Developers wanted to build a high-rise apartment complex in the city, which would require a deep foundation.  As the reader might suspect, designing and building a very deep foundation in direct hydrostatic conditions is a challenge.  
The Bay One project is located at 957 Broadway in Bayonne. It's a joint venture developed by  Lance and Joe Lucarelli along with other partners.  When completed, it will be the largest concrete apartment building in the city, surpassing its sister property, Park Bayonne, which has 60 units and was completed in 2016.  Park Bayonne is the project that opened the city to this type of development.  
This new project has 13 floors and 91 apartments.  The ground floor includes 7,500 sq. ft. of retail space.
The apartments are built to condo-quality standards, and will feature finishes similar to those in high-end high-rises in nearby Manhattan and Jersey City.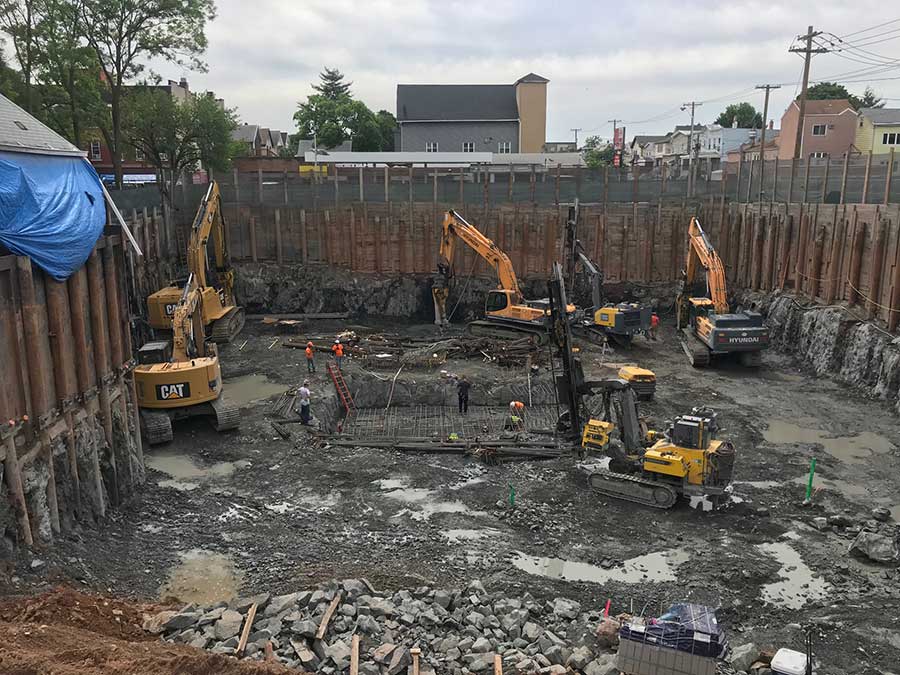 "Bayonne is the perfect mix between suburban and urban living, and Bay One will be the best building in the city when it is done." Joe Lucarelli says.  "Our goal has been to build a better product at a better price than what has traditionally been available here."
He continues, "We manage most every aspect of the project ourselves to make sure that we are creating a quality product with the best materials and at the best possible price."
One key to a quality structure is a quality waterproofed foundation.  Given the excessive amounts of water nearby, though, this was a difficult problem to solve. The general contractor worked with the designer, a waterproofing consultant, and the concrete subcontractor to develop a long-term solution. Surprisingly, no coatings or self-adhered sheet goods were used. Lucarelli says, "This deep, water-challenged foundation has no membrane."
The general contractor is LuCal Construction LLC.  Concrete work was performed by Tower Concrete company.  LuCal has worked closely with Gregory Maugeri of Dry Concrete for several years, and Maugeri was brought on as a consultant for this project.
"We have been working very closely with Joe [and] Lance [Lucarelli] and the rest of the team, guiding them through most of the waterproofing details," says Maugeri. 
The solution was to use an integral crystalline waterproofing admixture from Kryton.  Called the Krystol Internal Membrane (KIM), it's a powdered concrete additive that permanently seals shotcrete, precast, cast-in-place concrete.  It can be added to the mix at the batch plant or directly to the hopper of the concrete truck at the jobsite.  Krystol chemically reacts with water and unhydrated cement particles to form millions of needle-like crystals that fill capillary pores and micro-cracks in the concrete matrix, blocking the pathways for water to enter the structure.  This reaction works for the life of the concrete, and even if it develops hairline cracks years in the future, any moisture introduced will initiate more crystallization and seal off the leak permanently.  This crystal growth is proven to stave off high levels of hydrostatic pressure.   
LuCal's Jason Cali states, "This is a very large and deep foundation and we all wanted to make sure it had the proper protection for the long-term. Kryton's additive help us ensure that our building will be in great shape for decades to come, and that there will be less maintenance than at other buildings where they may cut corners or rely on membranes."
In total, the project used KIM in all the below grade concrete, which totalled nearly 3,000 cubic yards of material treated with Krystol additive, along with related waterstop details.
Uncommon to other buildings in the area, the Bay One includes lounges, work spaces, a movie room, fitness center, yoga studio, spin studio, children's room, outdoor terraces with grills, a dog run, and a dog wash, plus a rooftop deck with views of New York city and some indoor lounge space.  
"Even the rooftop sections used the integral product for waterproofing" Maugeri reports. "We tried be quite creative with the additive and extend its use beyond just the sub-grade."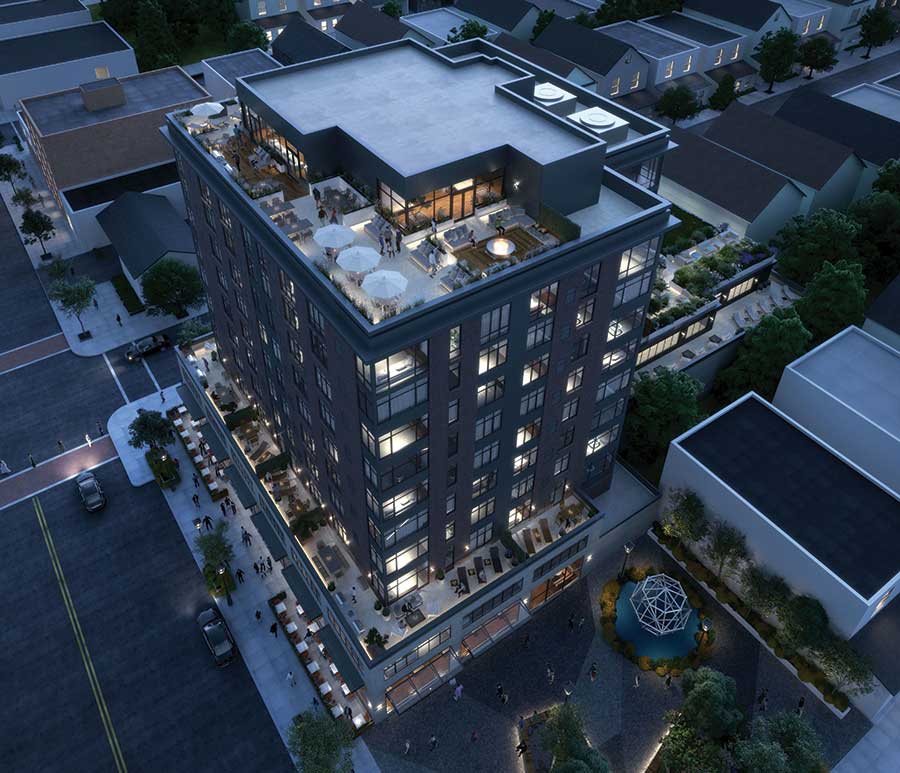 Greg Maugeri is the co-founder and managing partner of New England Dry Concrete, the largest Kryton distributor in the U.S.  His firm imports and distributes Kryton material, consults to the building trade and educates architects and engineers on the use of integral waterproofing through their AIA and PIE continuing education programs.
Spring 2019 Back Issue
$4.95
Drain Tiles and Footing Drains
Roofing America's Largest Buildings
Options for Underslab Waterproofing
Waterproofing a Deep Foundation
---
AVAILABLE AS PDF DOWNLOAD ONLY
Description
Description
Drain Tiles and Footing Drains
By Vanessa Salvia
Sheet drains, perforated pipe, and other products are used to create systems to collect moisture and route it away from the foundation without the risk of clogging.
Roofing America's Largest Buildings
By Vanessa Salvia
The largest roofs in the U.S. have been completed with a number of different materials, including single ply membranes, spray-on coatings, and even green roofs.
Options for Underslab Waterproofing
In choosing an underslab moisture barrier, permeance is only one of the variables in the equation. The sheet's tensile strength, puncture resistance, and other factors may be even more important.
Waterproofing a Deep Foundation
By Greg Maugeri
Sealing the deep foundation on this high rise apartment building near New York City presented a host of challenges. Integral crystalline waterproofing greatly simplified the job.
Additional Info
Additional information
| | |
| --- | --- |
| Magazine Format | PDF Downloadable Magazine, Print Mailed Magazine |