Waterproofers have an advantage over others when it comes to finishing below-grade space, since they know how to make the area dry and healthy.  Use the right products and good craftsmanship to ensure the customer is satisfied.
As waterproofing professionals, we've all dealt with homeowners who want their basement waterproofed or vaguely "fixed" prior to the installation of a finished basement.
A lot is on the line. The health of the homeowner and their family, and the protection of a big dollar investment they want to make.
As a waterproofer, you have an advantage over other contractors. You know what keeps basements dry and healthy. You know about the threat of moisture and mold. In this article, I'll outline some important things to consider when fixing a wet basement and getting it properly prepared for finishing.
Take A Closer Look
Start off with a thorough exterior inspection. Move down to the basement and conduct a visual inspection. Is there white efflorescence on the walls, or cracks, dry rot, peeling paint, or a musty smell?  These are serious conditions which will need to be addressed before a basement is finished.
Components
Let's discuss the individual components of a drier, cleaner, healthy, more energy efficient basement.
Waterproofing: Is there an existing waterproofing system? Is it functioning properly? Is it possible that the system is clogged with silt?  This is a common occurrence with older perforated drain tile and clay tile systems. Depending on the level of "peace of mind" desired, it may make sense to replace the existing system with a more up-to-date system to help ensure that no water seepage will occur once the basement is finished.
Sump Pumps: The sump pump is the heart of a waterproofing system.  If the heart doesn't work, nothing else will. I urge all installers to use a sump pump with a switch which will not get caught on debris or on the side of the sump pump liner.
Included in the waterproofing systems should be a high water alarm, which will alert the homeowners if the water level gets too high in the sump pump pit. In addition to the alarm, a high quality battery back-up sump pump should be installed.
Mold: Remember, the number one enemy of a healthy finished basement is moisture. Moisture fuels rot and what I like to call "the dreaded four letter word," M-O-L-D.  Mold can cause health problems, destroy wooden structural members, and make a home unsellable. It often isn't covered by the homeowner's insurance policy. By properly drying (and keeping the basement dry) the risks of mold can be greatly reduced.
If any area of the basement is suspect, a proper mold test must be performed. Simply guessing that a weird looking spot is or isn't mold doesn't cut it in today's litigious society.  Get a sample and promptly send it to an accredited lab. You'll be happy you did.
If mold remediation is needed, be sure the person who is cleaning the mold is qualified to do so. An unqualified tech can easily make the situation worse.
Foundation Concerns: Inspect the basement walls. Any structural issues need to be remedied before the space is finished. If left unaddressed; these problems will often get worse with time. Since they will be covered once the walls are finished, the homeowner may not know there is a problem until the wall reaches a catastrophic condition.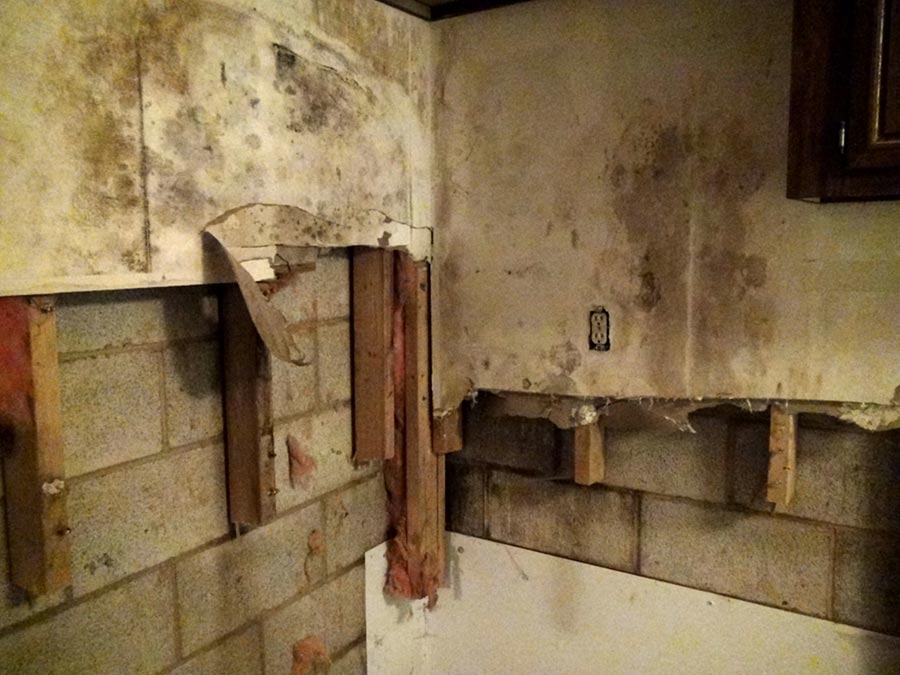 Examine the walls. Are they bowed out in the middle? Check the corners for cracks. How far are they bowed? If less than two inches, then a carbon fiber repair might be best. Carbon fiber is very thin, and easily hides behind wall systems.
If the bow extends past two inches at the maximum point, then a more traditional repair, like steel I-Beams, will be necessary.
Dehumidifiers: I recommend an energy efficient, professional-grade dehumidifier with micron filtration for basement and crawl space projects. Ensure the unit has enough "reach" to maintain the air in the entire basement.
Insulation: As much as 20% to 40% of the air infiltration in a home comes from around the rim joist. The solution to this problem is spray foam insulation. Unlike fiberglass insulation, closed cell spray foam insulation is an air barrier as well as a thermal barrier, keeping unconditioned outside air outside where it belongs. This lowers the load on the HVAC system. Why not offer your clients the immediate cost savings on HVAC expenses this provides?
Modern Basement Windows: Basement windows should let in light, but not drafts, bugs or vines! Windows should not rust or rot and should seal tightly, keeping unconditioned outside air out.
Crawl Spaces: If there is a crawl space near the basement, it could allow foul odors, moisture, and mold to travel into the basement.
Conclusion
If you are finishing an unfinished space in the basement, be sure to use water and mold resistant systems.  Even if you have taken all of the necessary precautions I have outlined in this article, accidents, such as plumbing leaks, can still occur.
A basement flood usually only affects the lower portion of the finishing system. If caught quickly enough, the damaged portion can be removed, mold treatment applied, and the damaged section replaced.
Do your customer a favor and become the expert.  Recommend the right repairs, install them right and help them have a drier, cleaner, healthier, more energy efficient home. This is additional work that as a waterproofing contractor you can do now.
Ron Greenbaum is "The Basement Doctor."   He has spent the last 22 years building a reputation of expertise and quality in central Ohio, and has recently expanded his service area to Maryland, Washington D.C., and Virginia.
Basement Tips for Contractors:
Document:
Put all expectations on paper. Take pictures of the work before, during and after the job is completed. If a problems crops up, memories often get fuzzy. Having everything documented and signed off on helps prevent misunderstandings and protects both you and your customer.
Know Your Staff: Who is in charge of the job site? Who do you have in your customer's home? Are they dependable, friendly and qualified? The customer will remember the installation crew long after the sales person has left.
Keep The Homeowner Updated: The foreman should give the homeowner regular updates regarding the progress of the job. Simple calls, notes or texts go a long way to alleviating worry and fear. The salesperson should also visit the jobsite and customer.
Keep Everything Positive: The crew should work well together. Updates should focus on the progress; the nitty gritty problems are not what the homeowner wants to hear. They hired you so they don't have to deal with it themselves.
It All Starts At The Top: As the owner or manager, it's up to you to model the right behaviors for your staff. Do you embrace your customers? Do your employees feel it's ok to reach for the stars, or are they too busy covering their butts? Do you offer them a career, or just a paycheck? The right leadership will create an "all-in" culture and will ensure that your business is as important to your employee's as it is to you.
Fall 2023 Back Issue
$4.95 – $5.95
AI in the Waterproofing Industry
Case Study: Northwestern University's Simpson Querrey Biomedical Research Center
Installing and Protecting Green Roofs
Protecting the Commercial Building Envelope
Understanding Hydrostatic Pressure
Employer Responsibilities To Employees and Law
By Gregory Fahrenbruch

Description
Description
AI in the Waterproofing Industry
By Vanessa Salvia
It may be something you have to get used to, but once you do, it could be extremely useful and valuable.
Case Study: Northwestern University's Simpson Querrey Biomedical Research Center
By American Hydrotech
The building's proximity to Lake Michigan creates a high water table issue for the building.
Installing and Protecting Green Roofs
By Vanessa Salvia
There are many benefits of green roofs. However, successfully installing and maintaining a green roof requires careful planning and protection to ensure the plants thrive.
Protecting the Commercial Building Envelope
By Vanessa Salvia
Envelope performance directly impacts occupant comfort, health, energy efficiency, durability, and operating costs.
Understanding Hydrostatic Pressure
By Vanessa Salvia
When water accumulates and cannot drain properly, hydrostatic pressure builds up and pushes against the waterproofing membrane or material.
Employer Responsibilities To Employees and Law
By Gregory Fahrenbruch
Employers responsible for asbestos-related issues differ from those who do not work with asbestos but may have a potential for exposure to those who work abating asbestos products.
Additional Info
Additional information
| | |
| --- | --- |
| Weight | N/A |
| Magazine Format | PDF Downloadable Magazine, Print Mailed Magazine |
<!-- [et_pb_line_break_holder] -->