Bored tunnels, such as this Pacific Coast Highway tunnel near Devil's Slide, California, can be a challenge for waterproofers.  Typically, the stakes are high, the jobsite remote, and project size is enormous.
Bored tunnels are some of the most demanding and challenging projects a waterproofer will ever work on.
Unlike tunnels close to the surface, which are usually constructed using cut-and-cover techniques, bored or mined tunnels are constructed deep below grade, where sometimes just getting to the worksite is a major ordeal.  Additionally, the pressures, depths, and lack of repair options inherent in this type of work make doing the job right even more critical than usual.
Because of these challenges, bored tunnels are usually economical only when other construction methods—such as cut-and-cover—can't be used, usually because the jobsite is too deep.  It's not unusual for bored tunnels to reach 160 feet below the surface.  At those depths, the tunnel is almost always carved through solid bedrock.  In other cases, bored tunnels are preferred because the surface cannot be disturbed.
Basic tunneling methods are fairly standard.  First, the tunnel is excavated using heavy equipment, drill-and-blast mining techniques, gigantic tunnel boring machines (TBMs) or some combination of the above.  If needed, soil nails and rock bolts are then installed to strengthen and stabilize the newly exposed face.  Also, nearly every bored tunnel receives a layer of shotcrete that serves the same purpose.
Most of the popular waterproofing methods take advantage of this shotcrete layer to simplify the waterproofing process.  Once this is in place, workers can install any drainage and/or waterproofing membranes.  Finally, a grid of reinforcing steel is set up, and a final tunnel lining is cast.  This lining is usually either another layer of shotcrete or a traditional concrete mix that's cast-in-place using slipforms.
While each jobsite is unique and each project requires a customized waterproofing system, these systems can be categorized into just a few basic types.
Crystalline Systems
Perhaps the least complex method is to incorporate a crystalline admixture into the shotcrete so that the concrete itself becomes waterproof and self sealing.  In past decades, the product was usually applied as a powder or a liquid after-the-fact.  Recently though, a better method has been developed. (For more on crystalline admixtures, see Understanding Integral Waterproofing in the Spring 2010 issue.)
Ann Martucci, a marketing executive at ICS Penetron, notes, "In the past, we recommended spraying Penetron onto the shotcrete surface, but in recent years, we've discovered it's far more effective—from both a performance and a cost basis—to add the product directly to the shotcrete during application."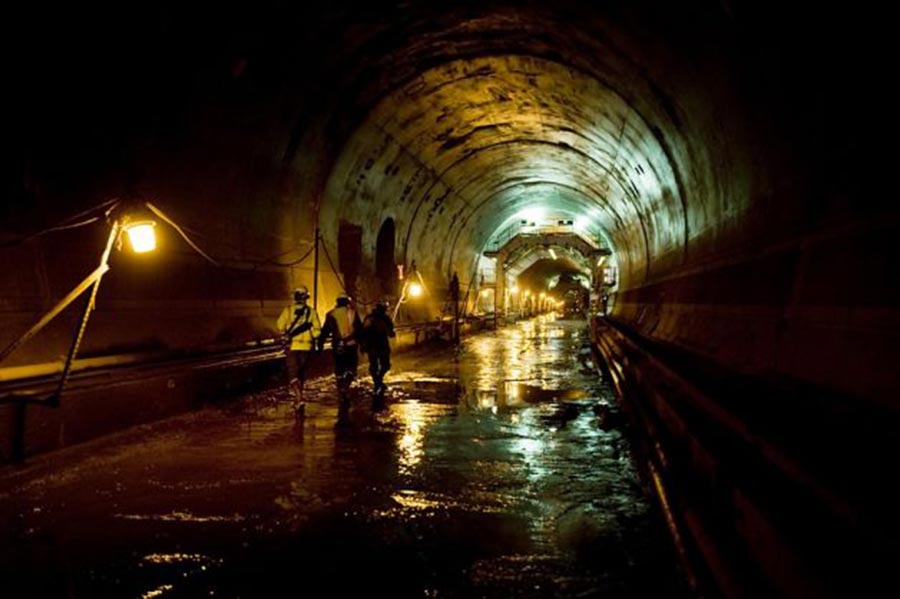 For example, ICS Penetron was specified to waterproof the tunnels on a new 250 km rail line in Sweden.  The country has some of the most stringent pollution and groundwater contamination standards in Europe, and with about 25 km of bored tunnels to seal, the project would be extremely demanding. Fortunately, Penetron already had a decade of experience in the country, and their "Penetron Admix Enhanced Shotcrete" (PAES), developed in 2003, had already passed rigorous environmental testing. So in 2009, the company got the go-ahead.  By 2011, they had delivered more than 5000 cubic yards of PAES to the project. It was an elegant solution to a job that otherwise would have been far more complex.
Crystalline-enhanced shotcrete is especially useful for remedial waterproofing in bored tunnels, as it can be applied to the negative (inside) face.  The Washington D.C. Metro System used crystalline products from Xypex to repair severe leakage problems in several miles of tunnels, as well as passageways, mechanical rooms, equipment vaults, elevator shafts and passenger stations.  In this case, the waterproofing was applied as a slurry coat over the defective concrete.
Membrane Systems
A second method uses traditional blindside membranes developed for deep foundations.
Unlike foundations, though, which utilize a drain sheet between the wall and the waterproofing layer, in tunnel work the waterproofing membrane is applied directly to the shotcrete.  In this case, the shotcrete is primarily to stabilize and encapsulate the sharp edges of the freshly broken rock, and protect the membrane from being punctured.
This is the method that was used to waterproof the recently completed Devil's Slide Tunnel on Hwy 1 near Pacifica, California.  The $300-million-plus project involved excavating two side-by-side tunnels, each one ¾ of a mile long, 30 feet wide and 24 feet high.
Once a section was excavated, workers used rock bolts to reinforce the walls and ceiling, and a remote-controlled truck applied a layer of fiber-reinforced shotcrete. The thickness varies from 4 to 14 inches.  Next came the waterproofing membrane, in this case, a open (drained) PVC membrane from Sika Sarnafil.
Thermoplastic membranes such as PVC, TPO, or polyethylene  (HDPE) are the most common membrane choices for bored tunnels.  They're flexible, easy to install, and resist stretching; Sika's barrier stretches more than 300%.  Additionally, these types of membranes are resistant to low temperatures, aging, and can easily be welded and repaired, even in moist or wet areas.
Once the waterproofing was installed on the Devil's Slide tunnel, construction followed the typical pattern.  Workers installed a double mat of rebar to match the area's seismic requirements. A rail-mounted slip-form was used to cast the final tunnel lining.
CETCO has recently developed a series of PVC membranes specifically for bored tunnels.  The CoreFlex 60 integrates a 60-mil thermoplastic membrane with DuPont's Elvaloy-KEE (Keytone Ethylene Ester) to seal any leaks that develop.  It's reportedly the only thermoplastic membrane composite with this reactive, self-sealing performance feature.
The company also makes 80- 100- and 120-mil membranes without the self sealing liners.
"The tunneling industry really prefers these durable PVC membranes because of the longer service life," reports Stacy Byrd, National Products Manager at CETCO.
Drainage and Waterstops
Many tunnel designs—especially deep tunnel designs—allow for a certain amount of leakage.
Designers typically shy away from specifying drain sheets, as pressures deep within the earth are extreme, and they don't want anything compressible in the design. Still, some sort of drainage is needed to reduce hydrostatic pressure on the waterproofing system.  Engineers typically turn to a system of waterstops, drain pipes, and sump pumps.
The goal is to direct the flow of water to the drain lines for discharge as quickly as possible.
If a PVC membrane is used, thermoplastic waterstops are standard, as they can be welded to the membrane.  PVC waterstops—flexible, impermeable barriers—are installed vertically at regular intervals to limit the distance water can migrate behind the membrane.  Byrd reports that they're typically installed every 30 feet or so, dividing the tunnel into drainage sections of no more than a thousand square feet. These waterstops are different from the conventional cold-joint waterstops used in regular concrete work.  They  have a different profile, and are so stiff that they can't easily be rolled.  They typically arrive at the jobsite in long straight sections  with separate factory-fabricated connections.
The preferred solution for drain lines is surprisingly mundane: the standard perforated-pipe-in-gravel every waterproofing contractor is familiar with.  On the 25-mile Channel Tunnel connecting England to France, the perforated pipe was laid in the gravel ballast under the rails.
If possible, the pipes are run to daylight and drained by gravity.  On the Channel Tunnel and other deep tunnels, a standard sump pump setup is used.
Polyurethane Grout Systems
Like every type of project, bored tunnels have an Achilles Heel.  Cold joints, expansion joints,  and connections to other tunnels—such as ventilation shafts or cross passages—are prone to leakage and require extra care.
One popular method for secondary waterproofing or remedial repair is polyurethane grout.  They're especially useful when access shafts  or other penetrations create geometric shapes that are too awkward for sheet goods to seal adequately.   This grout is usually injected as a liquid resin that reacts with water to form a watertight, permanent seal.
Grace Construction Products markets a sheet membrane that comes with a grid of polyurethane grout injection ports pre-installed.  After the final tunnel lining is installed, the grout can be injected at any location to ensure a watertight bond.
CETCO's line of thermoplastic membranes can also be installed with integral grout tubes.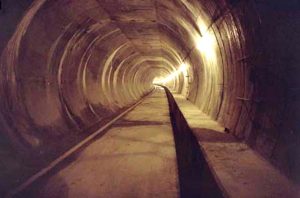 Additional Considerations
Waterproofing is critical in deep tunnel applications because the stakes are so high.  Maintenance or repair work typically would cause a serious interruption in service, so the job has to be done right.  A failed waterproofing job, though, is not only inconvenient, but dangerous.  In a mountain highway tunnel, for instance, any water or ice buildup is a serious safety hazard.
Peter D'Antonio, who oversees tunnel sales for Sika Sarnafil, notes, "Proper waterproofing of tunnels is one of the most cost-effective ways to increase the useful life of these structures and enhance safety. Water seeping into a structure endangers the building materials through the freeze-thaw cycle, with water freezing inside cracks and causing them to enlarge. Further, preventing water from freezing on road surfaces increases safety."
Fall 2012 Back Issue
$4.95
Don't Call the Game: Drainage Systems for Synthetic Turf Fields
Options for Finishing Basements
Waterproofing Techniques for Bored Tunnels
---
AVAILABLE AS PDF DOWNLOAD ONLY
Description
Description
Don't Call the Game: Drainage Systems for Synthetic Turf Fields
High-tech materials and creative engineers make it possible to keep teams on the field in otherwise impossible conditions. Some drainage solutions also improve player safety as well.
Options for Finishing Basements
By Ron Greenbaum
An acknowledged expert explains why it's critical to verify a basement is dry before finishing it, and the basic components every basement finishing job should include.
Waterproofing Techniques for Bored Tunnels
Waterproofing bored tunnels deep below the surface is one of the most challenging jobs in the industry. The pressures, depths, and lack of repair options make doing the job right even more critical than usual.
Additional Info
Additional information
| | |
| --- | --- |
| Magazine Format | PDF Downloadable Magazine, Print Mailed Magazine |