Adapted from Greenroofs.com
For many, summer means baseball.  In 2015, the oldest baseball stadium in the U.S., the Boston Red Sox' home field Fenway Park underwent a major upgrade, including enhanced Wi-Fi and two new 30-foot-high jumbotrons. 
 One of the most innovative updates, though is the 7,000-sq.-ft. garden roof that sits atop the third base side of the stadium, over the front office and entrance.  The green roof is literally a rooftop garden, supplying more than 6,000 pounds of organic produce to ballpark attendees every year.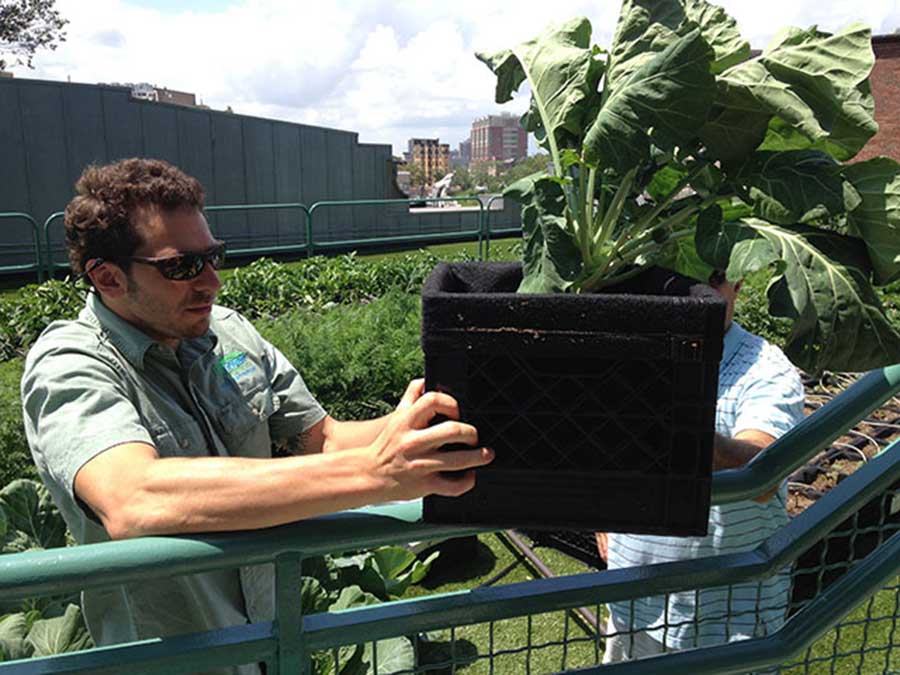 Dubbed Fenway Farms, it's highly visible to ballpark attendees, and has been included as a stop on the official Fenway Park tour.
Prior to the renovation, the area was just an oddly shaped, unused roof.  The idea of transforming the space into a rooftop garden was developed by Linda Pizzuti, wife of team owner John Henry.  The entire renovation was part of an ongoing campaign by the Red Sox to promote healthy living, and the project was engineered with sustainability in mind on all levels.
Recover Green Roofs, LLC was selected to design and build the green roof.  Vegetables require considerably more water and deeper soil compared to the sedum varieties typicaly used.  To accommodate that requirement, they first waterproofed the entire deck with a liquid waterproofing membrane from Carlisle, and then used a series of five-gallon crates made with a non-woven geotextile to contain the growing medium.  These soft-sided crates were then arranged to form the growing areas.  Though simple, the system ensures optimal drainage and aeration, as well as healthy root development and vibrant plant growth. Both the design and materials allow for incredible flexibility as each planter unit can be moved in a modular fashion with ease. Additionally (and most critically), the crates can withstand wind uplift pressures even at dry weight, as each crate is secured to adjacent units.
An automated drip irrigation system keeps the farm's rotating array of vegetables and herbs hydrated. The watering system is tied to sophisticated software that monitors local weather data and delivers water directly to the plants' roots as needed. Crops are sown in actual compost and soil rather than lightweight growing media, and the garden is managed by Green City Growers.
Stadium chefs select the plant varieties to be grown each season, and utilize the weekly harvests in salads and fresh side dishes prepared in the stadium's high-end restaurants. This typically includes arugula, greens, snap peas, and rosemary in the spring season with longer season crops like eggplant and potatoes being added in the late summer months.
Senior Executive Chef Ron Abell says, "It's the best produce around." He whips up salads, pestos, vegetable side dishes and scallion pancakes with the garden's wares.  "It was a dream come true," Abell says. "For ten years now we've been sourcing from local farmers, and now literally we have it 300 feet away from us." 
Some of the produce is delivered to the stadium's numerous concession stands.  Not so far from the hot dogs and pretzels is a stand that sells wraps bursting with greens from the roof just above.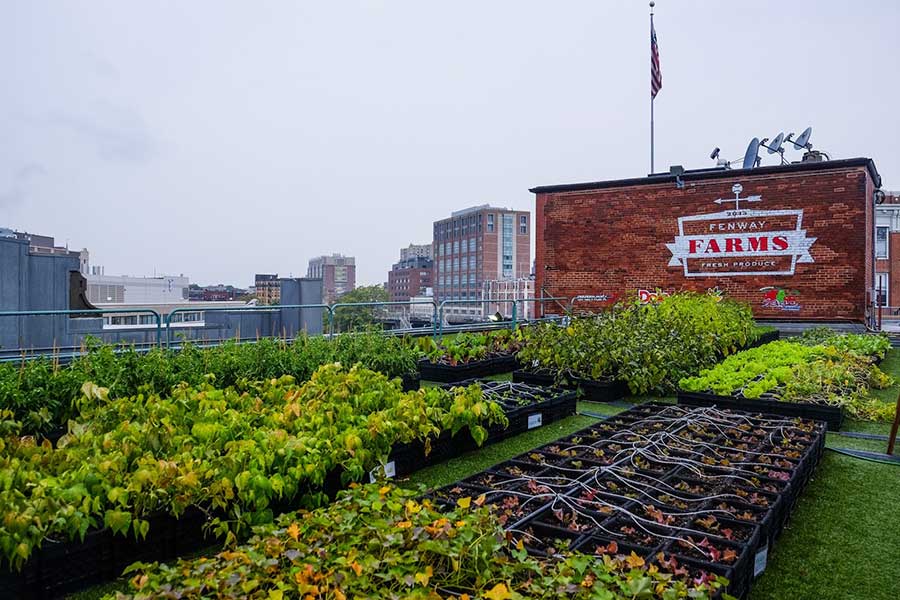 The garden roof proved to be an immediate hit.  In fact, it was so popular that the owners built a similar space across the street the following year.  The Vineyard Vines Club is a 5,600-sq.-ft.  Rooftop event space with 600 sq. ft. of garden. It's rented out as part of ticket packages and for special events with access to audio/visual equipment including outdoor televisions and a sound system. The produce grown at Vineyard Vines is donated to the Boston community.
Fenway Farms received the Green Roofs for Healthy Cities 2017 Award of Excellence.  Judges praised the project's ability to connect green roof technology with new audiences, and exceeding typical expectations for sports and commercial institutions." 
Summer 2019 Back Issue
$4.95 – $5.95
Growing A Basement Business
Below-Grade Waterproofing 101
Rehabbing Aging Concrete Wastewater Infrastructure
Green Roof for A Stadium
Description
Description
Growing A Basement Business
By Vanessa Salvia
Contractors seeking to grow their waterproofing business have a number of options, including adding structural repair services, mold remediation, and sump pump servicing.
Below-Grade Waterproofing 101
By Kevin Smith
Selecting the appropriate below-grade waterproofing solution for your specific project and unique conditions is not always an obvious choice.
Rehabbing Aging Concrete Wastewater Infrastructure
Easy to apply and resistant to abrasion and chemicals, polyurethanes are becoming a popular choice for sealing water and wastewater tanks.
Green Roof for A Stadium
In the past few years, a number of exceptional green roof projects have been completed. One of the most notable features a vegetable garden atop America's oldest baseball stadium.
Additional Info
Additional information
| | |
| --- | --- |
| Weight | N/A |
| Magazine Format | PDF Downloadable Magazine, Print Mailed Magazine |