The U.S. overall unemployment rate of 3.7% is at a nearly 50-year low. The largest population centers in the country with the tightest jobless rates are: Minneapolis-St. Paul, 2.2%; San Francisco and San Jose, 2.5%; and Orlando and Raleigh, 2.7%.
The waterproofing industry looks to be heading into another solid year of growth. All three of the major sectors—residential, commercial, and low-slope roofing—are set for another banner year. 
A booming housing market, the rise of air barriers and single ply membranes in above-grade commercial construction, and changes in below-grade commercial applications all signal plenty of opportunity.
There are challenges, too. Financing costs are rising, skilled labor is in short supply across the U.S, and rising raw material prices threaten profit margins.
Still, well managed companies should be optimistic. Here's a more detailed outlook.
Residential Outlook
Installing basement waterproofing and drainage on new homes makes up a significant share of a residential waterproofing contractor's portfolio. Fortunately, the economy seems to be settling into a period of solid, steady growth. New home construction in 2018 was a solid 1.2 million units, and economists predict a similar rate next year. 
However, rising mortgage rates may be dampening the U.S. housing market. Mortgage interest rates hit five percent earlier this fall. Over the past year, the mortgage on a typically priced home of $295,000 has increased by $120 per month. Rates are expected to rise still further, as the Fed has signaled it is planning on raising rates at least twice more in the coming months. 
"It is increasingly apparent that homes are getting too expensive to afford," says Chris Rupkey, chief economist at MUFG in New York.   
As a result, new home sales have fallen for five months straight. The U.S. Census department reported in November that new home construction hit a two-year low, and housing permits, which indicate future construction, are also falling. 
Still, the long-term outlook is fantastic. David Blitzer, managing director of the Dow Jones stock index, states that even though there is a pullback in the housing market, there is no indication that the current weakness will become a repeat of the 2008 housing crisis, as mortgage default rates are still low. 
Hurricanes in the south and wildfires in the west have created strong regional demand for new construction as well. 
For contractors who specialize in remedial waterproofing, structural repair, basement finishing, and renovation, 2019 should see continued growth. Employment figures are strong, wages are growing, and homeowners and building managers finally have the means to tackle years of deferred maintenance.  
Customers are showing strong preference for contractors who understand the latest technology and trends. Encapsulated crawlspaces, internet-connected sump pumps, carbon fiber repair, and modern egress windows are a few examples of rapidly growing opportunities in the residential sector. 
Commercial Vertical Applications
President Trump's infrastructure plan, which many industry executives have looked forward to, has stalled, with no foreseeable plans to launch a massive, government-funded infrastructure re-development plan. 
Still, demand for commercial waterproofing is forecast to remain strong. A new research report by Global Market Insights predicts that the size of the waterproofing membrane market will grown by 10% annually over the next three years, and top $9.5 billion by 2022.
The report notes that, globally, demand for waterproofing membranes is especially high in southeast Asia and the Middle East. 
The product is available in two forms: liquid and sheet. Liquid applied membranes are currently the most common, due to their low cost and effectiveness in dealing with complicated details and flashings.  
Currently, liquid-applied mem-branes account for 67.2% of total vertically-applied product last year, and are the fastest growing segment. Advances in material chemistry, including polyurethanes, spray-applied air barriers, and rubber polymers ensure liquid-applied coatings will continue to be the fastest-growing segment of the commercial waterproofing market. 
Sheet membrane applications will see less growth. Global Marketing Insights estimates they will average 6.2% growth annually through 2022.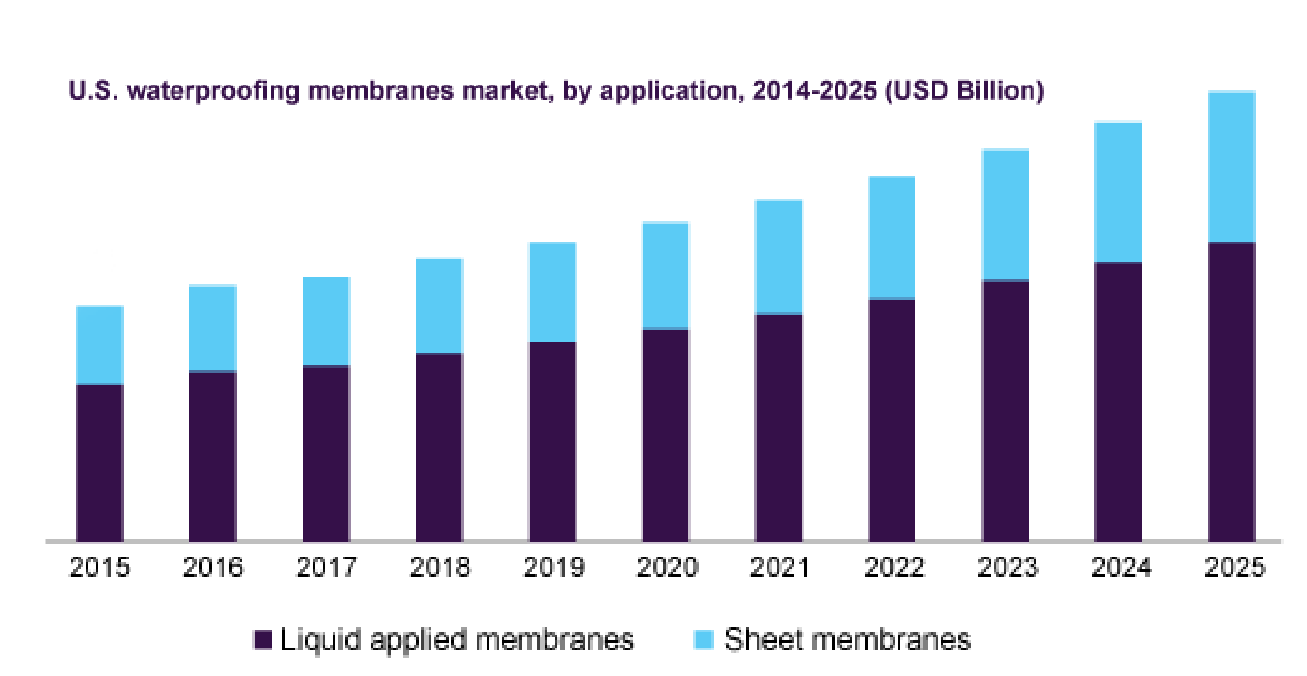 Green Building
Enthusiasm for green building certification has declined significantly in the past few years. When the U.S. Green Building Council (USGBC) unveiled LEEDv4, many saw the requirement to report energy and water usage for years after the fact to be too burdensome. Instead, designers and building owners are opting to forgo formal certification and instead brand their building as "equivalent to" the various green rating systems.
So while formal certification statistics may indicate a decline, there is still significant demand for sustainable construction. Low-VOC formulations continue to attract sales. 
Commercial Roofing
The commercial roofing sector is being revolutionized by spray-applied coatings. These materials dramatically extend the life of the roof, at a cost that is minimal compared to a complete membrane removal and re-roof. 
Liquid coatings are usually bitumen, polyurethane, rubber polymer, or acrylic. Polyurethanes and other advanced formulations are seeing the fastest growth.
Self-adhered materials made up 45% of the total material installed in 2014, a figure that includes TPO, bitumen, EPDM, and PVC sheet products. TPO roofing systems are growing especially fast, owing to their low cost, ease of installation, and flexibility.
Nearly all commercial roofers should see solid profits next year. Demand is so strong that even century-old bitumen-based roofing systems, such as BUR, are still predicted to see a healthy growth rate estimated at 6.7% through 2022.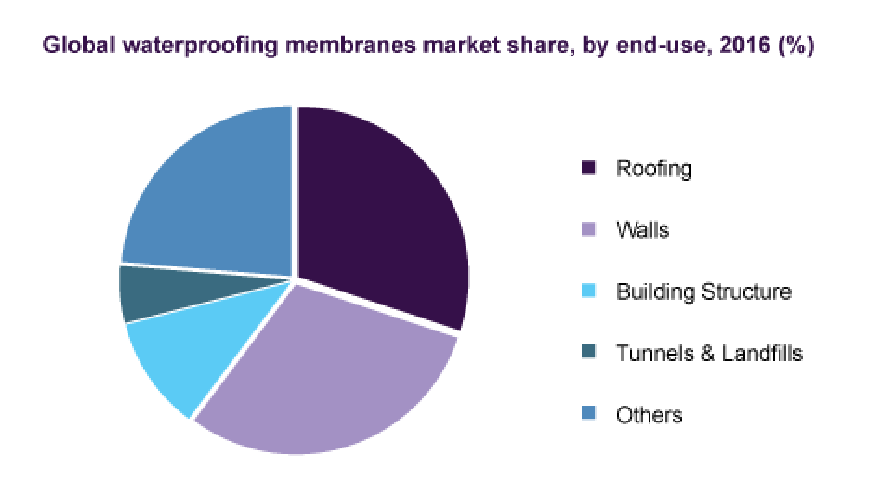 Long Term Outlook
The long-term waterproofing outlook is difficult to predict. Alex Carrick at the Daily Commercial News states, "Old-style attempts at deductive reasoning to sort out what the future may hold are proving inadequate. For example, in Washington, efforts to set policy through negotiation by lawmakers are being superseded by hard-to-anticipate executive orders and ubiquitous court challenges."
He also points out that while job creation rates, historically low unemployment, and consumer confidence would point to solid growth for the foreseeable future, "there are also shadows at the edges that are unsettling."  The Chairman of the Federal Reserve has stated an intention to increase the central bank's policy-setting interest rate to 3.00%, a full percentage point higher than it sits today. 
More stringent building codes will also have a major impact. The use of artificial intelligence (AI) will become more pronounced. Drones can be used to survey roof damage. Robots are being developed to apply coatings far more precisely than humans.
For the next 12 months, though, expect strong demand and continued success.
Winter 2019 Back Issue
$4.95
Trade Show Preview
Drying Out a Waterfront Crawlspace
Waterproofing Industry Forecast
Securing the Roof Membrane Perimeter
Carbon Fiber for Structural Repair
Waterproofing an Airplane Factory
---
AVAILABLE AS PDF DOWNLOAD ONLY
Description
Description
Trade Show Preview
By Vanessa Salvia
Here's what to expect at the World of Concrete and International Roofing Expo, the waterproofing-related exhibitors, and how to maximize the opportunities these shows offer.
Drying Out a Waterfront Crawlspace
By Joseph Boccia
A waterproofing expert seeks to transform a wet and mold-ridden house into a beautiful waterfront home for a friend.
Waterproofing Industry Forecast
A booming housing market, code changes, and demand for sustainable construction  all have a significant effect on the waterproofing industry. This story examines what may be in store for the next 12 months.
Securing the Roof Membrane Perimeter
The roof perimeter or parapet edge is a most critical detail. New standards provide better performance and protect against wind uplift and fire danger.
Carbon Fiber for Structural Repair 
By Vanessa Salvia
Stronger than steel and far less bulky, this space-age material is making structural repair easier than ever before.
Waterproofing an Airplane Factory
By Ashley Gee
Contractors, distributors, and an innovative supplier team up to waterproof an ambitious project in America's rainiest city.
Additional Info
Additional information
| | |
| --- | --- |
| Magazine Format | PDF Downloadable Magazine, Print Mailed Magazine |