Dehumidifiers are an important component of a waterproofing system.  Homeowner Danny Burns in Marysville Tenn. solved his wet crawlspace challenge by adding a sump pump, crawlspace liner and a Santa Fe dehumidifier. (see before-and-after photos at right).
Waterproofing contractors understand the critical importance of keeping basements dry.  They use a wide variety of materials—membranes, drain boards, perforated pipe, and sump pumps, to name just a few—in an effort to keep below-grade space healthy and livable.
One piece of the puzzle that's often overlooked is the importance of a dehumidification system.  Low humidity levels decrease the risk of mold, pests, and property damage. By properly conditioning lower-level air, it often improves the living environment throughout the entire structure.
"Air movement within a building envelope always travels from the bottom to the top," explains Ron Greenbaum, an Ohio-based waterproofing expert known as the Basement Doctor. "It's known as the 'Stack Effect.'"
Unless you live in a desert, virtually all basements could benefit from a dehumidification system.  Even if the walls and floor appear dry, a significant amount of moisture could be entering the home.  One Kansas State University study documented "as much as 15 gallons per day of water vapor enters a basement space via vapor transmission through…walls, floors, cracks, and openings and by evaporation".
Tim Chapin,  HHS, CRMI, says "When there is moist dirt on the other side of the wall, you are going to experience a higher level of humidity in that space than you would in a space that is above grade. It's a simple law of physics, wet moves to dry!"
Another law of physics, the "Stack Effect" explained above, moves a significant portion of the indoor air—up to 50%—into the living space.  Greenbaum says, "The best policy is to prevent as much unwanted outside air infiltration as possible and then clean and dehumidify the air that is already there."
Erika Lacroix, president of EZ Breathe Ventilation Systems, explains, "Dehumidification of the below grade spaces must be taken into consideration on any waterproofing job to do it right. Our 40 years spent waterproofing the foundations of tens of thousands of homeowners has suggested that the odor and overall general feeling in the basement is just as important to home owners satisfaction as keeping the water off of their floor."
In general, there are two approaches to dehumidification.  The first type of system decreases humidity by condensing it into liquid water; the other vents the humid air directly outside and reverses the "stack effect."  Both approaches have proponents.
A number of other variables need to be taken into account as well, including:  
Size of the space that you want to dehumidify
The energy efficiency of the unit
Temperature of the space that it is placed in
What the homeowner would like to accomplish
Condenser Systems
Ed Meyer, senior product manager at My Basement Doctor, recommends a robust, highly efficient condenser-type unit from Santa Fe that doubles as an air purification system. "Most small [40-60 pint] units do approximately 400 to 600 sq ft of space," he says. "The Santa Fe Classic [a 110-pint unit] will do around 2,500 sq. ft."
The unit costs significantly more than those available at local building supply and home centers, but Meyer says the cost difference disappears when energy efficiency is taken into account. After twelve months of operation, the more expensive unit will have paid for itself and from then on, save money every month.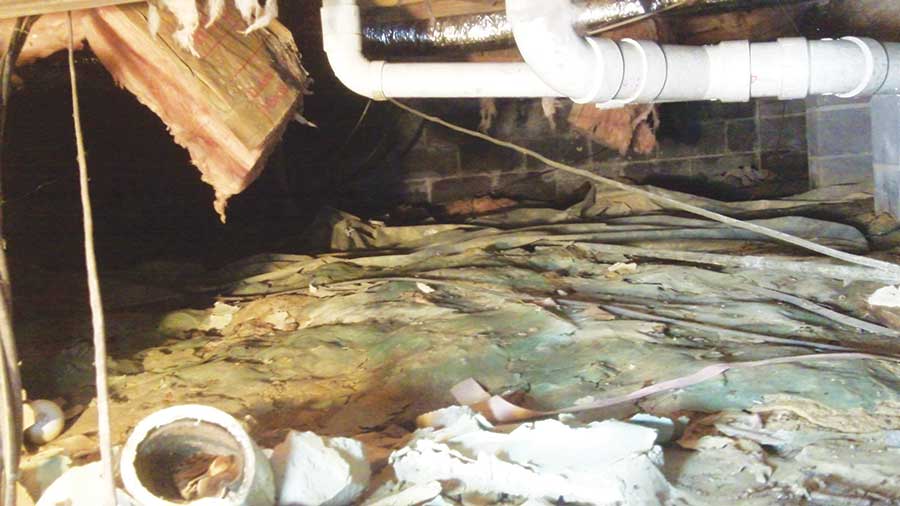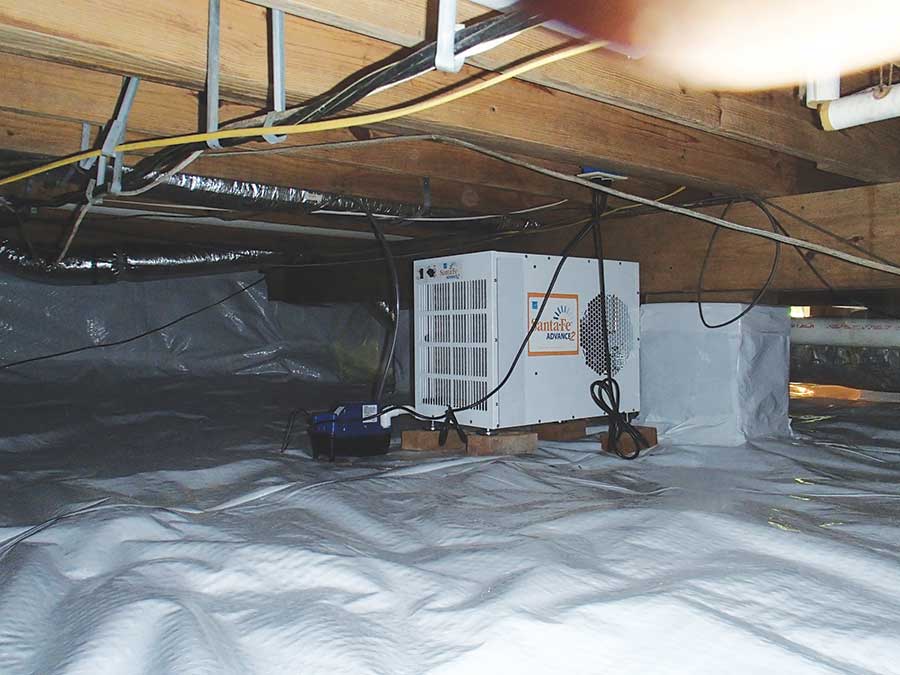 Meyer claims there are other advantages as well.   "The capacity of most standard units are based on a space with the temperature of 80 degrees F and 60% relative humidity," he says.  If the basement or crawlspace is outside that range, the unit's effectiveness will be significantly diminished.  Some have tendency to freeze up, causing the unit to cease operation. The SantaFe is designed to remove 110 pints of water in these same conditions and are capable of functioning fully in spaces that are as cool as 56 degrees F and as warm as 95 degrees F. In fact, in cooler conditions, the unit performs even better that the specified 110-pint capacity."
If homeowners are concerned about the smell of damp musty air, they should consider a dehumidifier that also works as an air cleaner.
Venting Systems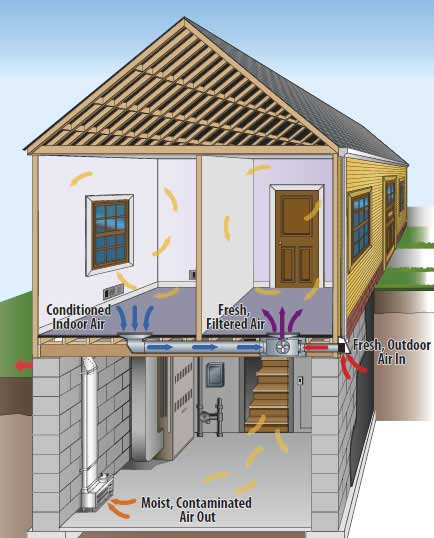 Lacroix's EZ Breathe system takes a different approach, venting the humid air outside before it has a chance to infiltrate the living space.
"After much research and field testing we embraced a new, innovative way to dehumidify below-grade spaces by increasing ventilation rates," she says.  "Not only does the increased ventilation decrease humidity by replacing that damp air in the lower level with the cleaner drier air from upstairs, but we also exhaust the musty odors."
Exhausting water in vapor form does not require as much energy as the process of condensing it into liquid, so there is a cost savings.  Lacroix claims a basic unit will condition up to 7,000 sq. ft. at a cost of less than five dollars a month.
She says that in addition to lower humidity levels, her company has documentation that indicate increased overall air quality, such as lower mold and bacteria counts, and reduction in allergens and airborne particles. "Our customers consistently report that the increased ventilation in their home creates an environment in their basement that feels just like the upstairs and they now truly have a livable space to enjoy," she states.
Cautions
Some disagree with the premise of venting systems, claiming that exhausting already conditioned air makes no sense, as the system will eventually be pulling air from the uppermost part of the home.  Proponents of venting systems point out that nearly all homes have enough natural air leakage to ensure it doesn't actually occur in the real world.
Waterproofing and indoor air quality involve a large number of variables, and as with all problems of this type, there are many solutions. The right solution involves finding a unit that's properly sized, energy efficient, and capable of handling the temperature and humidity range of the space.
Winter 2014 Back Issue
$4.95
Selecting a Spray-Applied Air Barrier
The Importance of Dehumidifiers
Crystalline Solutions for Wastewater Plants
A Different Direction: Green Walls
---
AVAILABLE AS PDF DOWNLOAD ONLY
Description
Description
Selecting a Spray-Applied Air Barrier
by Colin Szewaga
Air barriers are becoming more common because they reduce energy use and many codes now require them. Fluid-applied membranes are especially popular because of their continuity, strength, and airtightness.
The Importance of Dehumidifiers
Dehumidifiers are often a critical component of a waterproofing system. But determining their size, placement and features is an essential part of making sure the units perform as intended.
Crystalline Solutions for Wastewater Plants
Waterproofing and sealing wastewater treatment facilities are difficult because of the constant immersion, extreme head pressure, and sometimes caustic chemicals.
A Different Direction: Green Walls
No longer satisfied with green roofs, designers are now developing vertical gardens and green walls, which require a new approach to waterproofing.
Additional Info
Additional information
| | |
| --- | --- |
| Magazine Format | PDF Downloadable Magazine, Print Mailed Magazine |
<!-- [et_pb_line_break_holder] -->