Until about 10 years ago, air barriers were virtually non-existent in the United States.  Today, though, they are a profitable and growing industry.  This significant increase in use has prompted many questions from design professionals, general contractors and air barrier installers. The more in-depth questions include:  What are the code requirements? What are the benefits of air barrier assemblies? How do I design it properly? What materials do I specify?  And what air barrier contractor do I choose to install the air barrier assembly?
This article addresses these issues.
Code Requirements
Air barriers started off as an energy-efficiency building code requirement in the Commonwealth of Massachusetts in 2001.  Air barriers are now a mandatory requirement in four codes and standards (ASHRAE 90.1-2010, ASHRAE 189.1-11, 2012 IECC and 2012 IgCC). These codes and standards have been adopted in 12 U.S. states to date.
In Canada, air barriers systems are required as specified in the 2011 National Energy Code for Buildings and have been a requirement of the National Building Code of Canada (NBCC) since 1995.
Why are Air Barriers Important?
Simply put, a continuous air barrier assembly will reduce air leakage, saving a considerable amount of energy over the service life of the building. By reducing air leakage and drafts, occupants are more comfortable and the building owner will have fewer complaints. Air barriers also reduce the amount of exterior pollutants that would otherwise infiltrate the building.
It's easier to accurately size the HVAC system, based on lower heat-loss calculations from reduced air leakage. Cost savings can be achieved through the efficient sizing of the HVAC system because of the size reduction and the reduced energy use of the equipment.
A properly designed air barrier assembly, installed by a trained and certified air barrier installer, may even reduce the risk of building enclosure failure, as there is less chance for condensation in the building enclosure.
Air Barrier Materials
There are many different types of air barriers on today's market, including fluid-applied, self-adhered, mechanically fastened building wraps, spray poly-urethane foam (SPF), insulating board-stock, flexible interior membranes and factory-bonded membrane sheathing.
Residential building typically consists of wood-frame construction, and mechanically fastened building wraps have traditionally been the air barrier of choice, used on the exterior of the sheathing.
Spray polyurethane foam (SPF) is also commonly used on the inside of the walls between the studs. While its primary purpose is insulation, it also functions as an air barrier. In some markets we're seeing an increase in insulating boardstock and self-adhered building wrap materials used on the exterior of the sheathing, and flexible interior membranes used on the interior. All of these materials can be used as an effective air barrier if designed and installed correctly.
In commercial construction, ABAA sees many different types of walls, designs and construction practices across the nation. These construction practices involve air barrier materials, such as mechanically fastened building wraps, SPF, fluid-applied barriers, self-adhered,  and (insulating) boardstock air barrier materials.  These materials are installed on commercial building walls by over 1,000 ABAA-certified installers across the United States.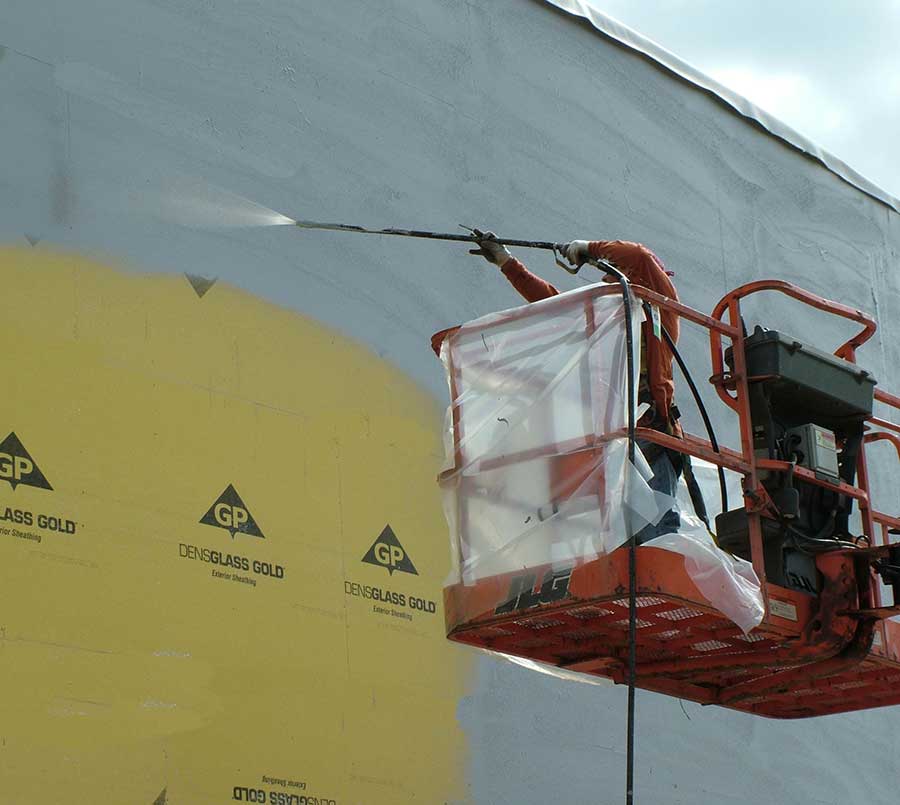 Designers need to be aware that some common building materials such as plywood, OSB and gypsum are technically air barrier materials, but we have to be aware how these materials will actually function in this role. For instance, the air barrier may also serve as the water-resistive barrier.
When designing the building enclosure, the architect needs to ensure that materials chosen to function as the water-resistive barrier, air barrier and (non)vapor permeable layer are placed in the correct sequence and location in the building enclosure.
Each of the materials noted for residential and commercial construction has their benefits in the function and use for the type of building they are designed for. Buildings will have different functions and designs based on ambient conditions of their location, function of the building and budget.  For example, a swimming pool enclosure will have different needs than an industrial refrigeration unit, multi-unit residential, or commercial space. All types of air barrier materials have manufacturer's installation requirements including (but not limited to) thickness of material, properly prepared substrate, absence of air and moisture pockets, primers installed, termination sealants installed, joints sealed and proper fasteners installed at correct spacing. ABAA also has master specifications which can be referenced by industry.
Selecting an Air Barrier Assembly
Air barriers assemblies need to withstand the service loads imposed on them by the wind, stack effect and mechanical pressures for the design life of the building. In the case of steel or wood frame construction, rigid-type air barrier materials such as (insulating) boardstock and factory-bonded membranes to sheathing are able to transfer loads that are placed on the air barrier to the structure. Other materials such as fluid-applied, self-adhered and sprayed polyurethane foam rely on a strong adhesion to the substrate, which transfers loads to the substrate.
Flexible materials (mechanically fastened building wraps and interior membranes) rely on fasteners to hold them in place. In many cases, fasteners are needed to ensure the flexible material is not pulled off the building from negative pressures. The types of fasteners and fastening patterns specified by the respective manufacturers of these materials are critical to ensure they stand up to the service loads on the building.Check the manufacturer's master specification for the approved fasteners and their spacing requirements.
ABAA has developed a series of material-specific test requirements listed in Process for Approval of Air Barrier Materials Accessories and Assemblies. It identifies which properties are most important for each type of material to perform in the field.
Our organization looks at all the relevant data points, including fastener self-sealability, pull-adhesion, crack bridging and water resistance, and then lists materials on our website as "ABAA Evaluated".
All ABAA-evaluated materials and air barrier assemblies have their respective values listed on the website and have been tested in accordance with ASTM E2178 and ASTM E2357 respectively.  These values are listed for reference and are helpful for the industry as they are requirements by various codes and standards.
The 2012 International Building Code defines vapor permeable membranes as "the property of having a moisture vapor permeance rating of 10 perms (5.7x 10-10kg/Pa/s/m2) or greater, when tested in accordance with the desiccant method using Procedure A of ASTM E96".  As a service for design professionals, ABAA has published water vapor permeance values in accordance with ASTM E96 desiccant method (aka "dry cup")  and water method (aka "wet cup") for all ABAA evaluated materials.
Air Barrier Continuity
It is critical that air barriers are designed continuously on all six sides of the building, ensuring penetrations are transitioned and sealed with all materials being installed in a shingle fashion down the face of vertical walls.
Ironically, the areas where continuity is most critical are the same areas that are most difficult to seal.  Major sources of air leakage include the wall-to-roof connection and wall-to-windows and doors as these are areas where uncontrolled air leakage intrusion can be catastrophic. Air barrier contractors need to ensure the air barrier is installed continuously and if there are questions, request clarification from the design professional.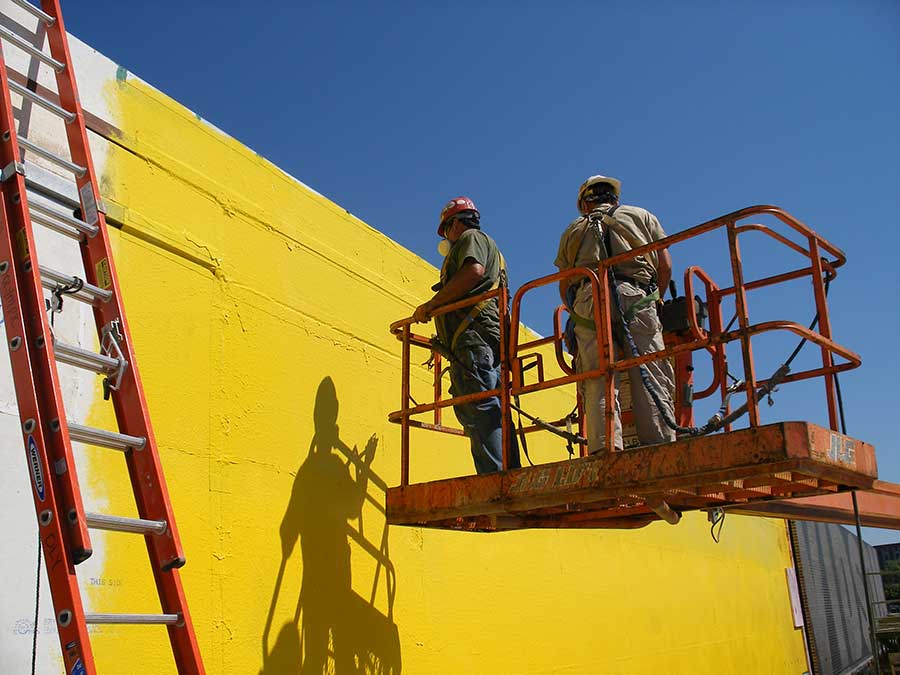 Choosing an Air Barrier Contractor
When choosing an air barrier contractor, the contractor should provide a list of references from past jobs, and be adequately insured. All ABAA-accredited contractors provide the association with insurance certificates indicating they have two million dollars in general liability and proof they are bondable to a minimum $300,000.
The ABAA website (www.airbarrier.org) has a listing of ABAA-accredited contractors to make it easy to locate an experienced, insured installer in whatever area the project is located.
In addition to minimum insurance requirements, these contractors have had verified training in air barrier installation  (Level 3 installers have a minimum 3,000 hours of air barrier experience).  Additionally, third-party auditors are assigned to every ABAA project to ensure a high level of quality.
Conclusion
Air barriers are a simple and effective way to save energy on a building when the design and details for the air barrier contractor are complete.  ABAA provides all the necessary tools to be able to complete a successful project including a listing of evaluated materials, accredited contractors and a website with tons of great information. n
Colin Szewaga, C.E.T is technical services advisor for the Air Barrier Association of America (ABAA). For more information visit www.airbarrier.org.  The ABAA will also be exhibiting at the World of Concrete in booth N1364 and demonstrating air barrier materials in the Gold Lot on January 23, 2014.
Summer 2023 Back Issue
$4.95 – $5.95
Asbestos in the Waterproofing Industry
Choosing and Installing Sump Pumps
Cool Roofing
Case Study: Interior Basement Waterproofing
Description
Description
Asbestos in the Waterproofing Industry
By Gregory Fahrenbruch
Asbestos is a scary word for a homeowner to hear because of its reputation for causing harmful lung conditions. Asbestos does exist in homes that waterproofers work on, though, so the waterproofing industry cannot overlook this substance.
Choosing and Installing Sump Pumps
By Vanessa Salvia
Sump pumps are an essential tool for waterproofing professionals looking to keep a basement or crawlspace dry. These pumps help remove excess water from a space, preventing damage to the foundation and any stored items. 
But with so many options available, how do you choose the right sump pump for your needs?
Cool Roofing
By Vanessa Salvia
Cool roofs keep interior spaces cooler, which lowers energy costs, keeps buildings and homes more comfortable, and can reduce carbon emissions.
Case Study: Interior Basement Waterproofing
By '58 Foundations & Waterproofing
In a Pennsylvania home, a homeowner with a basement was plagued by problems with invasive water. The sump pump was failing whenever the water table got high, and the basement was getting wet as a result.
Additional Info
Additional information
| | |
| --- | --- |
| Weight | N/A |
| Magazine Format | PDF Downloadable Magazine, Print Mailed Magazine |
<!-- [et_pb_line_break_holder] -->