Back-up pumps, batteries, switches and alarm systems make waterproofing systems worry-free.
The sump pump is the heart of the basement waterproofing system, designed to keep a basement or crawlspace dry. If the pump fails, the waterproofing system fails.
But the hard truth is we have yet to find an everlasting sump pump. Manufacturers know it is not if a pump fails but when.   However, they've created pumps that are remarkably long-lasting to start with, and by adding accessories and gadgets to back-up "the back-up" they can offer a truly worry-free sump pump system.
Back-up Systems
Power outages are the most common cause of pump failure. During Hurricane Irene, 4 million people were out of power throughout the northeastern region of the U.S.
While the flood waters of the hurricane flooded many basements, thousands more flooded because the power outage knocked out their sump pump.
The homes with back-up systems didn't have to worry. One clever homeowner heard the forecast and quickly installed a battery back-up system just a week before the storm. That pump ran for 72 hours while his area was without power and kept his basement dry—while his neighbors' basements flooded.
We know it doesn't take a hurricane to knock out a sump pump. Ordinary mechanical failures, clogs, or even a homeowner accidentally unplugging the unit can create a need for a back-up system. (Many sump pump systems are hard-wired into the home's electrical system—like a ceiling light—to make it virtually impossible to inadvertently unplug them.)
Back-up systems are designed to kick on whenever it senses the primary pump has stopped working. Some back-up systems are for emergency use only and will work for a limited number of hours; others can handle the load for days.
There are even systems with dual back-ups—basically a pump that backs-up the back-up. Glentronics has a light compact unit containing a primary pump and back-up pump equipped with two batteries that fit down inside the pit. When the first battery dies it moves to the second back-up battery buying the homeowner even more time.
Emecole has a line of battery back-up pump systems for contractors, and recently created a separate line for Do-It-Yourself applications. Developed in conjuntion with Roy Spencer of Perma-Seal, the compact Security Back-up Pump System has a simple design and is easy enough for ambitious homeowners to install and maintain themselves.  The system is capable of pumping more than 12,000 gallons using only one, fully charged 120 mp battery and is designed with a user-friendly display so the homeowner will know if  the pump is running properly.
Water-Powered Back-Up System
Some companies eliminate the need for electricity completely, and power their  back-up pump with the pressure in the municipal water supply lines.
Liberty Pump's SumpJet is a fully automatic water-driven back-up sump pump. While the performance depends on the water pressure and pumping head, generally, it removes two gallons of sump water per gallon used. The SumpJet is relatively simple to install—it comes pre-assembled—and comes with a three year warranty.
A word of caution with water-driven pumps:  Make sure there is back flow protection to ensure the pump operates as expected.
Switches
Losing power is not the only problem that can befall pumps. Mechanical failures sometimes occur, and most commonly can be traced to a problem with the switch.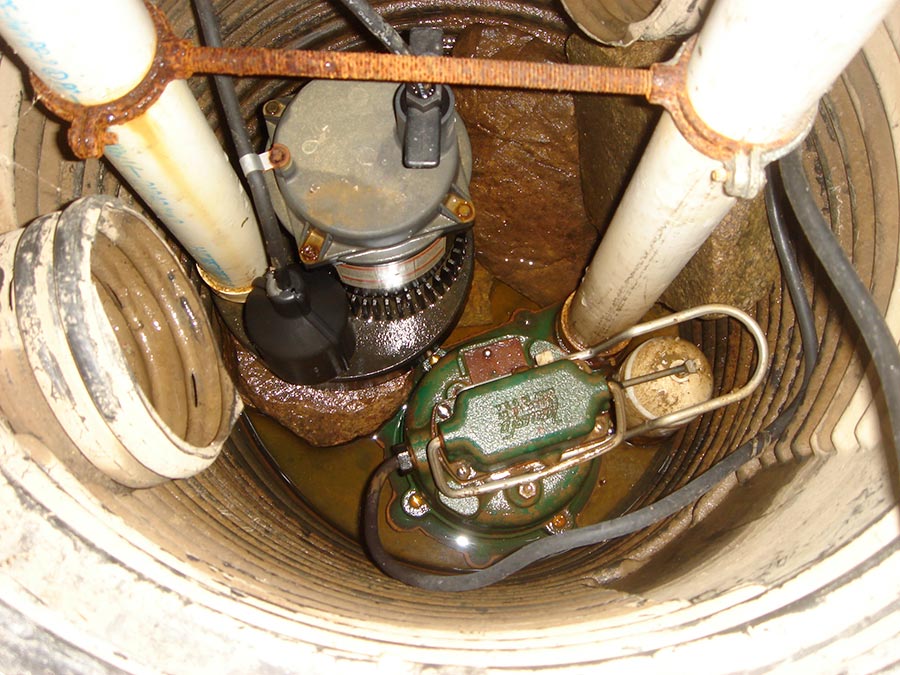 "Hands down, the most common problem is the switch," says Dave Miller, Metropolitan Industries, "Sump pumps are usually built to last; however, the switches are not."
In recent years, the efforts to build a truly durable switch got a lot easier. Digital sensor switches replace the moving parts, floats, and other pieces that can fail, wear out or get hung up in traditional switch designs, with a simple electrode that can sense when it comes in contact with water.
Three years ago Metropolitan Industries released the Ion Digital Sensor Switch. It is non-mechanical with no moving parts or pieces to fail, wear out, or get hung up.  Additionally, the Ion is impervious to sediment and harsh environmental conditions. Miller says the switch has been rated at more than 2 million cycles—four times longer than a standard mechanical switch.  "It is by far the most reliable switch I have come across in my 13 years in the pump industry," he says.
Some contractors and manufacturers are leery of the digital switches and prefer to use switch designs with simple proven mechanics. But because it's a common point of failure, many manufacturers include dual switches.  Glentronics Pro Series includes four float switches on their sump pump system: two on the primary pump and two on the back-up pump. The battery back-up system flips on after both primary switches fail.
Champion Pump also uses a piggyback float switch, which allows the homeowner to unplug the pump from the switch and operate the pump manually, should the switch fail.
Alarms
It is almost as if the old adage "out of sight, out of mind" was written about sump pumps. Homeowners typically don't even think about their sump pump after it is installed and paid for until it stops working.  When there is a mechanical failure with a pump, it is important to replace the pump or fix it right away.  But the homeowner can't fix it if he doesn't even know it's broken.
This is where alarms and notification systems come in.
Many manufacturers include a built-in alarm that notifies the homeowner that the sump pump has stopped working.  Some are single-point alarms on the pump inself.  Others buzz like a fire alarm throughout the house.  A few will even call your cell phone to alert you that the water-level has gotten too high in the sump pit.
Waterproof.com's IQ-High Water Alarm automatically calls up to four phone numbers to notify the homeowner that their pump has quit. Ken Cotton, president of Waterproof.com, says his alarm system eliminates the need for back-up pump systems. When the pump fails, the alarm (or phone call) notifies the homeowner and they can get it replaced right away, which Cotton argues is what needs to happen anyway.
Notifying the homeowner of a pump failure is just one aspect to creating a truly worry-free pump.  The trick is catching the problem before it becomes a problem.
Nexpump uses "advanced logic technology" to automatically self-test the pump system every 12 hours. It utilizes wireless technology so the real-time diagnostics are accessible from anywhere in the world.
"Now you can check your sump pump status from your iPhone," says Ryan Gierke, at Nexpump. "A lot of failures happen in the winter and the basement floods happen in the spring when the snow melts and the homeowners don't even know their sump pump isn't working. Our pumps eliminate that scenario."
Nexpump also has a self-charging battery back-up system.  "Our system is able to give homeowners the peace of mind they want," Gierke says.
While waterproofing contractors would love to think that a homeowner meticulously maintains their pump and clears out every pebble that finds it's way into the sump, that is typically not the case. Most homeowners don't even know the sump pump has failed until it is too late. Knowing the nature of the typical homeowner will help you choose the right sump pump accessories, alarms and back-up systems that will take the worry out of the sump pump system you install.
The best back-up systems are the ones a homeowner doesn't have to worry about.  Manufacturers and contractors are working every day to make sure that's the reality.
Summer 2012 Back Issue
$4.95
Worry-Free Sump Pumps
Crack Injection on Above-Grade Commercial Jobs
Green Roof Directory
---
AVAILABLE AS PDF DOWNLOAD ONLY
Description
Description
Worry-Free Sump Pumps
By Melissa Morton
The sump pump is the heart of the waterproofing system, so manufacturers do their best to create a long-lasting pump. But they also offer a variety of accessories to create a truly worry-free sump pump system.
Crack Injection on Above-Grade Commercial Jobs
Epoxy crack injection isn't just for basements. A growing number of contractors have found a lucrative niche doing remedial and maintenance work on jobs that are measured in thousands of lineal feet.
Green Roof Directory
The print edition of the Greenroofs.com directory contains a comprehensive list of companies providing products for one of the fastest-growing roofing trends: vegetated roofs. Categorized by the products and services offered, this list is your go-to resource for green roofing expertise.
Additional Info
Additional information
| | |
| --- | --- |
| Magazine Format | PDF Downloadable Magazine, Print Mailed Magazine |
<!-- [et_pb_line_break_holder] -->