Internationally recognized code bodies have approved new fire and wind standards for green roofs.  This opens a new chapter for the industry, making the approval process easier and more uniform across the U.S.
The 2011 Cities Alive Green Roof and Wall Conference was held in Philly a few weeks back. As I looked around and took stock of where we are and from where we've come, I was struck by a startling realization.  Something has happened to our fledgling young industry: it has grown up.
Where once the code enforcement community turned a blind eye towards our people on the construction site, we now have two ANSI (American National Standards Institute) approved standards that provide clear guidelines for design and maintenance of green roof systems.
It has taken a tremendous amount of work to get to this point.  Since 2007, leaders from various organizations have been working hard on prescriptive standards.  In 2010 standards were inserted into the International Fire Code specifying fire resistance.  In a few months, the completed Wind uplift standard will be submitted for inclusion in the International Building Code.
While I am certain there will be people who are unhappy with new guidelines that alter the way some of us conduct business, please look past the initial inconvenience to see this milestone in the North American green roof movement for what it is: the securing of a place in mainstream construction through the International Code Council (ICC).  No longer can the green roof be deleted from a project due to failure to comply with the fire code.
I want to make it clear that it's unimportant whether green roofs are specified in the landscaping section having numbers starting with 01, or in the roofing sections beginning with 07.  What is significant here is that green roofs are listed in construction documents no differently than the roofing membrane or the planted tree selections.
Fire Standards
The first milestone reached was ANSI/SPRI VF-1.  Three years in the making, this document is the approved specification for minimizing the risk of fire on green roofs.
In February 2010, the American National Standards Institute (ANSI) accepted VF-1 Fire Design Standard for Vegetative Roofs, developed by Green Roofs for Healthy Cities (GRHC) and the Single Ply Roofing Industry (SPRI), the trade association representing the manufacturers of commercial roofing systems.
VF-1 addresses three fundamental green roof design considerations: the areas where the green roof abuts vertical surfaces; maintenance of green roof systems to minimize their flammability; and dividers in the green roof ("fire breaks") to limit the spread of fire from one section of the rooftop to another.
This standard has been adopted by the 2012 Fire Code, as opposed to the building code.  This means that policing moves to the firemarshal, who typically makes inspections several times per year, instead of building inspector, who comes through only upon completion and every time ownership changes. Now for the first time if you let the green roof die, the fire marshal can issue you a citation.
A code change proposal has also been submitted to the International Building Code to include this fire standard in the 2012 edition of the International Building Code.
Vertical Abutments: Historically, green roofs have featured varying widths of gravel at the perimeter of the roof and around roof penetrations to limit the risk of fire.  However, there is also a trend within the building engineering community to eliminate the use of gravel on rooftops, and not all parapet and roof penetrations are constructed of flammable materials.
Given the above, rather than arbitrarily mandating barriers at all vertical surfaces, the new VF-1 fire standard requires attention only to vertical surfaces that are constructed of combustible materials.
If the vertical surface is constructed of combustible materials, the new standard requires that the six feet of roof surfaces adjacent to the flammable vertical surfaces be rendered non-flammable.  This can be done by using a "Class A" fire-rated roof assembly in this area or by creating a six foot-wide, non-vegetation zone consisting of non-flammable materials such as concrete pavers.
Fire Breaks: Dividers are similar to the setbacks described above, and are required only on very large rooftops. VF-1 requires a six foot-wide strip of "Class A" fire rated material every 125 linear feet or for every 15,625-square feet.  As with the perimeter and roof penetrations, the use of a "Class A" fire-rated roofing membrane also eliminates the need for non-vegetation zones at fire breaks.
Maintenance: Finally, prudent design can only go so far to reduce the risk of flame spread across a green roof. VF-1 stops short of mandating irrigation systems on all green roofs, instead requiring property owners to perform necessary maintenance to keep the plants healthy; including irrigation, fertilization and weeding. Additionally, owners of green roofs with plants that produce dead foliage (such as prairie grasses) must remove this flammable material no less than twice per year.
It's worth noting that VF-1 includes language that entitles the local fire marshal to require a maintenance plan for vegetative green roof systems, effectively moving green roof maintenance requirements from post-construction to preconstruction, since the fire marshal's review of the construction documents occurs prior to the issuance of building permits.
The complete text of ANSI/SPRI VF-1 Fire Design Standard for Vegetative Roofs may be downloaded free of charge from GRHC or SPRI.
Wind Standards
A second milestone was reached on the summer of 2010 when ANSI approved RP-14 Wind Design Standard for Vegetative Roofing Systems.  It now serves as the design and installation reference for green roofing professionals to help eliminate the risk of wind uplift on vegetative /green roofs in high wind areas. It makes compliance criteria clear for both green roof providers and code enforcement officials.
As chairman of the technical committee for Green Roofs for Healthy Cities, I spent three and a half years working with the Single Ply Roofing Industry to develop this standard.  It was modeled on , and represents the consensus of over 50 industry experts.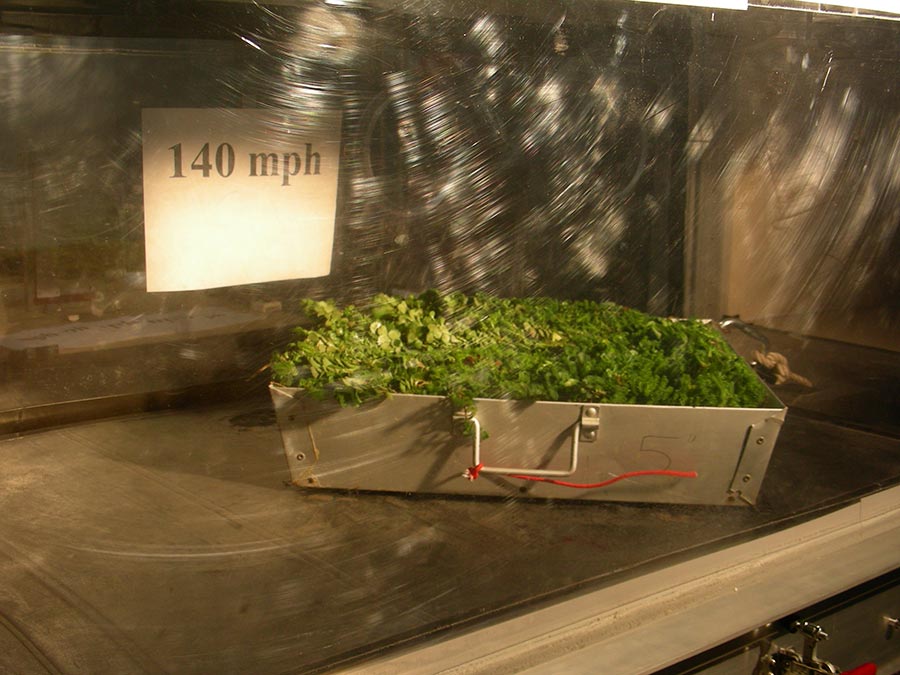 RP-14 combines established design principles of conventional roofing systems with wind tunnel testing conducted at Southern Illinois University Edwardsville to provide clear design criteria for even the most challenging wind zones of North America.
When it comes to wind, the two biggest safety considerations for green roofs are wind uplift and wind scour.  These are affected by a combination of factors including roof height, parapet height, ballast weight, amount of vegetative coverage, growth media granule size, total green roof area, and other criteria.
The standard also takes into consideration the building's importance, geographic location, and the surrounding topography.
In the past, given the lack of hard data, many engineers treated green roofs as if they were pavers of similar mass.  The new standard gives designers the data they need to calculate how growing media weight and depth relates to traditional ballast.
Basically, RP-14 lays out three basic green roof configurations with increasing degrees of robustness: #4 ballast throughout, #4 ballast in the center with #2 ballast along the edges, and #2 ballast in the center with no vegetation on the edges.
To classify as #4 Ballast, growth media must have a minimum dry weight of 10 lbs./sq. ft. and be completely covered by vegetation. If areas lacking vegetation exceed 5 inches in diameter, provisions must be made to prevent wind scour from eroding the surface.  If the green roof is installed as independently set modular pre-planted or pre-grown vegetative roof trays, the trays must be interlocking or strapped together.  Modular trays can avoid the strapping requirement if they weigh at least 18 lbs./sq. ft. (dry weight).
A more robust system is #2 ballast, which requires growth media spread at a minimum dry weight of 13 lbs./sq. ft. Once again, if the green roof uses modular trays, they must be interlocking contoured fit or strapped together. Pre-grown modular vegetative roof trays can meet #2 ballast requirements without strapping if their dry weight exceeds 22 lbs./sq. ft.
Knowing local wind speeds, topography, building height, and parapets, engineers can use a series of tables to determine which green roof configuration meets the minimum acceptable design standard.
RP-14 has already been submitted for inclusion in the 2015 International Building Code.  It's also covered in depth in a new section of the building code entitled IGCC: Safe and Sustainable by the Book.
The complete RP-14 standard, as well as the supporting wind tunnel testing report, is available for downloading from the GreenRoofs.com or Green Roof Block's website.
Conclusion
Both VF-1 and RP-14 were the result of consensus of stakeholders from the roofing, landscaping and green roof industries. While not everyone agrees with every provision, these standards set definitive design and construction requirements for green roofs that have been absent in the building codes that govern construction in North America.
Acceptance by the International Code Council will make the RP-14 wind design guide and the VF-1 fire design guide the law of the land and change the way we design and construct green roofs. n
Known as the "Green Roof Guy," Kelly Luckett, LEED, AP, GRP is the owner of Green Roof Blocks and chairman of the technical committee for Green Roofs for Healthy Cities.  He can be reached via email at kelly@greenroofblocks.com, by telephone at 314-220-2113 or by visiting the company's website at http://www.greenroofblocks.com.
Spring 2012 Back Issue
$4.95
Underslab Barriers: Does Millage Matter?
Wind and Fire Standards for Living Roofs:
Taking Your Business Commercial
Sealed Crawlspaces: Concrete vs. Plastics
---
AVAILABLE AS PDF DOWNLOAD ONLY
Description
Description
Underslab Barriers: Does Millage Matter?
The thickness of an underslab moisture barrier is frequently used as a gauge of performance.  But other factors, such as tensile stregnth and puncture resistance are just as important.
Wind and Fire Standards for Living Roofs:
By Kelly Luckett
New standards define what's needed to keep living roofs safe from wind damage, and prevent the spread of fires.  They also prove that green roofs have overcome the final hurdle for acceptance by the design community.
Taking Your Business Commercial
By Melissa Morton
Project size, opportunities, ad profits are all larger in the commercial sector, but so are the risks. Three contractors who have made the leap successfully discuss what you need to know before your residential waterproofing business starts bidding on commercial work.
Sealed Crawlspaces: Concrete vs. Plastics
The new trend in basements is to seal crawlspaces from outside air and soil moisture.  The two most popular methods to seal the floor each have unique considerations that if not considered may aggravate moisture problems.

Additional Info
Additional information
| | |
| --- | --- |
| Magazine Format | PDF Downloadable Magazine, Print Mailed Magazine |
<!-- [et_pb_line_break_holder] -->