Part I of this story, published last issue, dealt with vertical above-grade applications.  This installment deals with waterproofing above-grade horizontal surfaces, as well as the transitions and flashings required.
As mentioned in the Part I of this story, above-grade waterproofing is essential. A structure with no flashings, no sealants, and no membranes on the roof and walls would last no more than a few years. 
Also discussed earlier, products used for above-grade waterproofing differ substantially from their below-grade counterparts. Above-grade waterproofing products must be breathable, resistant to ultraviolet (UV) light, aesthetically pleasing, and adaptable to a wide range of temperatures.
In addition, waterproofing for horizontal surfaces often is required to be abrasion and corrosion resistant.  Balconies, plazas, parking decks, and rooftop terraces all need waterproofing that can stand up to heavy foot and vehicular traffic.  In northern climates, they must also withstand exposure to salt and other chemicals used as de-icing agents.
Types
Like their below-grade counterparts, above-grade waterproofing products fall into several broad categories.
Coatings and Membranes: Sheet membranes, fluid-applied membranes, and sealers are all used to waterproof horizontal surfaces.  These membranes are commonly applied to commercial roofs, but are also used on decks and other exposed surfaces.  Made by dozens of companies, they can be elastomeric rubber-, asphalt-, or polyurathane-based.
Sealants: Often, a clear sealer is used to waterproof the substrate.  George Pinger, marketing director at Permacrete, explains that his company uses three different sealers depending on the amount of use the surface will be exposed to.
"Even though our product is more waterproof than regular concrete, you still need to seal it with something.  We'll use either an acrylic sealer, epoxy or urethane, depending on the application."
Acrylic sealers are typically the most cost-effective, and hold up well under normal usage and wear, although they're not as durable as epoxy or urethane.  Epoxies are the most water-resistant option, but offer a lesser degree of UV resistance.  Urethane sealants have the best performance, with excellent durability and UV resistance, but are the most expensive of the three options.
Acrylic Finishes: A few cement-acrylic finishes are completely waterproof even without a sealant, and are flexible enough to deal with the thermal stress and movement that occurs above grade. Sider Oxydro and Fossil-Crete are two examples in this category.
Admixtures: If the horizontal surface is made of concrete, crystalline admixtures can make the slab itself waterproof.  It is sprinkled on the top of the slab and troweled into the mix, or added at the time of batching.  Some products are even self-repairing and seal cracks that form during curing.
Composites: Some products on the market combine several technologies into a single product.  For example, Slatex by Multicoat combines an elastomeric waterproofing membrane with a cementitous topcoat.  The elastomeric coating can be spray-applied to virtually any substrate, and the cementitious topcoat can withstand heavy foot and vehicular traffic, making it perfect for walkways, ramps, parking garages, and other areas.
Transitions and Joints
Transitions between elements—windows to walls, walls to roofs—account for 90% of above-grade water infiltration, so one key to ensuring a structure remains waterproof is to seal the transitions.
 "The majority of above-grade issues I see are caused by a below-grade membrane being brought up too high and covering over the weep holes," says John Aiple at Terry Corp.  "Or step flashing around windows and brickwork isn't done correctly.  Sometimes, the penetrations and intrusions are the source of the problem."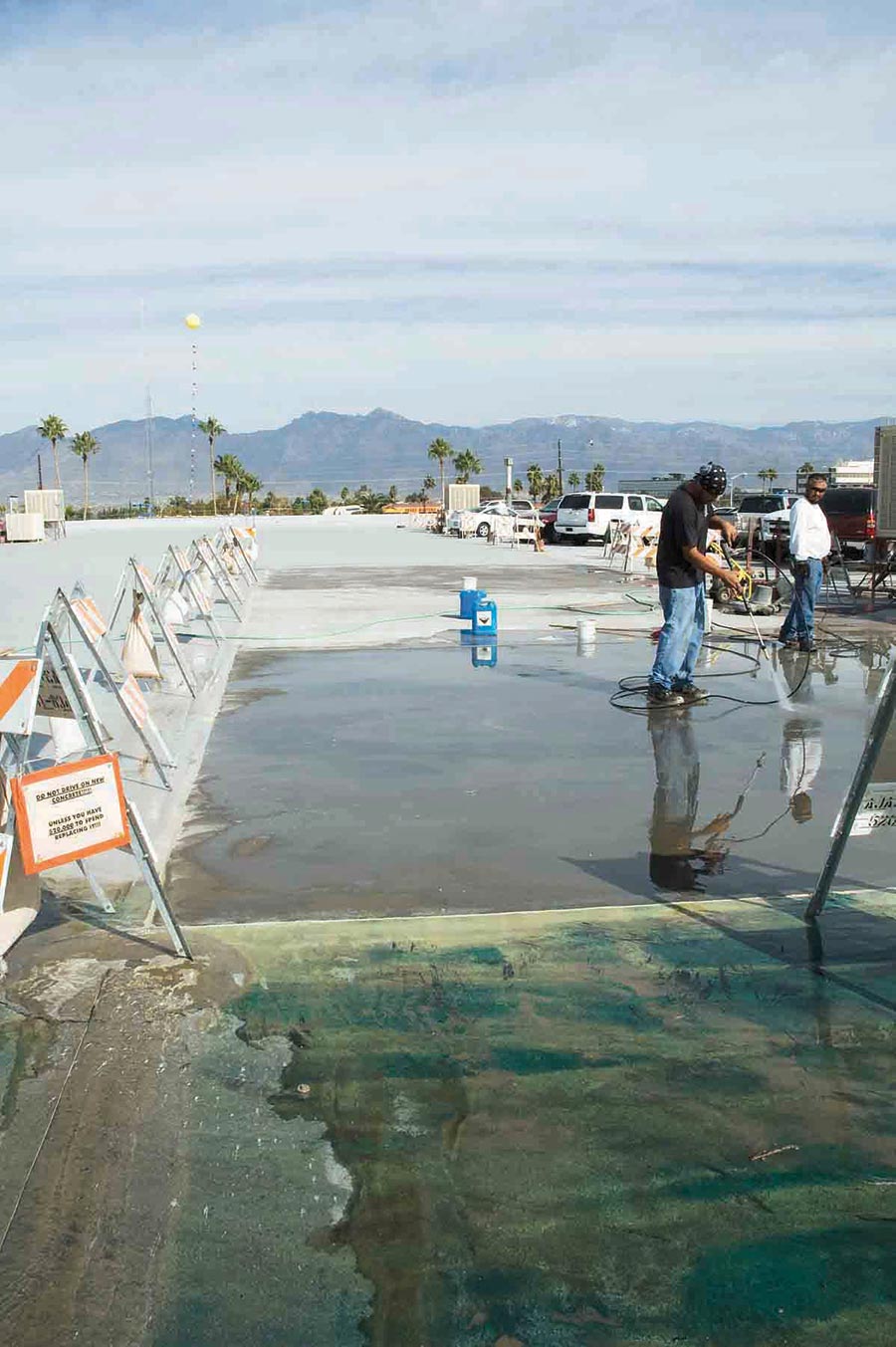 Caulking: Caulking is structure's first line of defense against the elements.  Made by a wide variety of companies, with a wide variety of ingredients, there are caulks for every imaginable application.  Proper selection and application is crucial.  
Caulk also needs regular maintenance.  "I get quite a few calls where the problem is basically a lack of maintenance with caulking," Aiple says.  
Maintenance neglect, as Aiple calls it, leads to water penetrating around windows, utility channels and other breaks in the building envelope. "All of those intrusions and penetrations are basically holes," he says.  "They're not watertight, they're not airtight, and anytime you get a straight-line wind blowing rain or snow or any moisture against the side of the structure, it will penetrate through defect in the wall and create moisture problems."
Another critical use for caulks is to seal off expansion and control joints.  These are incorporated into a structure to accommodate thermal movement.  Sealants used in this application must be extremely flexible and adhesive.  Aiple recommends using foam backer rod or backer tape to get a better joint.  "You never want the width to equal the depth.  By using a closed-cell foam backer, you'll use far less material and you're keeping the sealant from making contact on three sides," he says.
Flashings: To seal off window and door openings, nothing beats impermeable flashings.  Made by Tamko, Grace, Cofair, and others, flexible flashings are a key component to keeping moisture out of the structure.  Available in rolls 6 to 12 inches wide, they are usually self adhesive, and can bridge dissimilar substrates while maintaining a moisture-proof barrier. 
For horizontal work, flashings are critical on parapets, roof edges and valleys, and many other locations.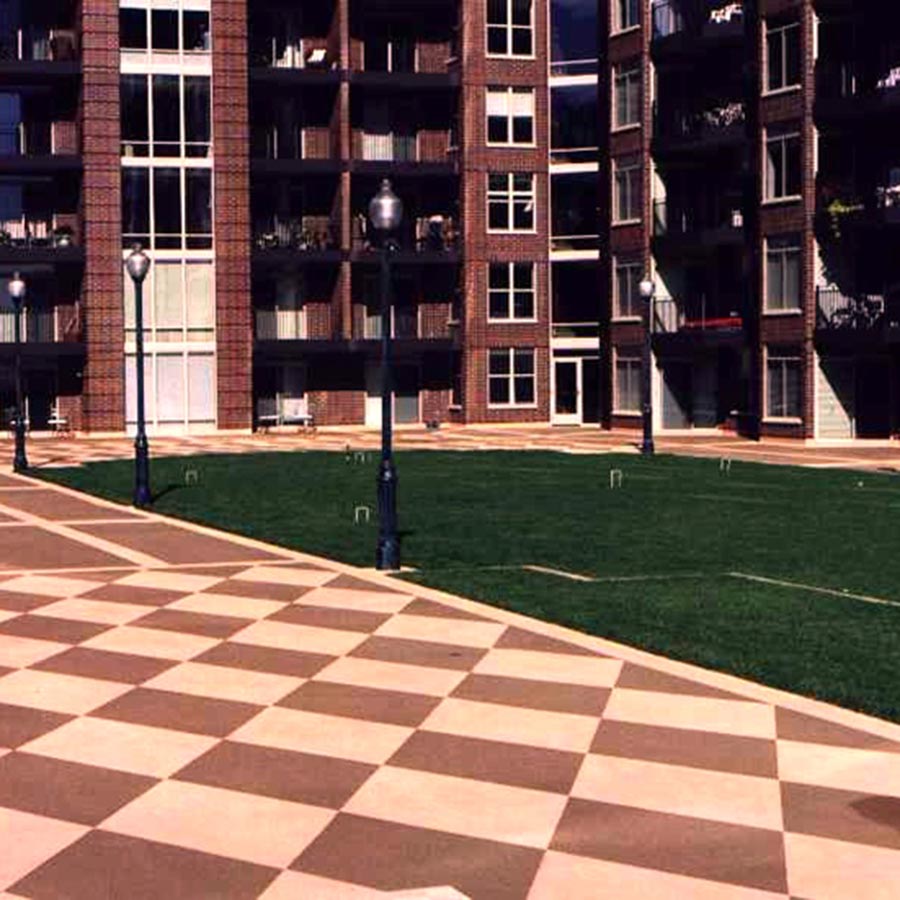 Case Study
Most commercial waterproofing jobs, whether its new construction or remedial work, will use at least several of the systems listed above to ensure the building envelope remains watertight.
For instance, Neogard markets a system specifically designed for high-traffic horizontal applications.  The system utilizes many of the items described above.  
According to Mosby Lawrence, waterproofing market manager at Neogard, the first step is to seal the joints with a urethane sealant.  Then a second urethane sealant is poured onto the deck surface as a waterproofing layer.  
"Aggregate is then broadcast into it for durability and as a non-slip coating," says Lawrence.  Neogard offers a variety of aggregates and colors, including decorative quartz and rubber granules.  Finally a wear course or top coat is installed.  With decorative aggregate, of course, the top coat is clear. 
Tony Matter, a marketing executive at Carlisle Coatings, tells how a multi-layer waterproofing system was used to waterproof a problematic parking lot at a car dealership in Tucson, Ariz.
The lot, located on the roof of O'Reilly Chevrolet's parts and service department, had leaked on and off for decades, despite repeated attempts to fix it.  

It consisted of a precast concrete deck, topped with lightweight concrete to create adequate pitch for drainage.  This was overlaid with asphalt waterproofing, covered by a two-inch layer of concrete for the wear surface.  
Over the years, the asphalt membrane began to fail, and water infiltration caused the lightweight concrete to expand and further damage the waterproofing membrane, which created even more water infiltration and excessive leakage into the structure below.
In the mid-1970s, the entire deck was coated with an elastomeric membrane. In 1999 a polyurea coating was applied to the areas that received the most use.  Still, leakage continued. 
After patching cracks and dealing with problems for 40 years, company officials called RS Herder Corporation, a local waterproofing contractor. The cost to install a roof over the parking structure was far more than the owners wanted to pay, so Randy Herder, owner of RS Herder Corp. proposed using a heavy-duty vehicular traffic deck system manufactured by Carlisle Coatings & Waterproofing (CCW).
CCW 5123HD is a liquid-applied, abrasion-resistant waterproofing sys-tem suitable for surfaces subject to heavy vehicular traffic or extreme environmental conditions. 

"I am committed to offering my customers top-of-the-line performance, and not just a quick fix," commented Herder. "This parking garage has been a persistent problem for the dealership for many years, and we wanted to offer them a solution that would allow them to not have to worry about it for a long, long time," said Herder.  
The parking deck, which holds hundreds of cars at a time, was divided into three areas.  Herder completed the repairs in phases so the dealership would always have access to two of them. 
The first step was removing the layers of coatings that had accumulated over the years. Southwest Surface Blasting, based in nearby Mesa, used hydraulic scrapers, scarifiers, planers and shot blasters to get the job done.  The result was 99% exposed concrete.  
Another subcontractor was called in to repair the concrete's score joints.  They routed over 30,000 lineal feet (more than 5 miles) of cracks, after which a caulking contractor re-caulked all the joints and cracks.
With the caulking complete, RS Herder pressure-washed the surface, primed it, and applied the first of three coats of polyurethane.  All of the polyurethane coatings were poured out, squeegeed to the necessary thickness and then backrolled.
Between the second and third coat, a layer of 20-mesh sand was spread at a rate of 15 to 18 pounds per 100 square feet.  Then the topcoat, which provides resistance to chemicals and UV exposure, was poured on and squeegeed to the correct thickness.  
When the entire application was complete, the O'Reilly parking garage was covered with more than 105 mils of the CCW 5123HD system.
Waterproofing exposed horizontal building components usually include a combination of installations and methods.  Caulkings, coatings, and sealants were used on the O'Reilly parking deck, but other combinations are also common.  Working with vertical waterproofing and their below grade counterparts, horizontal waterproofing is a critical part of the system that keeps a building envelope dry, comfortable, and structurally sound.
Spring 2009 Back Issue
$4.95
Options in Spray Equipment
Tunnel Vision: Waterproofing a Megaproject
Above-Grade Waterproofing: Horizontal Surfaces
---
AVAILABLE AS A PDF DOWNLOAD ONLY
Description
Description
Options in Spray Equipment
Spray equipment is standard for every waterproofing contractor. Whether you're looking to upgrade existing equipment, or simply become more efficient, here's what you should look for.
Tunnel Vision: Waterproofing a Megaproject
Tunnels are typically a massive job for waterproofers, sometimes presenting literally miles of passages that needed to be sealed.
Above-Grade Waterproofing: Horizontal Surfaces
Parking garages, plaza decks, rooftop terraces, and balconies require specialized waterproofing solutions that can withstand wear, abrasion, and corrosive chemicals.
Additional Info
Additional information
| | |
| --- | --- |
| Magazine Format | PDF Downloadable Magazine, Print Mailed Magazine |