"Rigid foam insulation works very well with many waterproofing systems," explains John Cambruzzi at Insulfoam.  "It's a product that is well established and well known from a performance standpoint."
In recent years, some have said that rigid Expanded Polystyrene (EPS) foam was obsolete for below-grade applications, but Cambruzzi disagrees. "It has a long history of excellent performance in both horizontal and vertical below-grade applications," he says.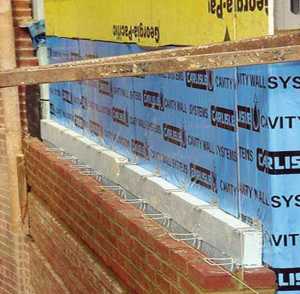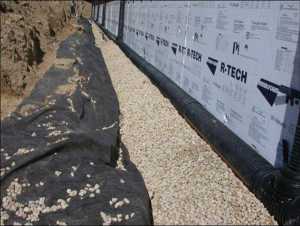 The key is understanding the material, its strengths and limitations, and ensuring that the waterproofing design takes these traits into consideration.
Vertical Below-Grade
One of the most common construction applications for EPS is use as a protection course or drainage layer on vertical below-grade work.  Dimple drain sheets, fiber mats, or inorganic mineral wool are sometimes used instead, but Cambruzzi says EPS has real merit.
"From a rigid foam standpoint, the advantage, with our product, is the insulation value you're getting," he says.  "If you're planning to insulate because you have working or living space on the inside, EPS gives you an advantage that no other product can."
Dave Nichols, vice-president of marketing at Mar-Flex, says rigid foam drain boards are popular for another reason as well.  He states, "Contractors use foam because it's lightweight and easy to install."
It's true that other materials require much more labor.  Foam boards are simply pressed against the newly waterproofed wall, where the tackiness of the spray-applied membrane holds it solidly in place until the wall is backfilled. Drain sheets, on the other hand, require mechanical fasteners, transition strips, and other components.
While Mar-Flex does sell rigid foam boards, Nichols insists there are better options on the market.
"I'd rather have it than nothing, but there are better choices in the waterproofing world,"   he says, although he admits, "A lot of times it's the best answer for a foundation."  His major objections are that the grooves in the drain board fill in, and that foam compresses under the weight of the backfill.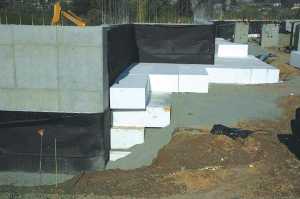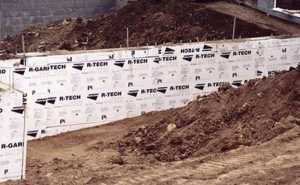 Cambruzzi says current foam boards on the market have resolved those concerns.
"Our product has a filter fabric on it that covers the channels," he says. "That keeps the sediment out of it.  From a long-term performance standpoint, we don't have a problem with those channels filling up with sediment."
He also disagrees with claims that compression from backfill pressure leads to a loss of R-Value.  "Ground pressure has a minimal impact on R-Value, and is not a big concern in terms of long-term performance," says Cambruzzi. "Our experience indicates that the product compresses very little."  He adds that Insulfoam can manipulate the density of the foam from as low as 10 psi to as high as 60 psi.  "If the specifier knows the load, we can take expense out or add it in to meet job conditions."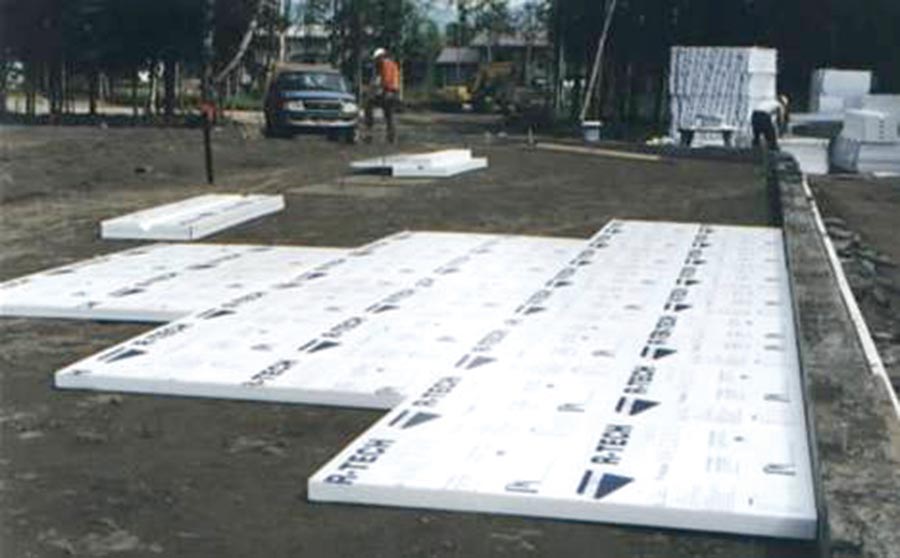 Both agree that a waterproof coating behind the drainage layer is crucial.  "The most important thing is protecting it from moisture penetration," says Nichols.  "You need a good coating on the wall before you get a protection layer on that."
Horizontal Below Grade
Another common area where waterproofers have to deal with foam is when they are used in underslab applications.  Like vertical above-grade work, a membrane is used to eliminate moisture coming through the slab, while the foam keeps the concrete warm.  This type of work is especially common with in-floor hydronic heat or any time the slab itself has heating or cooling elements within it.
Installation guidelines vary on whether the foam should be installed on top of the moisture barrier, or beneath it (see The Underslab Solution in the Winter 2009 issue for more information), but the challenges are the same.
The biggest risk installers face is that foam sheets, often only an inch thick, will break and chip before the concrete slab is placed over them.
Sheets that are thick enough to avoid breakage cost more, and provide negligible additional energy savings.
Luckily, there are good solutions on the market.
The most important step, regardless of the product installed, is to ensure the subgrade is flat, level, and properly prepared.
Cambruzzi, at Insulfoam, says manufacturers can manipulate the compressive strength of the foam to create a more flexible product.  "The higher the compressive strength of the foam, the more rigid the product is, and the more susceptible it is to breaking," he states.  "By taking some of the density out of the product you'll get a foam that's more jobsite friendly."  He notes that even a 25 psi foam provides resistance of 3,600 pounds per sq. ft., plenty of resistance for most underslab applications.
His company also offers foam with a polymeric film on both sides, which helps to keep the EPS from chipping and shattering.  If it does break, the film holds the pieces together so the effect is negligible. "In a below slab-application, an unfaced or unskinned product performs fine.  But the film makes it more jobsite durable, more moisture resistant, and less likely to be damaged during handling and installation.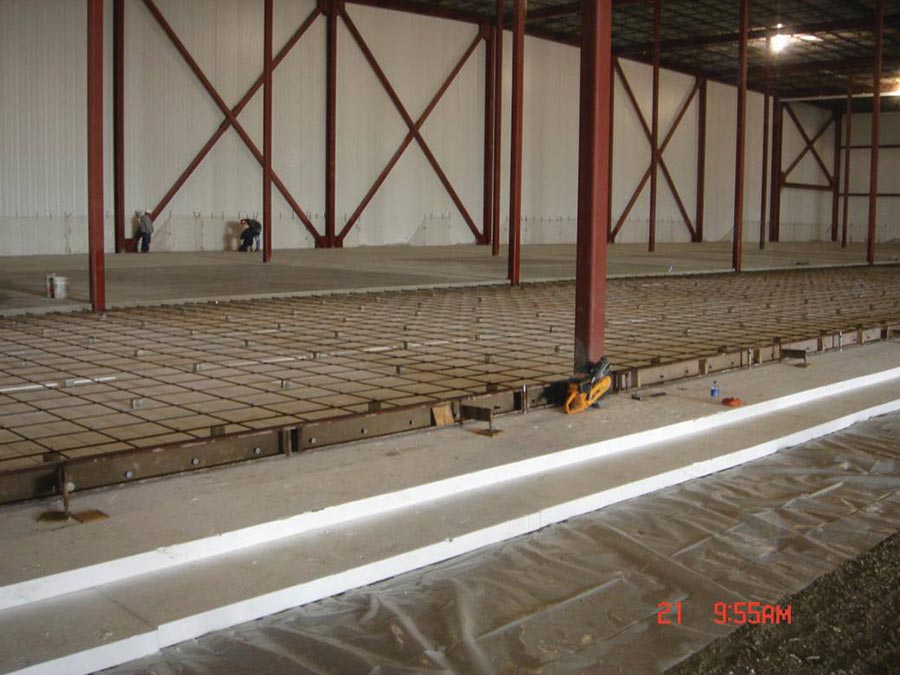 The plastic film on Insulfoam sheets does not serve as waterproofing however.
For true waterproofing and insulation in a single product, several companies offer underslab products that combine a flexible EPS core with two layers of vapor and moisture resistant materials.
Northwestern Ohio Foam Products markets the Barrier and BarrierXT, both of which provide a flexible insulated underslab barrier.  The rolls are 60 feet long, so instead of having gaps every 4 and 8 feet, there are just a few seams.  The product has a self-taping flange on one edge that makes these easy to seal.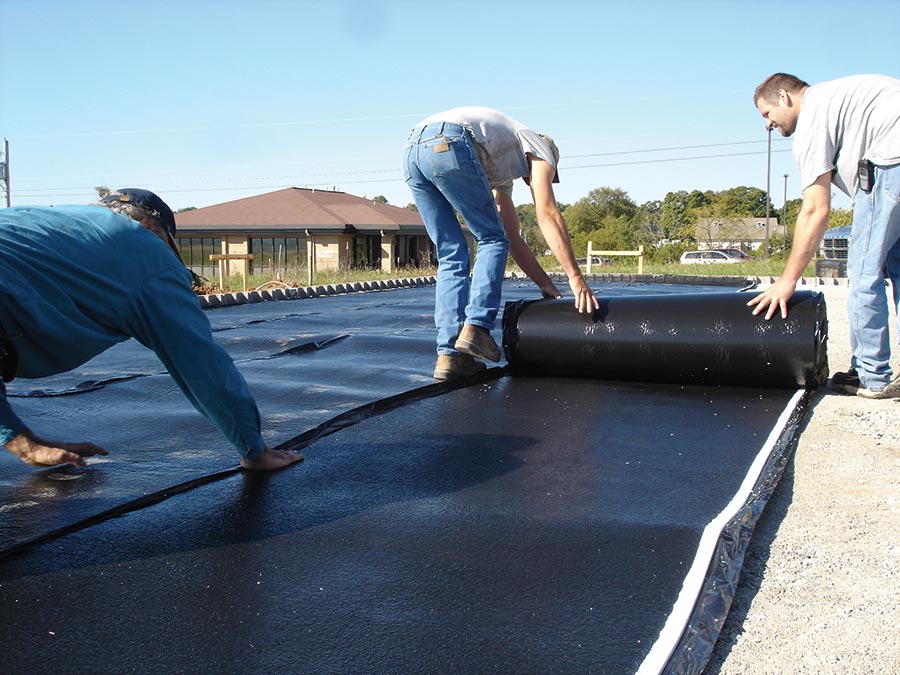 "The biggest thing is installation cost," says Wally Radjenovic, president of NOFP. "Normally, the insulation and the vapor barrier are discrete components, and it's very time consuming if you have to lay and tape two products.  You're adding a lot of labor dollars to an already expensive product.  By combining them into a single product like the Barrier, it's easier to meet deadline, and you're saving money, too."
Of course, another advantage of a flexible core is that the installer doesn't have to be as exacting when installing the sub-base, which saves on labor costs as well.
The flexible EPS foam in the standard Barrier is 3/8 inch thick.  The BarrierXT has ¾ inch.  The moisture barrier is 3 mils thick on both products.
Roofing
A third area where waterproofers often have to deal with foam board is commercial roofing.  Like underslab insulation, the placement of the foam varies from job to job.  On some roofs, the foam is installed over the membrane; in other applications, it is placed below it.
The major challenge in this area is that roofing membranes often require heat and/or harsh solvents, both of which are incompatible with foam.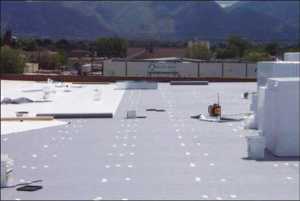 "Foam plastic do not do well in the presence of solvent-based adhesives," says Cambruzzi.  "In applications where these solvents will come in contact with these products, the installer or specifier needs to use a different insulation or have a plan how to avoid contact, like using a slipsheet.  Foam's sensitivity to solvents is a drawback.  It's something that you would have to recognize and address."
Solvents are not only bad for foam, but they're bad for the environment and the installer's health.  Because of this, many roofing suppliers are moving to more environmentally friendly products; singly ply membranes, adhesive tapes, and heat welded seams.  So solvents are becoming less of an issue.
Long Term Performance
Another common concern is moisture resistance.  While foam is not as moisture resistant as, say, a dimple drain sheet, it does outperform other insulation options, like rock wool or open-cell foam.  Cambruzzi points out that although EPS foam will absorb some moisture from saturated soils, it readily gives up that moisture when surroundings dry out.  "Over a seasonal or annual cycle, that foam will continue to perform, because it readily gives up that moisture," he states.
With the rising interest in green building, the sustainability of expanded polystyrene is also a topic of interest.  EPS is a petroleum-derived product, and requires a significant amount of energy to make and transport.  But according to a recent study published by the EPS Manufacturers' Association (EPSMA), the insulating value of the foam saves more than 100 times more energy than was used in its manufacture.  "EPS is environmentally friendly, 100% recyclable, containing no HCFCs or formaldehyde and can contribute toward LEED credit requirements," the report states.
Some competing products have done a good job convincing specifiers that EPS is not a good option," says Cambruzzi, "but EPS has a long history of excellent performance in both horizontal and vertical below-grade applications.  EPS has been used in geofoam applications, going under exit ramps, highways, and bridge approaches, and has performed just fine in those harsh conditions."
"When used with standard waterproofing products, there are no real compatibility issues," he continues.  "They're operating and functioning independent of each other."
Summer 2009 Back Issue
$4.95
Solar Roofs: Challenges and Waterproofing Solutions
Foam in Waterproofing Systems
Sump Pumps: Advances and Installation
Green Sealants at the Bottom of the World
---
AVAILABLE AS A PDF DOWNLOAD ONLY
Description
Description
Solar Roofs: Challenges and Waterproofing Solutions
The popularity of green building, coupled with significant price declines in photovoltaic systems, has led to a significant increase in solar roof installations.  Here are solutions to ensure the roof is leak-free.
Foam in Waterproofing Systems
Whether used as a drainage board, underslab insulation, or in roofing systems, every waterproofer deals with foam board.  Polystyrenes and polyurethanes each have their own advantages and special application techniques.
Sump Pumps: Advances and Installation
Sump pumps are a critical component of below-grade waterproofing in many areas of the country. New technologies and installation methods make them more fail-safe and affordable.
Green Sealants at the Bottom of the World
Princess Elisabeth Station was built in one of the world's harshest and most remote regions. Designers also insisted on  extremely demanding green building standards
Additional Info
Additional information
| | |
| --- | --- |
| Magazine Format | PDF Downloadable Magazine, Print Mailed Magazine |