A knock-down texture for a pool deck is an affordable option that keeps a pool deck cool and protects the concrete.  
Concrete is more vulnerable than it seems, especially when it comes to water damage. Since a pool deck is constantly exposed to water, one of the first signs of damage to appear is cracks. These cracks start out so small that they can be barely noticeable, but they get bigger over time until eventually you have a big problem. 
Another problem with pool decks is that they are typically exposed to weather all year-round. Hot sun can break down any coatings that may have been applied, while cold and ice can cause those tiny cracks to get bigger. If the cracks get big enough, the penetrating moisture can even affect the underlying soil, which means your slab might not be as supported as it needs to be. In commercial applications, other pools, such as rooftop pools, are built over wood, and those need protection also. 
Protection and Prevention 
Repairing, sealing and waterproofing the cracks as soon as they begin is important. By applying a coating, you can go a long way to preventing these cracks from forming. Coatings with UV inhibitors can offer protection to a deck. A rubberized protective membrane shields the surface of your deck and can also offer superior slip-and-fall protection. 
If the cracks are caught early, it may be only the cracks and joints that need to be repaired. Once these cracks are repaired, coating the pool deck with a waterproof coating further protects it. The chemicals used to keep your pool water clean and free of bacteria will also begin to degrade the pool deck over time. It can help to use a specially formulated pool deck cleaner to remove chemical buildup. 
Serious Crack Repair
If the cracks get too large, you may have to bring in the big guns, so to speak. Paul Trzcinko, assistant marketing manager with Rhino Carbon Fiber, says their concrete crack repair and structural strengthening process for pool decks is Seal then Reinforce.
"We seal and structurally reinforce the cracked area to prevent further movement with the Rhino Carbon Fiber Concrete Crack Lock Kit," Trzcinko says. Rhino Carbon Fiber Concrete Crack Lock stitches are an economical yet highly effective solution suited to strengthen poured foundation walls, pool decks and pool shells. Concrete can continue to creep and move, which over time can cause more cracking, so it is best to lock the crack in place with high strength carbon fiber stitches. 
Walls and pool shells can be injected with RCF Polyurethane Injection Expanding Foam if the crack is between 0.01 inches and 0.0625 inches wide, prior to reinforcement with stitches. The expanding foam can be applied in wet or dry areas, however, injection alone doesn't provide structural strengthening or prevent further movement, so reinforcement with stitches is necessary. 
Following the installation of stitches, you can apply a protective coating or paint over them for a discrete repair. The stitches are made of high-tensile-strength carbon fiber and are encased in a thermal-set resin and cured while under pressure. Lightweight carbon fiber is 10x stronger than steel, non-corrosive and water-resistant. Stitches work on both horizontal and vertical surfaces and will not corrode over time as steel products would.
Preventing Cracks In The First Place
The art and science of waterproofing pool decks starts with doing all you can to prevent cracks from happening in the first place. "It's all about the way the concrete is placed," says Ivan Burgand, COO of Sider-Crete Inc. in Hawkinsville, Georgia. "The concrete will crack eventually, but a good concrete technician or mason will lay a good pad." 
The first part of that is knowing enough about concrete and the environment you're placing it in to get the right mix from the plants. Designing the deck with enough control joints means the concrete pad can move a little bit without buckling. "If it's going to crack, the cracks will follow the weakest point, which in this case would be the control joints," explains Burgand. 
Protective Pool Coatings
After that, the concrete needs a protective coating, the choice of which depends on what you're trying to achieve around the swimming pool. "I personally think a knock-down texture is perfect around the pool because it's affordable and knocked-down textures can be used to cool hot pool decks." The advent of polymers has allowed you to have coatings that are flexible, that offer very high water resistant capabilities, and are available in a variety of colors as well. Sider-Crete uses polymer-modified water-resistant tile grout used to fill in joints between pool tiles; a polymer modified thin-set mortar mix; and a cement-based/polymer modified primer coat that goes over existing pool plaster. 
"What we manufacture is a two product coating system," says Burgand. "The first is what we call the texture product. You mix it with water, feed it into a hopper, spray it to adhere to your concrete, and then knock it down with a trowel. Once you're done, you apply two coats of a colored sealer. It works well, it's affordable, it's easy to install, keeps your feet cool, and it protects the concrete around the swimming pool."
A knock-down coating product like Sider-Crete's can be applied over old or new concrete alike. "So if you have new concrete and you'd like to do the knock-down, that's perfect," he says. "If you have old concrete that you'd like to resurface because of the appearance, then you can also use that texture coating." It will hide some flaws, and protect the concrete, of course.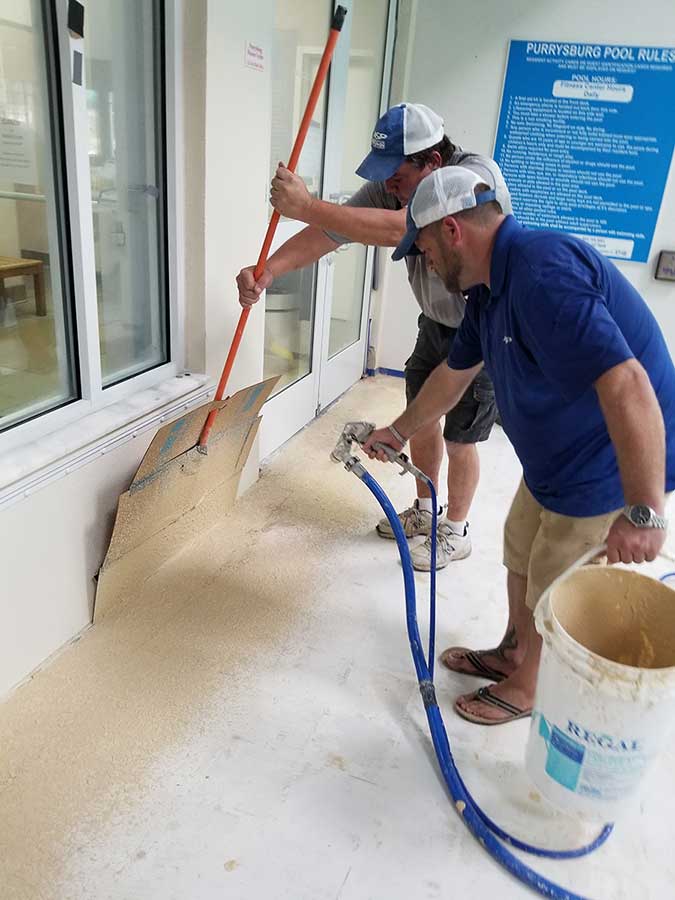 How often you will need to reapply a coating depends on the amount of traffic that you have and how much water splashes over onto your deck. But Burgand says even a water-based sealer could last for five or six years before you really have to reapply. "And that's even in a commercial environment," he says. Pool coatings are formulated to include protection against UV rays, which break down concrete. 
Decorative Finishes
Of course, there's no limit to how a pool deck can be finished. It can be tamped to give the appearance of brick, or stenciled and engraved to look like stone. Rubberized finishes have recently become popular as well, that are similar to a soft and flexible playground coating. Coatings like Rhino Linings that go on truck beds can also be used for pool decks. These coatings are available in a variety of colors and are often used on large-sized pools and hotels and resort outdoor areas. 
Obviously, one of the most important considerations around a swimming pool deck is to not seal the concrete with a sealer that would impart or enhance slipperiness. "You always want to put some kind of a skid resistant texture on it," Burgundy says. "You also don't want to just seal it or paint it, because if you want to come back and apply a texture afterwards, you'll have to remove what you've already done, which would require extensive removal costs by sandblasting."
Sider-Crete developed and supplied coatings for water parks such as Six-Flags. That product is extremely coarse in order to be non-slip — the parks require guests to wear booties. While that kind of commercial coating works in that setting, it's not what most homeowners would want around a backyard pool deck. 
Winter 2022 Back Issue
$4.95 – $5.95
Cold Vs. Hot-Applied Liquid Applied Membranes and Coatings
Insulfoam's Geofoam Completes Swimming Pool
Waterproofing Pool Decks
Largest Waterfront in the Southeast
Roofing Collaboration For Shriner's International Project
Strengthening Your Waterproof Business
Description
Description
Cold Vs. Hot-Applied Liquid Applied Membranes and Coatings
By Greg Austin
An expert in liquid applied membranes and coatings discusses the unique set of features and benefits to cold-applied and hot-applied waterproofing products. Which type is more durable?
Insulfoam's Geofoam Completes Swimming Pool
The massive Midtown 360 425,000 square foot complex was designed to accommodate both residential and commercial real estate needs. And a major draw for potential residents is a luxurious outdoor swimming pool on the first floor of the building.
Waterproofing Pool Decks
By Vanessa Salvia
Concrete is more vulnerable than it seems, especially when it comes to water damage. Since a pool deck is constantly exposed to water, one of the first signs of damage to appear is cracks.
Largest Waterfront in the Southeast
By Meredith Cook
The city of St. Petersburg welcomed Floridians to a revitalized 26-acre attraction—St. Pete Pier. Serving as a premier destination for residents and visitors alike, the new pier hosts amenities ranging from an open-air market to performance spaces.
Roofing Collaboration For Shriner's International Project
Polyglass U.S.A. Inc., a leading manufacturer of roofing and waterproofing systems, teamed up with D&D Roofing, a roofing contractor in Nevada, to provide a new roofing system for a Shriner's Kerack in Reno.
Strengthening Your Waterproof Business
By Vanessa Salvia
The world has changed. Because of COVID and how that limited in-person interactions, yes, but even before that, online interactions were becoming more commonplace. So what can waterproofing companies do to keep themselves visible and relevant? Here are some ideas.
Additional Info
Additional information
| | |
| --- | --- |
| Weight | N/A |
| Magazine Format | PDF Downloadable Magazine, Print Mailed Magazine |