Roof coatings have been an essential part of the roofing industry for decades.
While the long, proven track record for these products is a testament to their value, the roof coatings industry is constantly looking for new opportunities for innovation. Given the growth of the industry, the Roof Coatings Manufacturers Association (RCMA) and its members continue to provide education on the basics of coatings for individuals new to the industry as well as updates on timely developments to keep experienced stakeholders up to date.
Elastomeric Coating Or Coatings?
An ongoing initiative for RCMA is clarifying the various terminologies used in the coatings industry. Elastomeric coating is a term that is regularly used incorrectly as the generic term for a roof coating. In actuality, an elastomeric coating refers to the elastic nature of a coating and is applicable to many types of coatings, such as acrylics, urethanes, or silicones, to name a few of the more common product groups.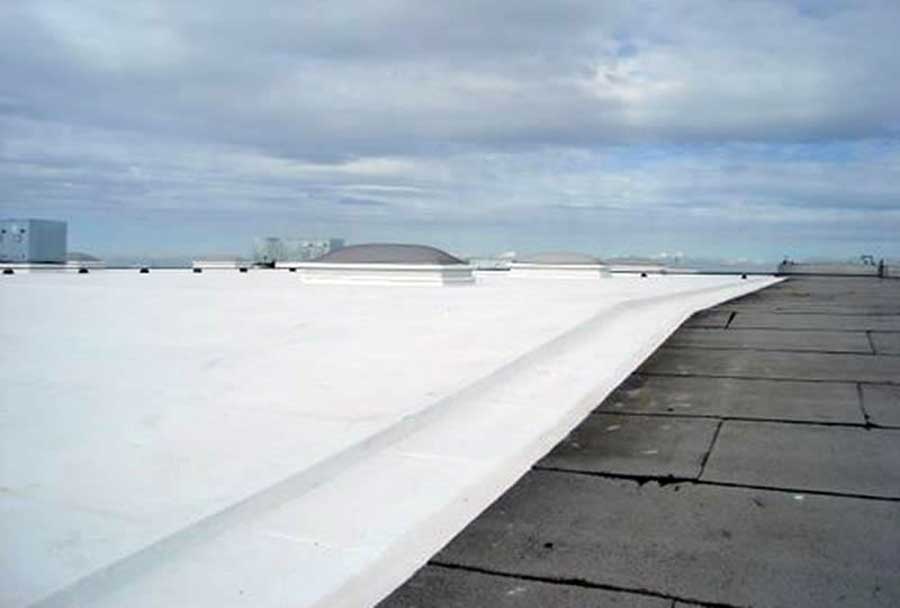 It is important to understand this distinction, as a common misconception is that the term "elastomeric" only applies to one or two of the examples listed. This, by default, incorrectly leads people to classify all others as non-elastomeric. Many people may also be confused because elastomeric coatings tend to be similar in color, primarily white or a similar highly reflective color. While all elastomeric coatings that are these colors share the benefits that come with high reflectivity, there are distinct considerations that need to be evaluated to select the correct elastomeric coating for any project.
Roof as Foundation
The first thing that needs to be considered is the roof being evaluated for a coating application. While many may see a coating as just "painting" the roof, the roof is a much more dynamic substrate since it is in an exposed, outdoor environment. If a roof coating is being considered to extend the life of an existing roof, the roof's condition must be assessed to determine two key things: which coating option is a better fit, and what preparatory work must be performed to ensure a successful installation. 
Each elastomeric option adheres differently to each of the many roofing systems available on the market, including built-up asphalt, modified bitumen, metal, EPDM, TPO, and PVC. Specific roof coating manufacturers can provide information on their products and the roof systems that are more compatible with their product offerings. With all the various elastomeric coatings available, it is highly unlikely that an option is not available for any roof system currently installed.
Surface preparation is one of the most important—but at times underemphasized—steps for a successful roof coating installation. This includes removing and replacing any damaged or wet material from the existing roof, ensuring all flashings are in place and adhered, and that any primers or surface treatments prescribed by the manufacturer are installed per published instructions.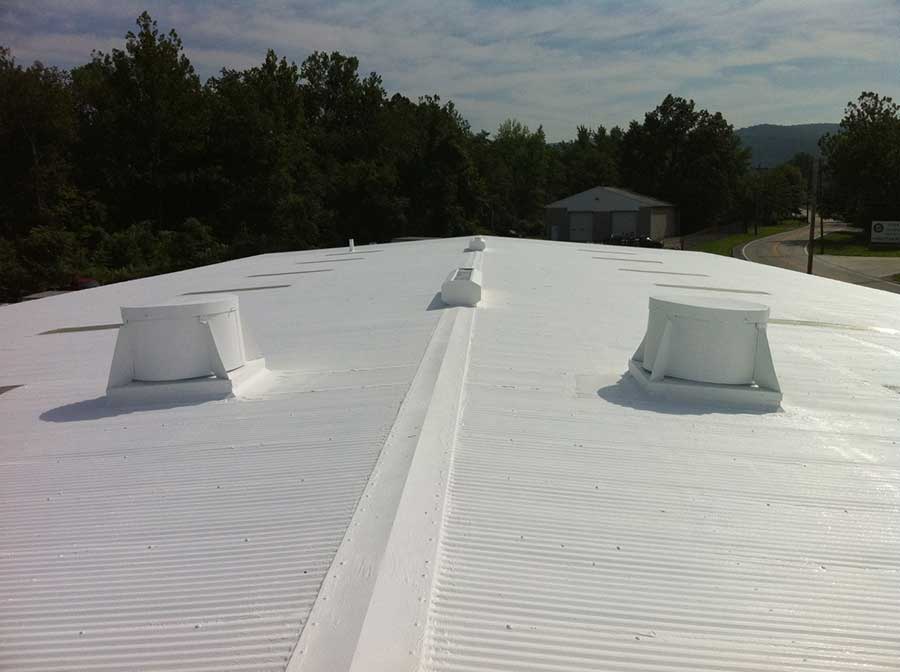 This Is The Job They Trained For
While there is a notion that coating a roof requires nothing more than a bucket, a roller, and a laborer, the truth is that there is a skill to properly installing a roof coating system. Proper installation only comes from roofing contractors who invest time in training on and having a firm understanding of the equipment and products they use. Key information necessary for a successful installation includes:
Proper equipment selection for the coating being installed
Temperature range for installation
Coverage rates
Measuring mil thickness
Installing scrim, if any
Staging the job
Creating successful tie-offs at the end of the day 
Tying into surrounding roof areas
Many manufacturers offer personnel to train contractors and to be available as an on-site resource when a contractor wants to expand their knowledge of new equipment or install a new product. A contractor with the proper product expertise is critical to the successful installation of an elastomeric roof coating.
So Many Choices
Ultimately, the decision on which elastomeric coating to install must be made. As with any roof, there are standard parameters to consider:
Local and state building codes and ordinances
Fire classification requirements
Wind uplift requirements
Energy codes requirements, particularly the reflectivity and thermal emissivity of the installed surface product
With an elastomeric coating, there are few more items to consider:
Is the roof surface compatible with a coating?
Is the roof in a condition to receive a coating successfully?
What is the expected life cycle for the installed coating?
Can multiple coating applications be installed?
All of these questions can be readily answered by specific roof coating manufacturers about their products, and they can provide insight on the various options to install an elastomeric coating on any potential roofing project. RCMA will also assist in providing general guidance where possible.
Continued Investment
Just as waxing a car would be wasteful without first washing it, installing an elastomeric coating without understanding the options available, assessing the existing roof for conditions to influence the product selection, and enlisting the services of a trained and informed contractor would result in a missed opportunity to optimize the service life of the installed roofing system. The family of elastomeric coating products continues to broaden and with it, the opportunity to maximize the return on roofing investments.
Chadwick Collins is technical director at the Roof Coatings Manufacturers Association (RCMA), the national trade association representing manufacturers of asphaltic and solar reflective roof coatings and the suppliers to the roof coatings industry. He can be reached through the company website www.roofcoatings.org.
Summer 2020 Back Issue
$4.95 – $5.95
Grouts for Waterproofing and Structural Repair
The Crawlspace: Link to a Healthy Home
Waterproofing Your Crawlspace
High Performance Crawlspace Liners
Working In an Era of Covid
Elastomeric Coatings: Misconceptions, Myths, and Key Considerations
Description
Description
Grouts for Waterproofing and Structural Repair
Grouts can repair leaking manholes and sinking foundations, being injected into or behind the failure to eliminate moisture or restore structural strength.
The Crawlspace: Link to a Healthy Home
By André Lacroix
Encapsulating the crawlspace, conditioning it, and providing exhaust ventilation can create a healthy crawlspace.
Waterproofing Your Crawlspace
By Ben Rogers
Waterproofing, proper monitoring, and air quality control, can make crawlspaces a healthy, usable, and more pleasant area of the home.
High Performance Crawlspace Liners
By Ryan McCoy
High performance membranes can be used to encapsulate crawlspaces to improve air quality, energy bills, and the risk of mold and mildew.
Working In an Era of Covid
By Diana Parks
As the coronavirus spreads and threatens to derail construction projects, a legal expert explains how the industry can prepare for its effects.
Elastomeric Coatings: Misconceptions, Myths, and Key Considerations
By Chadwick Collins
Fluid-applied roof membranes made of high-tech resins cure to form a rubber-like elastomeric waterproof membrane that greatly prolongs the life of the roof.
Additional Info
Additional information
| | |
| --- | --- |
| Weight | N/A |
| Magazine Format | PDF Downloadable Magazine, Print Mailed Magazine |