Perm Ratings and Puncture Resistance – Striking the Right Balance for Optimum Performance
In recent decades, the world has become more environmentally conscious, and the construction industry is no exception. The popularity of the U.S. Green Building Council (USGBC) and their LEED rating system is just one example. 
For those involved with commercial roofing, though, understanding what attributes to be aware of when looking for a sustainable commercial roofing system can be a confusing task.
"Today's building owners face a multitude of options when it comes to selecting commercial, low-slope roofing systems, but how does one select the right system?" asks Gregg Lavoie, marketing communications specialist for roofing at Sika Sarnafil. "Every manufacturer in the industry claims to have the best material, the best solutions, and the best contractors to install or replace a roof on an owner's facility. Issues such as sustainability, environmental responsibility, and "green" issues are now significant drivers in the decision-making process. Inclusion of these considerations has been a major paradigm shift for the industry." 
Sustainability in roofing is complex. Various sources consistently rank roofing, and particularly re-roofing, as one of the highest waste producing activities in construction. So how does a building owner determine sustainability?
Sika Sarnafil lists six different aspects that come into play: energy-efficiency, greenhouse gas reduction, eco-friendly products, life-cycle assessment, waste minimization, and fire performance.
The Cool Roof Rating Council makes it a priority to reduce rooftop temperatures and the associated "heat island effect." The Green Roofs Council includes stormwater reduction as a major sustainable benefit of vegetative systems. NSF/ANSI has developed a sustainability standard for single ply roofing.
LEED guidelines are more broad, and include popular fluid-applied systems, but do not include durability and performance in their assessment of environmental responsibility. Lavoie says, "This omission is problematic because a roof, above all else, must not leak. Ultimately, any roofing system that fails before the end of its warranty period cannot be considered sustainable." 
Finally, for facility managers, corporate sustainability initiatives must also be considered. These managers must select a system that will perform and provide verifiable metrics to meet various corporate sustainability efforts.
Case Study: Single-Ply
When an NBA basketball stadium in Salt Lake City, Utah, needed a sustainable leak-free roof, owners chose a cool single-ply membrane topped with a massive array of solar panels.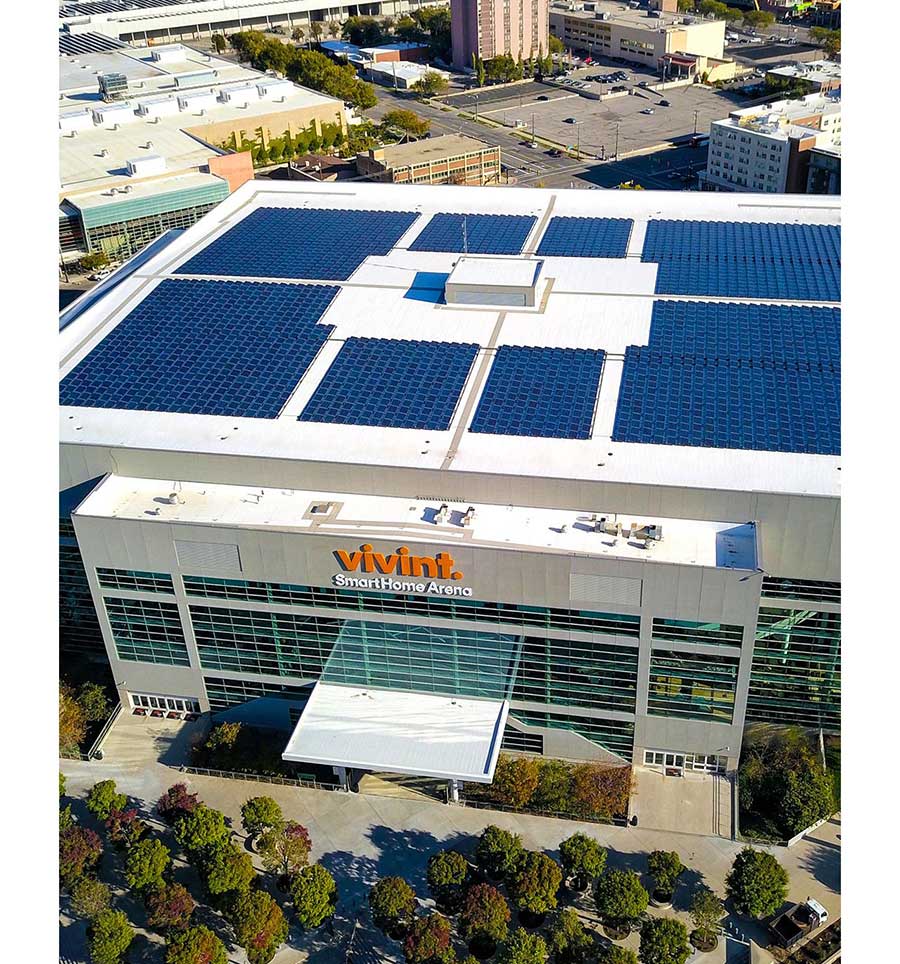 The Vivint Smart Home Arena is home of the Utah Jazz, and with the 2,700 solar panels, becomes one of the first sports arenas in the country capable of generating its own energy. The array through its lifetime will produce the equivalent of energy from 1 million pounds of coal.
Before the panels were installed, though, the 202,385-square-foot roof was renewed with a white PVC membrane from Sika Sarnafil. Noorda BEC, the roofing contractor, left the existing insulation in place but tore off the old membrane and the cover board. They then put down an additional layer of insulation followed by the white 80-mil Sarnafil S327 EnergySmart membrane. They also installed the solar panel mounting system on the roof.
 Jim Olson, president of Vivint Smart Home Arena, says, "One of the first things we mentioned in the renovation [planning] was sustainability, and as we looked at the roof, we knew solar was the first thing to do," he said. "The arena will continue to provide the best entertainment in the state in a responsible and technology-driven way."
Case Study: Green Roof
The John F. Kennedy Center for the Performing Arts is a historic venue, standing on the bank of the Potomac River in Washington D.C. The facility recently underwent a $250 million expansion, transforming a former parking lot into an avant-garde arts complex with classrooms, 10 interior stages, performance and rehearsal space. The grand opening of the new space was held in October.
Remarkably, nearly the entire facility is capped with a vegetated green roof. The buildings have a footprint of 72,000 sq. ft., and 69,000 sq. ft of that is covered by green roof. The slope of the vegetation varies from virtually flat to nearly vertical. 
Richard Hayden, garden roof department manager at American Hydrotech and Oscar Warmerdam, president of Sempergreen USA, both agree, "This is one of the most complex projects we have ever worked on.  It required a deep collaboration between our two companies and the design team." 
Designed by Steven Holl Architects, LEED certification was established as a priority early in the planning phase. Understanding the building's end-use, the surrounding site, and energy performance were key in ensuring the building would be sustainable. Energy and daylighting models were used to analyze the building performance. 
"This is a marvel of architecture and engineering, particularly the massive green roof developed with Hollander Design Landscape Architects that covers the campus," notes one visitor.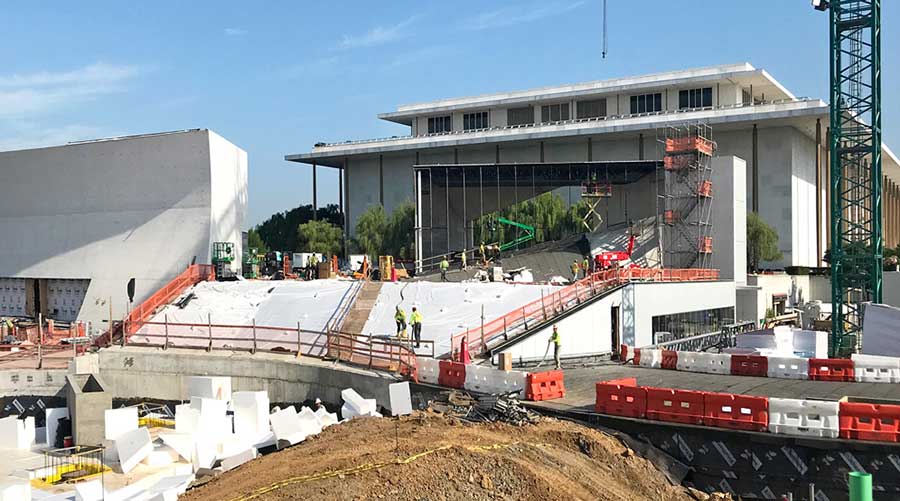 American Hydrotech took on the responsibility of waterproofing the roof structure, supplying 85,000 sq. ft. of their Monolithic Membrane 6125. It's a thick, tough, flexible, self-healing membrane consisting of asphalts and synthetic rubbers. It was applied with fabric reinforcement to a thickness of 215 mils. They also supplied the Styrofoam brand extruded polystyrene (XPS) insulation  used to create elevation change in the lawn and paver areas.
Among the most challenging aspects of the green roof were several areas where the roof geometry twisted from flat to vertical like a corkscrew. Hydrotech also took the lead in designing a soil stabilization system that could function in these areas, which were soon nicknamed "the swoops."  Warmerdam at Sempergreen says, "The complexity of this crazy curve is asking everybody to do something they've never done before, from the people doing the waterproofing, the engineering, the green roofs, and green walls."
Hydrotech's GardNet assembly was used in the four swoops of the project for soil stabilization and containment. Three of those swoops employed Sempergreen's sedum mats using a plant mix developed with Edmund Hollander Landscape Architects, and the fourth swoop along the Potomac River is planted with perennial grasses. Sempergreen USA and Edmund Hollander Landscape Architects designed sedum blankets from three different plant palettes.
For the most vertical sections, which more closely resemble green walls, Sempergreen USA and Knauf Urbanscape designed a growing media mix that starts with Hydrotech's Lite-Top growing media.  As the slope gets steeper, the mix changes into a Lite-Top/Urbanscape mineral wool mixture which in turn merges slowly into the vertical section that has 100% green wall mineral wool from Urbanscape inside the Hydrotech soil stabilization system. 
To accommodate the different water runoff rates, an irrigation system was installed with seven different zones. Hollander writes, "The irrigation has an advanced web-based system with the ability to confirm water flow, water pressure, water temperature, ability to self-empty prior to frost, and refill right after temperatures warm up, so that the irrigation can effectively run 24/7, 365 days a year." 
James Myers Roofing is the roofer that had to put all the pieces together into a finished project for general contractor Whiting-Turner. To ensure the system would perform, the roofing contractor, Hydrotech and Sempergreen built a mock up called 'The Ramp'. Monthly visits from the landscape architect, the GC, and the roofer gave everyone confidence that it could be done. 
The ribbon cutting was held in October 2019, and the project has already achieved LEED Gold certification. The sustainable roof has seen multiple tours, including one hosted by Sempergreen for Boston Properties, one of the largest developers in the United States. "We demonstrated how our innovative green roof and green wall solutions can be applied on challenging, almost impossible, projects," says Warmerdam. 
As for the swoops, he says they've been installed for about a year now and are "acclimatizing well."
Case Study: Spaceport
Outside of Las Cruces, New Mexico, Virgin Galactic has been working on a commercial space port. The idea sounds far-fetched, but more than 600 people have already booked a ride to suborbital space with the company with tickets currently running $250,000 each. Test flights have proven the concept viable, and the 110,000-sq.-ft. facility, designed to achieve LEED Gold certification, opened to the public earlier this fall.
The building includes administrative facilities, hanger space for the planes and spaceships, pre-flight and post-flight training areas, mission control room, and lounges. One of the building's most notable features is the unusual roof, which rises and falls in graceful curves around the oblong building. Several viewers compared its shape to a manta ray. 
Installing and waterproofing this sustainable roof was a complex undertaking, as the roof sits 60 feet above grade, and spans several 160-foot wide openings to allow spacecraft to enter and exit the hanger. 
Designed by Foster + Partners, working with URS Corporation and New Mexico architects SMPC, Spaceport America rises out of the New Mexico desert. The uniquely shaped roof is built up over 12 undulating steel trusses spanning 180 feet with a 45-foot cantilever at one edge. A U-shaped clerestory window channels natural light into the center of the building, supplemented by 42 additional skylights in the roof. 
A metal deck was installed over the roof joists to provide the structural deck. Progressive Roofing, which won the roof contract, began by installing three layers of two-inch rigid polyiso over the metal deck to achieve a thermal insulation value of R-38, followed by a half-inch cover foam board. This assembly was topped with 90,000 sq. ft. of 60-mil EPDM membrane from Firestone Building Products, which was fully adhered to the cover board substrate. 
When it came to choosing a topcoat, durability and sustainability of the color were two very important performance considerations.
"In this part of the country, there is concern about heat gain and degradation of roofing materials over time due to the extreme weather conditions," says Steve Elsley, project manager for Progressive Roofing. "Based on our experience, we selected United Coatings' Kymax product, which holds up very well under demanding weather conditions and also comes with a 10-year warranty against cracking, delamination, and discoloration."
Kymax is a thin-build, spray-applied PVDF latex that provides long-term color stability, resistance to dirt build-up, and protection against severe weather conditions.
In addition to providing color stability and long-term protection of the roofing system, the design plan called for an artistic application of three topcoat color layers to achieve a mottled earth-toned finish that would mimic the coloration of the surrounding landscape. 
David Hazzard, principal architect in charge of the project at New Mexico's SMPC Architects, says, "The trickiest part was finding the optimal application technique for replicating the original faux finish mockup," The team experimented with different approaches of spraying, rolling and brushing the coatings on the roof, eventually creating a 15-foot-by-30-foot mock-up in Progressive Roofing's yard and then temporarily installed it on the roof of the terminal hanger facility for final approval.
With the application puzzle figured out, they waited for a window of optimal weather—warm temperatures and calm air—and then spray-applied about 600 gallons of Kymax Aquatec to achieve the desired mottled and four-colored appearance specified by the architects.
"The result is a magnificent looking facility built in harmony with the surroundings of the area," says Hazzard.
Elsley reports, "The Kymax coating mixed and sprayed very well. We have used EPDM roofing systems for over 30 years and have sprayed millions of square feet of coatings. We will definitely use it again, especially in projects requiring custom color and where customers want a high quality coating that will keep that color for 10, 15, 20 years or more.
Winter 2020 Back Issue
$4.95 – $5.95
Trade Show Preview
Waterproofing Industry Forecast
Sustainable Leak-Free Roofing
Rehabilitating Reeds Creek Fish Hatchery

Description
Description
Trade Show Preview
Here's what to expect at the World of Concrete and International Roofing Expo, the waterproofing-related exhibitors, and how to maximize the opportunities these shows offer.
Waterproofing Industry Forecast
A slowing trend in new home construction, code changes, and increasing natural disasters all have a significant effect on the waterproofing industry.  This story examines what may be in store for the next 12 months.
Sustainable Leak-Free Roofing
A wide range of roofing materials exist to provide durable, low-maintenance roofing while at the same time being friendly to the environment.
Rehabilitating Reeds Creek Fish Hatchery
By Robert Armstead
When water leakage undermined the concrete "raceways" used to raise trout, the state-run fish hatchery turned to polyurethane to fill the voids quickly and without causing issues for the fish.
Additional Info
Additional information
| | |
| --- | --- |
| Weight | N/A |
| Magazine Format | PDF Downloadable Magazine, Print Mailed Magazine |