The expansion and modernization of Bill Snyder Family Stadium at Kansas State University required a significant amount of waterproofing.
The football stadium at Kansas State University has seen some historic moments.  Originally built in 1968 with 35,000 seats, capacity was increased to 50,000 in 1998, during the program's "golden era" under head coach Bill Snyder.  That year, the Wildcat football team finished the regular season undefeated and with a number one national ranking.  In the years that followed, the team was perennially ranked among the top programs in the nation, six times in the top 10.   
When Snyder retired in 2005, the stadium was renamed the Bill Snyder Family Football Stadium in his honor. 
In 2014, the university embarked on a $69 million renovation to the north end zone with giant video replay boards for the fans, along with new locker rooms and weight room for the team, and offices for coaching staff.  The exterior was designed to match the castle-like appearance of the stadium's west side, with a limestone façade and decorative battlements.
Denver-based general contractor G.E. Johnson Company won the bid.  Company president Jim Johnson, project engineer John Liu and five of his co-workers involved with this project are all K-State alumni.
They turned to Restoration & Waterproofing Contractors, Inc. of Topeka, Kansas as the waterproofing subcontractor.  The company had worked on previous phases of the stadium's expansion and modernization program. Everything from elevator pits to roofing would need to be waterproofed. 
 Project manager David Falley says, "Immediately we saw that the architect's specs called for a hot applied sealant. That concerned us with the safety factor of working with hot, liquid tar." 
Falley sent the specs to W. R. Meadows and asked if they had a cold-applied product that would meet all the performance and warranty requirements.  They recommended Hydrolastic 836, a cold-applied, solvent-free, single-component waterproofing compound.  It does not shrink, has a low volatile organic compound (VOC) content, and has a very low odor. It also won't crack in extreme cold or slump in the heat, and can be used on interior or exterior concrete surfaces, both above-grade and below-grade.  
Jim Weatherly, the W.R. Meadows field rep for the area, worked with the architect and GC to get them the data they needed to sign off on the switch.  
"Until this job I was unfamiliar with W. R. Meadows," says Liu. "But Jim Weatherly was always around and worked with us on some challenging details that we didn't have totally designed in our drawings. He also helped walked us through a proper installation sequence."
Work on the complex began in December 2014 as the football season ended, with the waterproofing application beginning in February 2015. The main crux of the job involved 50,000 square feet of split-slab waterproofing in the concourse area. 
"With a minimum of two people and sometimes as many as eight, we were waterproofing about 4,000 to 5,000 square feet a day," said Falley. "We would do one 90 mil coat of Hydrolastic, let it dry, cover that with a reinforcing fabric, then do another 90 mil coat. Tim Koch, our field superintendent, stayed on top of this job every day to assure that everything was done right."
For areas at significant risk for water intrusion, such as the elevator pits and hydrotherapy pool area, they used a self-adhered sheet membrane called Mel-Rol.   In other below-grade areas, an asphalt-based dampproofing compound called Sealmastic was used, along with BEM one-component waterproofing membrane for sealing around brackets, rebar and conduits.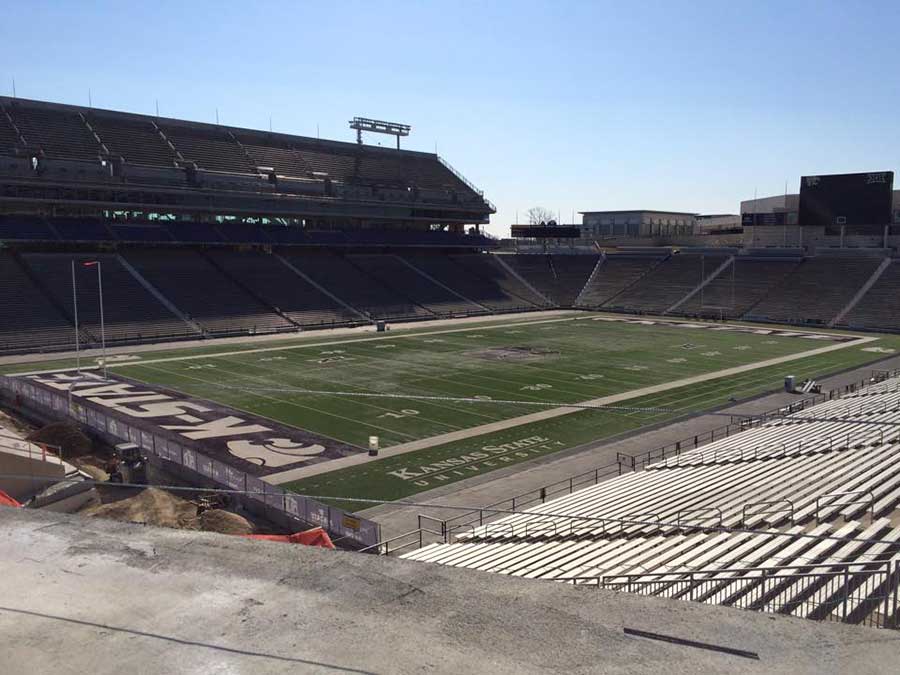 Liu recalls, "Shortly after the waterproofing was done, we got an incredible amount of rain. We hadn't even put the top slab on yet, but everything remained dry. That was a real good test."
Completed in August of 2015 in time for another season of Wildcat football, the new addition welcomes tens of thousands of fans every game day.  The grand, four-story atrium leaves a memorable first impression and is accessible from all levels, including the new main concourse.  Behind it all lies quality waterproofing materials.
Summer 2018 Back Issue
$4.95
Air Barriers
Integral Waterproofing on Commercial Jobs
Green Roofing
Livable Basements
---
AVAILABLE AS PDF DOWNLOAD ONLY
Description
Description
Air Barriers
By Vanessa Salvia
Air barriers, whether fluid-applied, self-adhered, or mechanically-fastened, have become a key component of building design and moisture management.
Integral Waterproofing on Commercial Jobs
Instead of relying on membranes, these projects used admixtures to make the concrete itself impenetrable to moisture.
Green Roofing
Planted roofs offer a host of benefits, and are installed on a wide range of commercial projects, including convention centers, apartments, and offices.
Livable Basements
By Vanessa Salvia
The right combination of waterproofing, drainage and dehumidification can make below-grade living space just as comfortable and inviting as the above-grade portions.
Additional Info
Additional information
| | |
| --- | --- |
| Magazine Format | PDF Downloadable Magazine, Print Mailed Magazine |