In February, winners were chosen for the Contractor Project of the Year competition. The annual event highlights excellence in roofing installation. The competition is organized by Sika Sarnafil, a major manufacturer of thermoplastic roofing and waterproofing membranes. Only project built using their products were eligible.
Winners were selected in five categories: Steep Slope; Low Slope, New Construction; Low Slope, Re-Roofing; Sustainability; and Waterproofing.
Brian J. Whelan, Sika Sarnafil's executive vice president, says, "Each entry is judged on project complexity, design uniqueness, craftsmanship and creative problem solving. We salute the winners for their dedication to the roofing industry and installation excellence."
In all, more than 40 projects from around the U.S. were submitted for evaluation in the 2018 Sika Sarnafil Project of the Year competition. First place winners were awarded cash prizes, recognition at an awards dinner at the International Roofing Expo and marketing support in the form of advertisements, social media and public relations.
Langer Roofing & Sheet Metal of Milwaukee, Wisconsin, took home first place in the Low Slope, New Construction category for the beautiful roof on the Fiserv Forum in downtown Milwaukee, home of the NBA's Milwaukee Bucks.
Oregon's Flynn BEC earned first-place honors in the Low Slope, Re-Roofing category, thanks to its massive 484,000-square-foot installation on a truck manufacturing plant in Portland.
Poly Vinyl Roofing of Mount Vernon, Iowa, grabbed first place in the Sustainability class for its superb work on the Seamans Center for the Engineering Arts and Sciences, which is located on the campus of the University of Iowa in Iowa City. The green roof includes solar panels and even a pair of bioswales that slow down and filter stormwater runoff before it enters the sewer system.
For more information about all the winners, visit the Sika Sarnafil website.
The Basement Health Association (BHA) has a program that recognizes waterproofing companies with out-standing customer service.  The Service and Technicians Assessment Report (STAR) Program gathers comments directly from the client regarding their experience with the contractor BHA member. 
Yearly, the BHA recognizes members that have received an outstanding number of these STAR reply cards from clients. The feedback is scored on quality of work, responsiveness, punctuality and professionalism.
Each comment card must score highly enough to be included in the total. If a member firm receives enough comment cards, with high enough scores, they then qualify as a STAR award company for the year.
For 2019 BHA is pleased to note the following companies have earned the STAR: 
Adam Basement, Inc., Newark, Deleware
Advanced Basement Solutions, West Newton, Pennsylvania
All Dry Inc., Nashville, Tennesee
A.M. Shield Waterproofing Corp., Albertson, New York
Aquaguard Waterproofing Corporation, Beltsville, Maryland
Everdry Waterproofing Michiana, South Bend, Indiana
Everdry Waterproofing Toledo, Toledo, Ohio
HydroHero, Frankford, Delaware
Healthy Way Waterproofing & Mold Remediation, Fairhaven, New Jersey
Midwest Basement Tech, Brighton, Illinois
Safeguard Waterproofing-Ram Jack Illinois, Franklin Park, Illinois
Standard Water Control Systems, Inc., Crystal, Minnesota
The Real Seal, LLC, Schaumburg, Illinois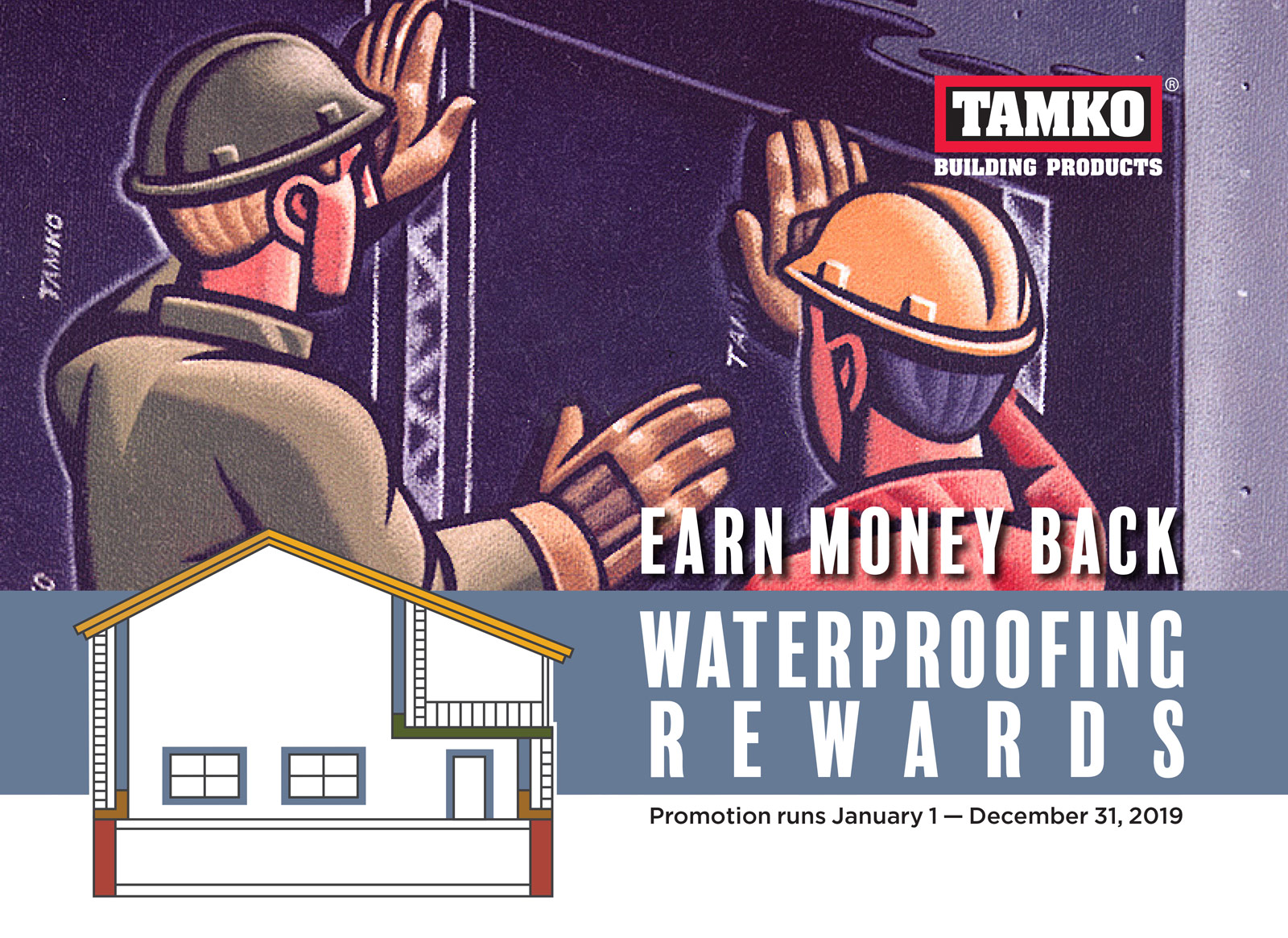 Tamko Building Products offers a cash back rewards program for waterproofing contractors.    It allows waterproofing professionals to earn unlimited cash back when they purchase qualifying waterproofing products from the company. 
Called the "Waterproofing Rewards Program," it includes all qualifying purchases of their TW-60 Waterproofing Membrane, TW-105 Flashing, TW Drain 220 and TWP Adhesive Primers with no earnings cap or minimum purchase required. The program offers rebates of up to $1 per roll or pail, depending on the product purchased. Building professionals can receive cash rewards on all 2019 purchases.
"We're committed to the success of our waterproofing contractors," said Stephen McNally, vice president of sales and marketing. "The rewards program is a great way for professionals to earn money back while providing solutions their customers need by offering TAMKO's waterproofing products. It is a win-win."
To sign up, or for more information on the program, visit www.tamkowaterproofing.com.
Tsurumi Pump partners with SmartEquip
Tsurumi Pump has formed a partnership with SmartEquip. Tsurumi Pump is a global manufacturer of submersible and engine driven pumps as well as portable generators. 
"We are excited to begin our partnership with SmartEquip," said Glenn Wieczorek, managing director of Tsurumi Pump in North America. "We're looking forward to the long-term advantages that will benefit both our customers and our company processes." 
Partnering with SmartEquip allows Tsurumi Pump's dealers to utilize the network as a way to improve efficiencies and interface with manufactures, while offering superior customer support at lower costs. 
"SmartEquip is excited to welcome Tsurumi Pump to our network," said Mike Birch, vice president, business development. "SmartEquip fleet owners will clearly benefit with the addition of this important brand to the list of SmartEquip suppliers who are providing efficient and accurate product support capabilities to their rental fleet customers through our technology." 
The network helps to decrease Tsurumi Pump's customers' cost of owning and operating its equipment, while improving the quality of dealer and end user support, at reduced costs. The partnership aids both Tsurumi Pump's customers and end users to ensure they are receiving the best possible service. 
The Garland Company has renewed their ISO certification, which indicates a commitment to quality manufacturing, through the year 2021. 
ISO 9001 is a worldwide standard for quality, and provides third-party verification that the company meets pre-established standards in research, production, and quality control. 
Michelle Sweitzer, a Garland Company representative, says the certification provides value to customers by reducing  liability, continually improving products and services, and providing long-term solutions that will stand the test of time.