Liberty Pumps, the New York-based sump pump manufacturer, has selected a group of eight sales representatives to be part of the company's "Rep Council."
The selections were made as part of the American Society Of Plumbing Engineers (ASPE) Convention held in early November in Philadelphia.   Council members are (clockwise from top left)
Randy Waldron, vice president of Sales/Marketing, Liberty Pumps; Charlie Pongratz of GT Gordon & Associates in Washington state; Tony Bruno of Triumph Sales in Pennsylvania; Charlie Cook, President of Liberty Pumps; Steve Sutter of Hodes & Sutter, Inc.  Missouri; Scott Cooper of Cooper New England Sales, and Charlie Fletcher of Delco Sales in Calif., Nev. and Hawaii.  Chuck Schwabe, national sales manager at Liberty Pumps is also on the council, but not pictured.
Learning about healthy, energy-efficient basements is now even easier, thanks to a new continuing education unit (CEU) course from CertainTeed Corporation.
Titled A Systems Approach to Effective Basement Design, the course explains how the flow of water, moisture and heat affect basements. Successful completion of the course provides the knowledge needed to design healthy, durable, comfortable and energy efficient basements. The course qualifies for one Health Safety and Welfare (HSW) credit, which will be automatically reported to the American Institute of Architects (AIA) at the time of successful completion.
"Moisture management and energy efficiency are cornerstones of sustainable building practices and learning how these affect a basement and occupant comfort is essential," says Keith Reifke, national sales manager for CertainTeed's Foundations Business.
The CEU course is free and available at www.certainteed.com/continuinged.
The U.S. Environmental Protection Agency (EPA) has approved the use of 1-bromopropane as an alternative to more common but ozone-depleting solvents.
The Asphalt Roofing Manufacturers Association (ARMA) Health, Safety and Environment Committee and membership has been working with EPA for nearly two years to approve a substitute solvent for use when testing stack emissions.
Trichloroethylene was banned in 1996 under the Kyoto Protocol, and trichlorethane was banned under the Montreal Protocol and the Clean Air Act.  Both are chlorinated solvents thought to contribute to the depletion of the earth's ozone layer.  The problem was that until recently, trichlorethane was only solvent approved by the EPA for demonstrating compliance with particulate matter emissions required by the same Clean Air Act.
But in mid November, the EPA released a statement that 1-bromopropane "is acceptable for use at any asphalt processing or manufacturing facility covered by the following regulations:
40 CFR Part 60, Subpart UU;
40 CFR Part 63, Subpart LLLLL; and
40 CFR Part 60, Subpart AAAAAAA."
EPA's official letter, titled Approval of Modifications to Method 5A for Various Reasons, can be found online at: http://www.epa.gov/ttn/emc/approalt.html.
Venture Tape Corp. a subsidiary of 3M, announced that it is expanding its agreement with Industrial Sales Corp. (ISC) for sales and distribution of its adhesive products for the (window and door) and glass building products market.
In addition to product sales in the Northeast and Midwest regions, ISC will now handle sales of Venture Tape's products in the Southeast and Western regions of the United States as well.
"We look forward to leveraging our strengths and experience in the industry on behalf of Venture Tape," said Jim Hornung, president of ISC.
Venture Tape Corp. manufactures a broad range of tapes used in the construction, oil and gas, HVAC, electronics, aerospace, marine and appliance markets
The U.S. Green Building Council's popular LEED Green Building Program is being updated, and developers are seeking feedback on how to improve it.  The public comment period, which closed on December 31, 2010, is part of a continuous improvement process.
Scot Horst, senior vice president of USGBC overseeing LEED, says,  "As green building practice evolves, so does LEED, providing innovative solutions to the challenges and opportunities in the building industry."
To contribute to the dialog on improving the LEED certification process, visit the public comment web pages at www.usgbc.org.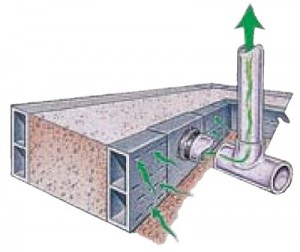 Form-A-Drain, the two-in-one foundation drainage system from CertainTeed, has been approved by the Canadian Construction Materials Centre (CCMC).
The CCMC report states that the patented concrete footing form system is in compliance with the National Building Code of Canada and the National Research Council Canada.
The report, number 13492-R, makes it simpler for local building inspectors across Canada to understand and approve the product for construction.
Dow Corning Now GSA-Ready
Finding sealants for government construction work just got easier.  Dow Corning's silicone products for the construction industry are now available through the GSA Federal Supply Schedule.
The U.S. Federal government has sought to reduce paperwork and building costs by pre-approving certain products used in construction.  The General Services Administration (GSA) is responsible for maintaining the list of approved materials.  Non-GSA-approved materials must pass through additional scrutiny before being used on government construction projects, so contractors can often reduce expenses and schedule times by using materials available through the GSA Federal Supply Schedule.
Now this list includes Dow Corning's weather sealants; structural glazing sealants; parking structure sealants; highway and airport products.
"From small, no-bid projects to major construction endeavors, building contractors can specify trusted silicone construction products that provide fast, flexible, and cost-effective solutions," said Jim Hayes, a Dow Corning executive. "We are committed to providing construction industry professionals with the proven performance of the Dow Corning brand through the convenience of the Federal Supply Schedule availability."
GSA-approved Dow Corning silicone construction materials are available through select distributors or GSA Advantage.
For more information, visit www.dowcorning.com/GSA.

Readers of Commercial Building Products magazine selected Carlisle SynTec as their preferred brand in the roofing category of building products, according to a recent survey.
Voters from a wide variety of professions, including architects, contractors, and building owners, participated in the survey. Mike DuCharme, Carlisle's director of product marketing, says, "We feel that this award shows that Carlisle is committed to [developing] innovative new roofing products that continually redefine the standards for performance and customer satisfaction."
Henry Company has just published a new brochure explaining its Vegetative Roof Assembly system.  The publication explains how the company's hot rubberized asphalt roofing membrane can be combined with other products to create a green roof system adaptable to a wide range of applications.
The brochure also explains the environmental and economic benefits of vegetative roofs, and also mentions several other sustainable roofing products, such as reflective roof coatings and spray-foam roofing.
For more information, call 1-800-486-1278.
In November, the  U.S. Green Building Council (USGBC) announce that the total footprint of commercial projects certified under their LEED Green Building Rating System surpassed a billion square feet.  Another six billion square feet of projects are registered and currently working toward LEED certification around the world.
"This demonstrates a transformation of the way we design, build and operate buildings," said Rick Fedrizzi, president and CEO of the USGBC.
Since it was first introduced in the year 2000, over 36,000 commercial projects and 38,000 single-family homes have participated in LEED.
New rooftop solar panels atop a factory in New Jersey will generate more than 870 kilowatts of clean, renewable energy.
The project was realized thanks to a partnership between CertainTeed Corporation, which owns the warehouse, and NJR Clean Energy Ventures (NJRCEV), which financed the up-front cost of the installation and is buying the electricity through a 20-year lease and concurrent Power Purchase Agreement.
NJRCEV is installing 300,000 sq. ft. of thin-film solar laminates atop CertainTeed's Berlin, NJ facility, which is used to distribute fiberglass insulation products throughout the Northeast.  The system will provide nearly 90% of the building's electric needs and help transform the facility into a green building by eliminating more than 800 tons of carbon dioxide emissions annually.
Protecto Wrap Company, has promoted two executives to division vice-presidents of sales and marketing.
Scott Harter has been promoted to vice-president of sales and marketing and will direct the company's flooring division.  He continues to be an active member of numerous flooring and ceramic tile associations.  Harter has worked for the company nearly 15 years, and has been the driving force behind Protecto Wrap's AFM and Whisper Mat flooring underlayments and the company's North American distributor network.
Wes Settlemyre has been promoted to vice-president of sales and marketing and will direct the company's building products division.  Settlemyre joined Protecto Wrap in 2008 after 13 years at another waterproofing manufacturer. In his new position, he will continue his effective inside sales and personnel management, and implementation of modern marketing solutions.