Electric Field Vector Mapping (EFVM) has a number of significant advantages over every other leak detection system on the market.
Traditional flood testing methods can identify leakage, but only after the water passes through the membrane, the roof insulation and interior ceiling. Colin Murphy, managing partner at construction consulting firm Trinity-ERD adds, "Other moisture testing methods such as infrared, nuclear and impedance testing are highly effective in locating accumulated moisture within the insulation, but cannot determine the exact location of water entry before water accumulates within or on the moisture sensitive components below."
EFVM can identify membrane breaches before the insulation gets wet, even the same day the membrane is installed. If repairs are needed, the surface can be immediately re-tested to ensure the problem was fixed. EFVM does not require removing ballast or lightweight soils used on green roofs. It can even test membranes under several inches of water, such as in geo-membrane applications.
While the technology has only been offered in the North American market for about 10 years, it has been used for decades in Europe. Chris Eichhorn, president of International Leak Detection, reports that more than 25 million square feet of roof membrane have been tested in North America using EFVM and more than 150 million sq. ft. have been tested worldwide.
"The survey technician installs an un-insulated wire loop around the perimeter of the area and connects an electrical pulse generator to the wire," Eichhorn explains. "The electrical pulse generator delivers a 40-volt potential for one second every three seconds." The system uses the water on the membrane as a conductive medium, or if the  membrane isn't already wet, it will be sprayed with water.
If the membrane is intact, the current will be isolated, and the roof will be shown to be free of leaks.
If there is a breach, however, the electrical field will ground out to the roof deck below. Because of the high electrical resistance, this breach will "pull" the electrical field towards it.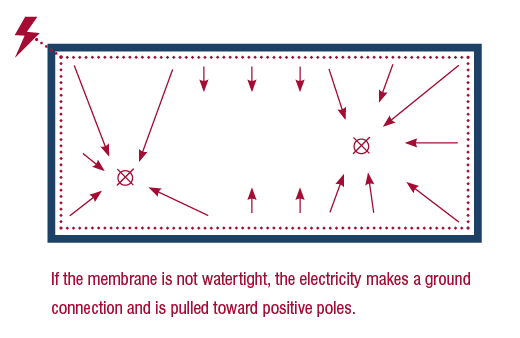 Two probes connected to a potentiometer indicate whether the breach is to the left or right of the operator. It's relatively simple for the survey technician to follow the direction of the electric field to breach.
Once testing is complete, ILD customers receive CAD drawings, picture documentation and a written report detailing the location and nature of all breaches and defects found.
EFVM does have limitations. "The suitability of EFVM depends on the electrical resistance of the waterproofing materials," Eichhorn says. "Black EPDM membranes, which contain carbon black, are generally not suitable due to their high electric conductivity." White and grey EPDM, due to reduced levels of carbon black, can be tested.
Aluminized protective coatings, commonly used in North America in conjunction with modified bituminous membranes, may also defeat the technique.
Murphy, the roof consultant, concludes, "The ability to pinpoint and repair leaks before damage occurs is a clear cost saving advantage. In addition, the ability to confirm watertightness before demobilization is a benefit to the roofing or waterproofing contractor who may be accused of application deficiencies as a result of damage by other trades…EFVM is an underutilized diagnostic tool which clearly has a place in the North American roofing and waterproofing market."
Winter 2010 Back Issue
$4.95
Sustainability: Strategies to combine Effectiveness and Eco-friendliness
Non-Destructive Leak Detection
High Performance Highway Sealants
---
AVAILABLE AS PDF DOWNLOAD ONLY
Description
Description
Sustainability: Strategies to combine Effectiveness and Eco-friendliness
Green is big business right now. New techniques and products that are both sustainable and effective can improve the environment and your bottom line.
Non-Destructive Leak Detection
Traditionally, testing commercial roofs for leaks can be time-consuming, messy, and actually damage the roof membrane. But new technology can end that, saving time, money and equipment, and locating even the smallest breach in the membrane.
High Performance Highway Sealants
Sealants used on bridges and elevated sections of highway have to perform in extreme conditions. Interstate 70 west of Denver provides an extreme example.
Additional Info
Additional information
| | |
| --- | --- |
| Magazine Format | PDF Downloadable Magazine, Print Mailed Magazine |