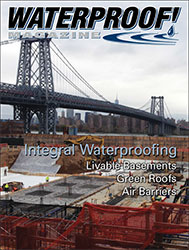 Air Barriers
By Vanessa Salvia
Air barriers, whether fluid-applied, self-adhered, or mechanically-fastened, have become a key component of building design and moisture management.

» Read the complete story here «
---
Integral Waterproofing on Commercial Jobs
Instead of relying on membranes, these projects used admixtures to make the concrete itself impenetrable to moisture.
» Read the complete story here «
---
Waterproofing Green Roofs
Planted roofs offer a host of benefits, and are installed on a wide range of commercial projects, including convention centers, apartments, and offices.
» Read the complete story here «
---
Livable Basements
By Vanessa Salvia
The right combination of waterproofing, drainage and dehumidification can make below-grade living space just as comfortable and inviting as the above-grade portions.