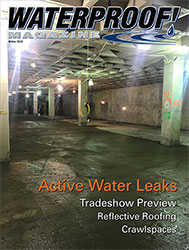 A Crash Course in Convention Networking
By Russell Trahan
Trade shows can be a great opportunity to grow the business and make valuable connections.

» Read the complete story here «
---
Crawlspaces and Sump Pumps
From encapsulated crawlspaces to internet-connected sump pumps and carbon fiber repair, state-of-the-art solutions are simplfying age-old problems.
» Read the complete story here «
---
Reflective Roofing: The Basics
Available as membranes and as spray-on coatings, these cool roof systems significantly reduce energy consumption, and are surprisingly affordable for retrofit and new construction.
» Read the complete story here «
---
Sealing Active Water Leaks
When hydrostatic pressure leads to active water leaks inside a structure, the solution frequently involves crystalline slurry coats or polyurethane grouts.