The Statue of Liberty Museum is the most monumental addition to Liberty Island since the statue herself. More than that, it allows millions more visitors to enjoy the Statue of Liberty experience and be inspired by her history and message of freedom and opportunity. A key part of the musem's design is a sloped green roof.
Drawing in 4.5 million visitors a year, the Statue of Liberty was a gift of France at the centennial of American independence. The Statue of Liberty was designed by sculptor Frédéric-Auguste Bartholdi and its metal framework built by Gustave Eiffel, the same man who built the famous tower in Paris.
Formally named "Liberty Enlightening the World." it was dedicated on October 28, 1886. Ever since, she has stood on her pedestal, gracing the entrance to New York Harbor and welcoming millions of immigrants to the United States. Designated as a U.S. National Monument in 1924 and added to Unesco's World Heritage List in 1984, the site is administered by the National Park Service.
While the Statue of Liberty remains New York's most iconic monument, the museum housed in its base had long proved inadequate for the thousands who visit each day. The new Statue of Liberty Museum, envisioned as an extension of the island's landscape in Liberty Park, was built to remedy that situation. The museum showcases the statue's original torch and a reproduction of Lady Liberty's face, along with scores of historical photos and documents.
Construction of the $100 million Statue of Liberty Museum started in early October 2016, aiming for LEED Gold. The project was privately funded by philanthropists including Michael Bloomberg, Jeff Bezos, Coca-Cola, NBCUniversal, and George Lucas.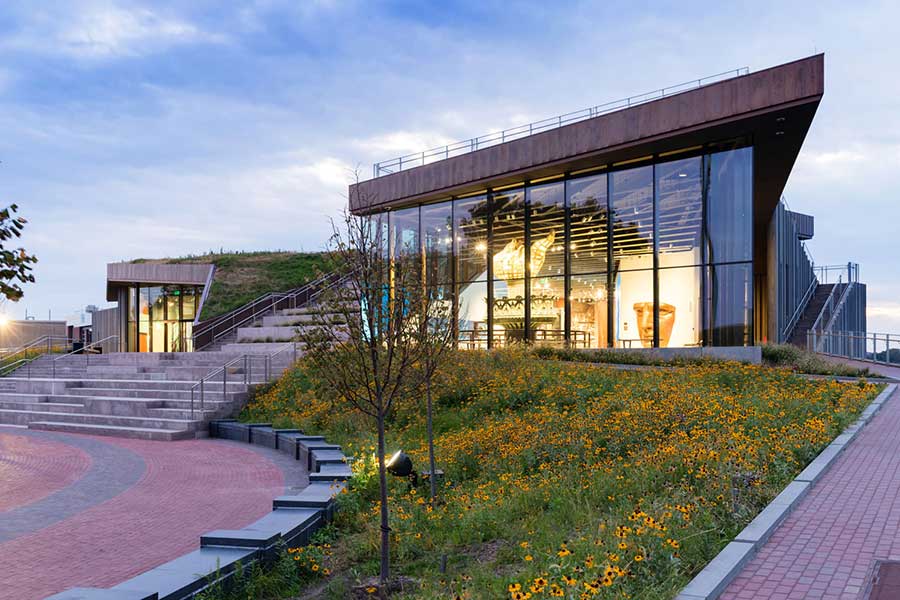 Finished earlier this year, it is accessible to millions of new visitors without restrictive security clearances. The museum's defining gesture is the lifting of the park itself. Thanks to the 35,000-sq.-ft green roof from American Hydrotech, the building gives the appearance of rising up from the earth, carrying with it a beautiful Garden Roof Assembly planted with native grasses. The almost 23 degree slope was stabilized with Hydrotech's GardNet, with MM6125 membrane and components used below and in all of the roof and adjacent planter areas. The plant materials are a meadow mix with a cover crop to stabilize the plantings on the top and on the sloped areas. The rooftop viewing deck offers sweeping 360-degree views of the statue, New York Harbor, and the New York skyline.
"The landscape seamlessly merges with the building, extending vistas rather than ending them, and creating a new, naturalized habitat in place of a traditional building," says a statement released by Quennell Rothschild & Partners, the landscape architect.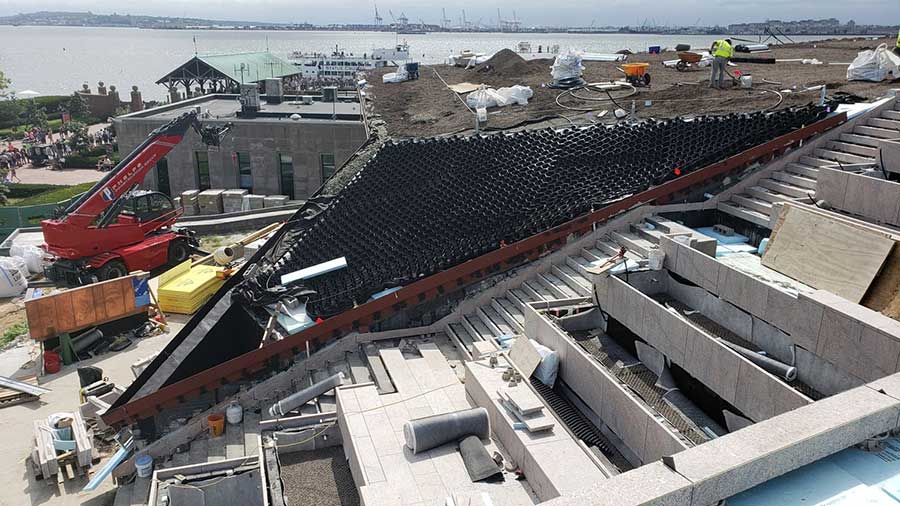 In addition to the multiple planted areas, the building features bird-friendly glass and favored materials that are native to the island or used in the original construction of the Statue of Liberty, including granite, bronze, and a variety of native vegetation.
"It is a real honor for Hydrotech to be a crucial part of this special public building project and to know that the artifacts inside will be preserved for all to see for generations to come," says Richard Hayden, garden roof and blue roof department manager at American Hydrotech.
FAST FACTS Statue of Liberty Museum Greenroof
Completed: 2020
Owner: The Statue of Liberty – Ellis Island Foundation
Location: New York, New York
Building Type: Museum
Type: Intensive Greenroof
System: Single Source Provider
Size: 35,500 sq.ft.
Slope: 5/12 or almost 23 degrees
Access: Public
Architect: FXCollaborative
Landscape Architect: Quennell Rothschild & Partners
General Contractor: Phelps Construction Group, Llc
Roofing & Waterproofing: American Hydrotech, Inc.
Waterproofing Installation: Grandview Waterproofing
Greenroof Installation: Wetlands
Fall 2020 Back Issue
$4.95 – $5.95
Cast-In-Place Concrete vs. Shotcrete: The CIP Advantage
Gel Waterproofing
Effective Waterproofing for ICFs
A Green Roof for Liberty Island
Description
Description
Cast-In-Place Concrete vs. Shotcrete: The CIP Advantage
By Stacy Byrd
Below-grade concrete can be cast-in place using forms or high-pressure shotcrete. A waterproofing expert evaluates the advantages of each method.
Gel Waterproofing
By Mario Baggio
Crystalline waterproofing and modified silicate gel-based approaches may look similar, but they work in different ways, and each has its own advantages.
Effective Waterproofing for ICFs
By Brian Corder
Insulated concrete forms (ICFs) become increasingly popular and are incompatible with solvent-based waterproofing. Manufacturers recommend water-based or self-adhered systems.
A Green Roof for Liberty Island
By Linda Velazquez
In New York Harbor, a new Statue of Liberty Museum in the shadow of the iconic statue boasts a state-of-the art sloping green roof.
Additional Info
Additional information
| | |
| --- | --- |
| Weight | N/A |
| Magazine Format | PDF Downloadable Magazine, Print Mailed Magazine |