CertainTeed, maker of the popular Form-A-Drain footing drain, has reached an agreement with Armtec of Canada to be the exclusive U.S supplier of their Platon air gap membrane.
Used as both a flooring underlayment and foundation water-proofing, Platon can be used in a variety of ways to ensure below-grade structures stay dry.
"We're always looking to bring on new products that will complement our full line of construction products," says Steve Gross, Director of Marketing for CertainTeed's Foundations business. "We reached an agreement late last year to represent the U.S. exclusively. We're always looking for ways to add value." 
Gross also said that Platon works extremely well with their Form-A-Drain system, and expects to achieve customer-focused synergies with the new partnership.
Armtec will continue to manufacture and market Platon in Canada and other countries.
In March, the Sealant, Waterproofing & Restoration Institute (SWRI) announced a new board of directors.  The new members were elected at the institute's 2008 Winter Technical Meeting in Cancun, Mexico.
Eric Johnson, owner of Spray-O-Bond Company, in Milwaukee, Wisc., is the new president. According to information released to the press, Johnson will focus on developing and growing alliances with other organizations, updating and creating publications to educate the industry and emphasize the importance of committee involvement.
Serving with Johnson are Frank Halsey of Mid-Continental Restoration Company, Inc, elected as president-elect and Jed Daniel of Seager Waterproofing, Inc. in Greensboro, NC, as Secretary/Treasurer.
Past president Bill Leonhard will remain on the board as well, with 10 others, five of whom were elected at the last meeting.  A complete list of the 2008-2009 SWR Institute Board of Directors, visit the institute website www.swri-online.org.
Waterproof in the Desert
Once used exclusively in areas with heavy rainfall, waterproofing companies are expanding into areas previously thought unprofitable. 
Guardian Sealing, Inc. is one of these.  Headquartered in Phoenix, Ariz., it is the first company in the state to focus exclusively on waterproofing.
In Arizona, asphalt doesn't last more than a few years, leaving home builders open to costly lawsuits when mold, termites or flooding occur.
Instead, the company uses a thermoplastic coating for a waterproofing barrier, covered with a dimple membrane and footing drain to relieve hydrostatic pressure.
Says one satisfied customer, "The cost of Guardian Sealing's system is similar to applying modified asphalt, but it saves money in the long run because it's virtually problem free."
Kyle Kik, who co-owns the company, says its been a good first summer. "We have the confidence to take on any foundation waterproofing challenge in Arizona," he says.
The Sealant, Waterproofing, & Restoration Institute (SWRI) oversees a standardized, third-party verification system for waterproofing products.  In the past months, several products have passed the third-party testing and validation process. 
"Manufacturer's product performances claims can, at times, be either confusing, incomplete, or misleading," explains the SWRI website. "The SWR Institute Validation Program helps to alleviate the confusion."
Neogard Deck Coating:  In February, Neogard, a division of Jones-Blair, validated their series of vehicular and pedestrian deck coating systems, with SWRI's Deck Coating Validation Program.  The systems consist of a base coat and top coat, and were tested for elasticity, abrasion resistance, and other factors in accordance with ASTM standards. 
BASF Deck Coatings: BASF Building Systems, a major supplier of chemicals and building products, validated their Conipur deck coating system, Conipur295 Topcoat & 265Z Basecoat; and Conipur 275 Topcoat & 265Z Basecoat. 
Bostik Liquid Sealant: In March, Bostik, Inc. validated their Chem-Calk 2020 Advanced Urethane Sealant through the SWRI program.  Tested in the "Liquid Sealants" category, the product passed the ASTM tests for adhesion and cohesion on primed mortar, unprimed wood and steel substrates, and for indentation hardness.
Momentive Performance Sealants: Momentive Perf-ormance Materials, Inc., a manufacturer of sealant and waterproofing products, recently validated three liquid sealants in SWRI's program UltraGlaze SSG4400 Two-Part Structural Sealant, UltraGlaze SSG4000AC Structural Glazing Sealant and UltraGlaze SSG4000 Structural Glazing Sealant all passed the required ASTM tests when used on unprimed glass and primed aluminum. 
Manufacturers that wish to have their wall coating, deck coating, liquid sealant, or pre-cured sealant products validated, or for more information on any validated product, visit the SWRI website at www.swrionline.org, or call 816.472.7974.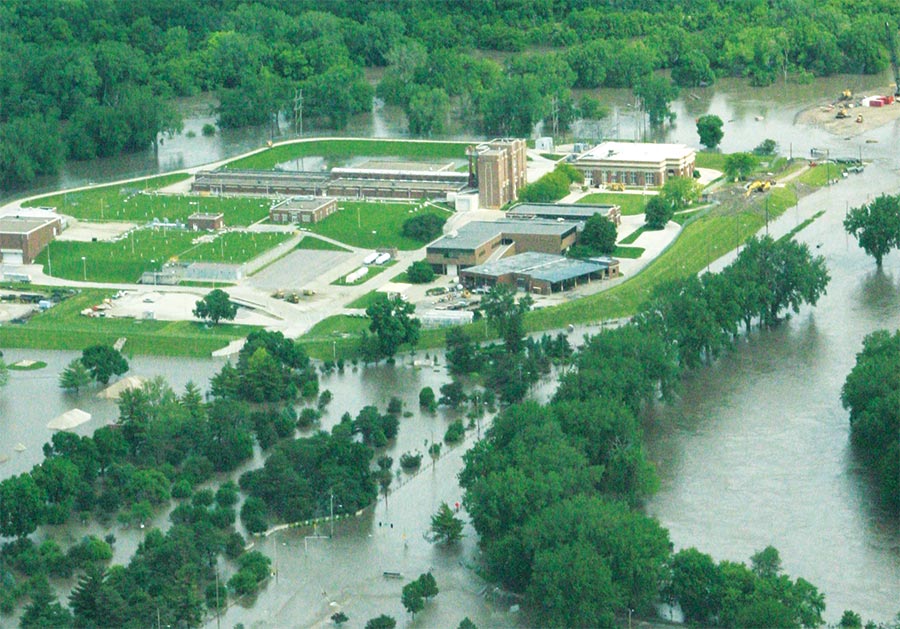 Midwest Flooding
Severe flooding in the Midwest has soaked basements, saturated soils, and inundated waterproofing contractors in the area.  The hardest hit areas include southwestern Illinois, eastern Missouri, and most of Arkansas.  Sections of the Ohio River were also affected.
The floods were caused by torrential early spring rainfall—in excess of ten inches in many areas—combined with melting from the unusually heavy snowpack.
"For some of these places, this is their 500-year flood,"  says Patti Thompson, a spokeswoman for the Illinois Emergency Management Agency. 
Unlike last summer's floods, or the "great flood" of 1993, this appears to be a relatively brief incident, and water levels were predicted to fall quickly after the storm.
Waterproofers in the affected regions, however, report that the backlog of calls will keep them busy for quite some time.