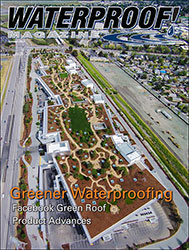 Light and Tight: Facebook Green Roof
By Michael McAuley
The flat roof on Facebook's new headquarters has a garden roof the size of seven football fields, and includes a half-mile walking path that winds through more than 400 full-size trees.
» Read the complete story here «
---
Advances in Commercial Waterproofing
From deep foundations to rooftops, new waterproofing technologies are helping create structures that are better-performing and more cost-effective than ever before.
» Read the complete story here «
---
Greening Your Waterproofing
The green building movement has raised expectations for waterproofing products, with a shift towards more eco-friendly solvents, easier recycling, and entirely new types of waterproofing.
» Read the complete story here «
---