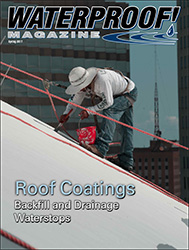 Sealing Cold Joints with Waterstops
By Stacy Byrd
Available in a variety of profiles and materials, waterstops play a major role in preventing water leakage at cold joints.

» Read the complete story here «
---
Waterstops for Expansion Joints
By Dan Chapman
Properly installed waterstops can prevent water from penetrating expansion joints, despite significant movement in the concrete.
» Read the complete story here «
---
Basement Backfill and Drainage
Rigid foam boards and dimple drain sheets are just two of the options available to relieve hydrostatic pressure and prevent damage to the waterproofing membrane during backfill.
» Read the complete story here «
---
The Key to a Successful Roof Coating
By James R. Kirby
New technology makes it possible to extend roof life and reduce energy use without removing the existing membrane, creating dramatic savings.
» Read the complete story here «
---