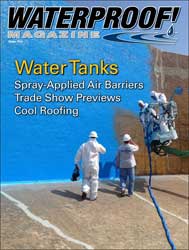 Coatings for Water Tanks
From potable water storage to wastewater treatment, these coatings will provide corrosion protection, waterproofing, and peace of mind.

» Read the complete story here «
---
Cool Roofing: Reflective v. Planted
Light-colored reflective membranes and vegetated roof systems are both described as "green" roofs. Case studies and lab reports demonstrate the environmental benefits of each type.
» Read the complete story here «
---
Spray-Applied Air Barriers: Thick vs. Thin
Fluid-applied vapor barriers are popular for their continuity, strength, and effectiveness. Thick- and thin-film barriers both claim to be effective.
» Read the complete story here «
---