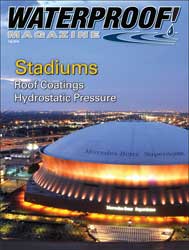 Relieving Hydrostatic Pressure
It's critical for water to drain away from footings. Sump pumps, sheet drains, perforated pipe, and other products must work together for maximum performance.

» Read the complete story here «
---
Waterproofing World-Class Stadiums
From the recently renovated Superdome to new facilities built for the Olympics and the World Cup, these massive projects require extensive waterproofing from the foundation to the roof.
» Read the complete story here «
---
Fluid Applied Roof Coatings
Spray-on roofing membranes can extend the life of a roof by decades without the cost of tear-out and replacement. It takes less time, less labor, and yields a monolithic, seamless, waterproof roof.
» Read the complete story here «
---