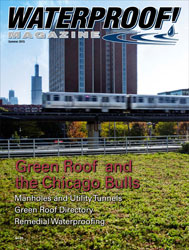 Remedial Waterproofing
By Melissa Morton
Keeping water out of an existing below-grade structure is often more complex than new construction. Options include curtain grouting, pumps, crack repair, and drainage systems that collect and divert water from inside the structure.

» Read the complete story here «
---
Green Roof Profile: Bulls Practice Facility
Completed last fall, the Advocate Center is a training facility for the Chicago Bulls basketball team featuring state-of-the-art weight training and practice space on the inside and an 11,300 sq. ft. green roof on top.
» Read the complete story here «
---
Sealing Manholes And Water Tunnels:
By Deb Hammacher
Sealing municipal tunnels—and the manholes that access them—is a significant waterproofing challenge.
» Read the complete story here «
---
Green Roof Directory
Published in conjunction with GreenRoofs.com, this is a comprehensive categorized list of the products and services offered to the vegetated roof industry.