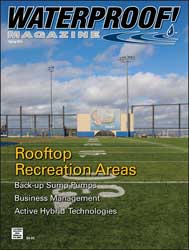 Active Hybrid Waterproofing Technologies
By Stacy Byrd
This new non-curing, self-sealing technology makes it easier than ever to confidently waterproof difficult areas. It's already been used on several landmark products.

» Read the complete story here «
---
Back-up Sump Pump Systems
By Blake Jeffery
Every home with a sump pump should have a reliable backup sump pump system to protect from problems such as power outages, switch malfunctions, and clogs.
» Read the complete story here «
---
Rooftop Recreation Areas
By Michael Popke
Pressed for space, campuses on both coasts have found room to expand their athletic fields by building stadiums on top of existing buildings. Obviously, waterproofing was a major concern.