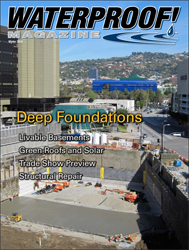 Options for Deep Foundations
When foundations extend more than 15 or 20 feet below grade, waterproofing becomes far more complex. Differing substrates, intense hydrostatic pressure is intense, and blindside installation techniques add to the difficulty.

» Read the complete story here «
---
Livable Basements
The right combination of waterproofing and dehumidification products can ensure below-grade living space is just as comfortable and inviting as the above-grade portions.
» Read the complete story here «
---
Integrating Green Roofs and Solar
Commercial roofers and roof designers are increasingly being asked to combine photovoltaic panels with vegetative roofing. Roof membranes, structural supports, and careful detailing are all key to a successful installation.
» Read the complete story here «
---
Commercial Structural Repair - By Bob Thompson
Carbon fiber, epoxies, and polyurethane grouts are used to repair both residential and commercial foundations, and the scale of many commercial jobs is breathtaking.