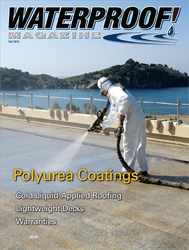 Apples To Apples
Comparing Waterproofing Warranties
Manufacturer warranties can be confusing, and often focus on the length of coverage instead of the terms. Here's what a good warranty should cover as well as the limits of liability.

» Read the complete story here «
---
Polyurea Coatings: The Basics
Developed in the 1990s for the automotive industry, this technology has skyrocketed in popularity due to its fast-curing, corrosion- and abrasion-resistant characteristics.
» Read the complete story here «
---
Cold Liquid-Applied Roofing By Kelly Franklin
New technology allows built-up roofing to be applied without hot tar kettles, open flames, or noxious odors. A few are self-flashing and require no reinforcing mesh.
» Read the complete story here «
---
Moisture And Lightweight Decks
An increasing number of residential projects involve walkable roof decks. Careful design and detailing are crucial to ensure that they remain waterproof.