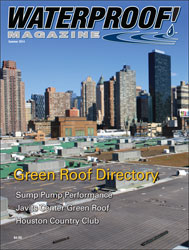 Innovative Waterproofing: The Houston Country Club
By Phil Funkhouser
This historic facility, visited by presidents and celebrities, faced a major waterproofing challenge when it required a new parking garage to be built below a world-class golf course.

» Read the complete story here «
---
Ensuring Sump Pumps Perform: By Ron Greenbaum
Contractors and homeowners both rely on sump pumps to perform as designed. New technology provides new reliability in the form of back-up systems, text alerts, and other solutions
» Read the complete story here «
---
Advances in Green Roofing: The Javits Center
As the vegetated roofing industry matures, the scale and complexity of projects being completed is astonishing. One New York City landmark remodeled last year now includes a green roof that covers 6 ½ acres.
» Read the complete story here «
---
Green Roof Directory
Published in conjunction with GreenRoofs.com, this is a comprehensive categorized list of the products and service offered to the vegetated roof industry.