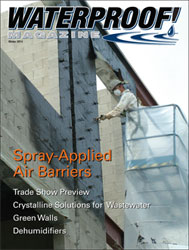 Selecting a Spray-Applied Air Barrier
by Colin Szewaga
Air barriers are becoming more common because they reduce energy use and many codes now require them. Fluid-applied membranes are especially popular because of their continuity, strength, and airtightness.

» Read the complete story here «
---
The Importance of Dehumidifiers
Dehumidifiers are often a critical component of a waterproofing system. But determining their size, placement and features is an essential part of making sure the units perform as intended.
» Read the complete story here «
---
Crystalline Solutions for Wastewater Plants
Waterproofing and sealing wastewater treatment facilities are difficult because of the constant immersion, extreme head pressure, and sometimes caustic chemicals.
» Read the complete story here «
---
A Different Direction: Green Walls
No longer satisfied with green roofs, designers are now developing vertical gardens and green walls, which require a new approach to waterproofing.