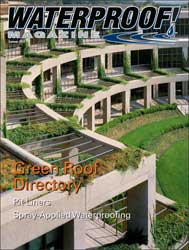 Advances in Basement Coatings
New developments in spray-applied membranes include products with instant cure times, achieve virtually any thickness in one coat, and offer unprecedented flexibility and performance.

» Read the complete story here «
---
Library of Congress Green Roof
The Library of Congress is the largest library in the world. And the roof of its Virginia facility—covering more than 225,000 sq. ft.—is one of the largest green roofs in the world.
» Read the complete story here «
---
Industrial Pit Liners
Storing everything from mining slurry to sewage, it's absolutely essential that the membranes and liners be absolutely waterproof despite the often corrosive nature of the contents.
» Read the complete story here «
---
Green Roof Directory
Categorized by the products and services offered, this is a comprehensive list of products, services and companies servicing the vegetated roof industry.