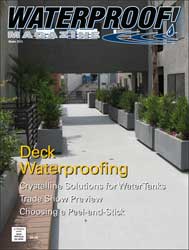 Choosing a Peel-and-Stick
Self-adhered membranes are widely available, and have a long history of being used on below-grade vertical surfaces. At least a dozen brands are available, each with distinct advantages.

» Read the complete story here «
---
New Options for Waterproofing Decks
Horizontal surfaces exposed to the weather can be difficult to waterproof due to foot traffic and inadequate slope. However, products are available that seal everything from pool decks to high-rise balconies.
» Read the complete story here «
---
Keeping Water Tanks Watertight
Aging infrastructure and security mandates have created a growing niche market for concrete potable water tanks. Crystalline waterproofing is frequently specified, as it will not affect the quality of the drinking water.