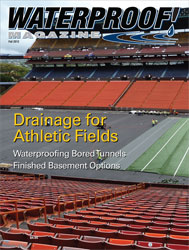 Don't Call the Game: Drainage Systems for Synthetic Turf Fields
High-tech materials and creative engineers make it possible to keep teams on the field in otherwise impossible conditions. Some drainage solutions also improve player safety as well.

» Read the complete story here «
---
Options for Finishing Basements
By Ron Greenbaum
An acknowledged expert explains why it's critical to verify a basement is dry before finishing it, and the basic components every basement finishing job should include.
» Read the complete story here «
---
Waterproofing Techniques for Bored Tunnels
Waterproofing bored tunnels deep below the surface is one of the most challenging jobs in the industry. The pressures, depths, and lack of repair options make doing the job right even more critical than usual.