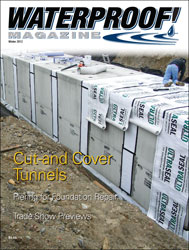 Piering for Foundation Repair
Structural repair work dovetails nicely with many waterproofing businesses. With new piering methods, residential foundation repair is easier—and more profitable—that ever before.
» Read the complete story here «
---
Cut-and-Cover Tunnels
One of the most popular and cost-effective tunnel systems, this technique is popular for building subways, utility corridors, and other shallow tunnels. Here's how they're waterproofed.
» Read the complete story here «
---
A Systems-Based Approach to Waterproofing
A successful waterproofing system is more than membranes. It's a combination of waterproofing, drainage, pumps—even landscaping and rain gutters—that must work together as a system.