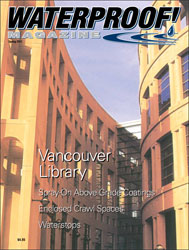 Waterstops, How and Why:
Long used for heavy commercial work—especially in tunnels and retention ponds—waterstops are becoming more common for waterproofing light commercial jobs as well.


» Read the complete story here «
---
Project Profile: Vancouver Library
As innovative as it is green, this project showcases a wide array of new waterproofing technologies, from the integral waterproofing in the foundation to the green roof fifty feet above grade.

» Read the complete story here «
---
New Data on Enclosed Crawlspaces
As energy efficiency has become a top priority for homebuilders, enclosed crawlspaces are becoming more common. But the contractor must be careful to avoid the condensation and mold issues that can become problematic in poor quality installations.
» Read the complete story here «
---
Spray-on Coatings for Above-Grade Work
Recent developments in spray-applied coatings make them a top choice for above grade work. Compare the advantages, and find the product that's best for your next job.