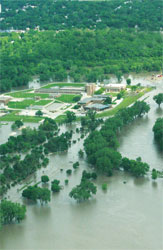 Flooding in Iowa turned 83 of 99 counties into disaster areas. Waterproofers report that the repair work and
clean up will keep them busy for months.

Heavy rain fell across parts of the Midwest during the first two weeks of June, creating the second "500-year flood" in 15 years. It has driven dozens of rivers to record levels, and flooded millions of acres.
The worst hit state was Iowa, where 83 of its 99 counties were declared disaster areas. At least nine rivers across Iowa were at or above the previous record flood levels. The floods affected 36,000 people, with losses estimated in the billions of dollars.
Strangely, a disaster of this magnitude can be good for business in the waterproofing industry.
Midwestern contractors welcome any wet weather. "We just came off a three year drought," says Steve Jones, president of Midwest Basement Technologies in Brighton, Ill. "Every waterproofing contractor was doing a rain dance around here."
After 30 years in this industry, Jones understands the drought/flood cycle. "We were due," he says.
The calls started pouring into Jones' office and every other basement contractor anywhere near the Mississippi River. Jones says he sent his company into "rain mode" with an overstaffed office answering phone calls and trucks ready to go.
"It keeps everyone pretty intense," Jones says. "But we could use 10 more crews. Our market is going to be pretty good for the next few months. We are booking jobs into the fall already."
Jones is not alone. Tom Breland, owner of American Waterworks in Pine Island, Minn., says they received hundreds of calls, too. "On any given day, we get 20-30 leads," Breland says. "In June, we were seeing 500-1,000 leads. We are going to be busy for months."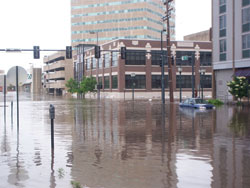 In downtown Cedar Rapids, water up to
8 feet deep covered city streets.

Right after a flood, the busiest sector of the industry is usually foundation repair and remedial waterproofing. Tim Denman, in Franklin Park, Illinois, says, "Once the floodwaters clear and the homeowners return to assess the damage, we get calls. They are looking to fix the cause of the problem."
Breland agrees that business really picks up weeks after the flood. "We
are kind of after the fact," he says. "We don't really do the cleanup but we are busy repairing the basement, straightening walls and installing drainage tiles,
long after the flood waters clear."

Preparation
Most waterproofing companies are used to the ebb and flow of business. But it is still a struggle to stay prepared for the flood when it isn't raining yet. "Get a rain/emergency program set up with your office and field crews," Jones suggests. "But the main thing is try to retain as many skilled industry professionals as you can. Slow times always come but a trained, experienced employee is irreplaceable. Do what you can to keep them on staff."
But it isn't just floods that affect the industry. "Droughts are as bad for foundations as floods are," says Denman. And if it is bad for foundations it means it is good for the foundation repair industry, only when it starts to rain again.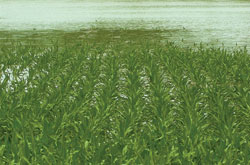 Hundreds of square miles of grain fields were ruined by the flooding, pushing corn prices to an all time high.

"The dry season is when structural repair can really take off for your company," says Tom Johnston of J&D Basements in Columbus, Ohio. He says you just have to be creative about soliciting business and marketing. "Foundations are cracking when it is dry," he adds.
Even though it is possible to survive a drought, the slow, dry season is still the number one killer. Mike Trotter, a Georgia-based waterproofer, says several waterproofing businesses in the southeastern region have closed their doors because of this year's drought. "It is definitely taking its toll," he says.
According to the National Climate Data Center (NCDC), as of June 17, 36% of the western U.S., 48% of the South, 18% of the High Plains, and 62% of the Southeast, were in moderate to exceptional drought. That adds up to about 30% of the contiguous U.S.
In an industry dictated by the weather, it is best to be prepared for sudden change. If you aren't already a Federal Emergency Management Agency (FEMA) approved contractor, it may be good to become one. It's a simple matter of filling out the paperwork and submitting to a quick background check. For more information visit, www.fema.gov/business/contractor.
Contractors who have worked through the aftermath of massive flooding suggest keeping sump pumps and other emergency equipment in stock. They also recommend maintaining a good relationship with your suppliers in case you have to call them outside of business hours in a disaster.
With the state of the economy not on our side, and the unpredictability of the weather, waterproofing contractors must diversify in order to survive. "Often times, it is more than just keeping a business thriving, but it is sustaining whole livelihoods," says Claudia Clemmons, executive director, National Association of Waterproofing and Structural Repair Contractors (NAWSRC). "Sometimes it is best to switch from Plan A to Plan B to supplement the company."
"Diversify, diversify, diversify," says Johnston. "Diversifying is the only defense against the slow seasons. You have to be diversified to ride out the slow seasons. We haven't figured out a way to control the weather just yet."
By Melissa Morton
» Download the entire story